December 11, 2023

February 2007 | Vol. VI - No. 2

---
TDmonthly's Psychologist Mom
She'll Put Your Toys on the Couch
Dr. Wright doesn't just look at toys; she analyzes them. In and out of the box, she scrutinizes them for playability, appropriateness and educational value. The latter quality is especially important to this psychologist/mother, who also homeschools her three children.

This month,

TD

monthly Magazine's Psychologist Mom shares her views on five new toys, rating each product with 1 to 5 TD stars (for

TD

monthly!); 5 is the top mark.

You've Been Sentenced! by McNeill Designs for Brighter Minds LLC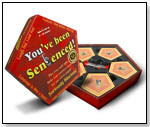 Age: 8 and Up
Gender: Boys and Girls
Category: General Games
Price: $24.95



TD

monthly Rating:




The Dr.'s Impressions
This game requires players to use word cards to form a sentence. Players then "judge" if the sentence is sensible and grammatical. Scoring varies depending on the difficulty of the words used.

Kids' Perspective
All of the kids had a great time putting together their sentences, and the younger ones learned new words in the process. There was some arguing about whether a sentence made "sense," which I consider a great selling point because it facilitated team decision making.

Recommendation
You've Been Sentenced! is fun, easy and a quick play. Owing to the number of words offered (2,500) it never becomes repetitive or boring. Though any child who can read will enjoy this game, it is particularly well suited for 5th through 7th graders who are learning the complexities of vocabulary and grammar.

---
LearningCents Bank by BEAR Enterprises LLC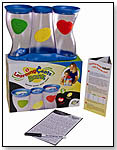 Age: 4 and Up
Gender: Boys and Girls
Category: General Toys
Price: $21.99



TD

monthly Rating:




The Dr.'s Impressions:
The LearningCents Bank is a cleverly designed "piggy bank" with three large, transparent compartments designated for spending, saving and giving. The bank also comes with alphabet stickers for personalization and a dry-erase pen for keeping track of cash flow on the compartment lids.

Kids' Perspective
My son felt that the bank's design was a little too "girly," owing to the bright colors and decorative hearts. However, he quickly began discussing what he would save for, how he would spend his money, and to which group he would donate.

Recommendation
The Learning Cents Bank is a wonderful way to teach financial life skills. Children learn that money has multiple purposes and can be managed according to their goals. The bank has maximal utility with children aged between 6 and 9. Children younger than 6 can save, but won't understand the concepts of giving and long-term vs. short-term savings. The design may not be sophisticated enough for kids older than 9.

---
Giggles Computer Funtime for Baby: My Animal Friends by Leveractive LLC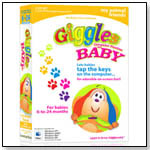 Age: 1 to 2
Gender: Boys and Girls
Category: CD-ROM
Price: $24.95



TD

monthly Rating:




The Dr.'s Impressions
Giggles Computer Funtime for Baby: My Animal Friends lets parents have snuggle time with their babies while in front of a computer. Each curious press on the keyboard activates entertaining animations featuring really cute characters. Through cause and effect, Baby learns that the keyboard and mouse make the animals and colors change … and make Baby laugh, too. Created to engage and enrich babies through fun-filled learning, the program also includes more than 50 songs.

Kids' Perspective
When a friend first installed the program, we were surprised at how much her baby liked it, and how much we adults enjoyed the music. The songs were divided into categories such as classical, world music and New Orleans, and changed with each of the 10 activities. In our favorite activity, every key-tap filled the screen with more and more bunnies, which could be removed by a magical wand/mouse that made a hilarious popping sound as the bunnies disappeared. In the bonus activities, Baby gets a scrolling view around a farm or safari, and when the mouse/camera is pressed, it freeze-frames the view (as if a photo has been taken), which caused many baby giggles.

Recommendation
My friend's baby loved this computer program, although she is on the high end of the age group of 6 to 18 months. She found it very funny and wants to play it over and over. She waves and smiles at the characters and bops her head along with the music; it brought smiles both to her and her mom.

---
Adventure Science Series - Volcano Madness by The Young Scientists Club

Age: 5 and Up
Gender: Boys and Girls
Category: Science & Nature
Price: $14.99



TD

monthly Rating:




The Dr.'s Impressions
Unlike many other volcano kits, this one produces a roaring eruption that can be repeated again and again. Budding scientists can not only build the volcano, but also learn about volcano parts and experiment with real volcanic rock. Everything needed is included in the kit, which features a well-designed and self-explanatory instructional booklet.

Kids' Perspective
The kids spent two hours building and painting the volcano and then testing different theories about which combination of ingredients would create the most awesome explosion. They discussed in great length the importance of only changing one ingredient at a time. The kids played for hours and learned the parts of the volcano, defined terms, experimented with different solutions, discussed the scientific method, and painted and repeated the volcanic eruption about 20 times. They played with this kit for at least three hours. I was involved only for the first 20 minutes.

Recommendation
Volcano Madness is a great science kit. I would highly recommend this kit for any child between the ages of 5 and 10; younger kids enjoy the basic volcano building while older kids become familiar with the experimental method in a fun and stimulating way.

---
Yamodo! Volume 1 by Idea Storm Products LLC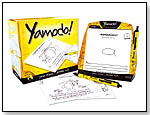 Age: 10 and Up
Gender: Boys and Girls
Category: General Games
Price: $19.95



TD

monthly Rating:




The Dr.'s Impressions
Yamodo! is one of the most creatively challenging games I have seen in a long time. All of the cards have an original word and the beginning of an original drawing (i.e., a doodle). Players use their imaginations to define the made-up word and then modify the provided doodle to illustrate their definition. The card is then passed to the next player, who adds to the drawing and the definition.

Kids' Perspective
My kids enjoyed Yamodo!, although children who do not have strong drawing or writing skills may be challenged. The kids had fun cracking themselves up and posted their favorite cards all over the house; each card was a unique piece of art.

Recommendation
Yamodo! not only stimulates imagination and creativity; it also can be played alone, in pairs or in groups of all ages. It is rare to find a fun non-competitive game that also appeals to adults.
---
---


Copyright © 2023 TDmonthly®, a division of TOYDIRECTORY.com®, Inc.