January 18, 2021

February 2007 | Vol. VI - No. 2


TDmonthly's Top-10 Most-Wanted Wooden Toys
A Toy's HABA Is Its Castle
With additional reporting by regional correspondents Agata Antonow, Virginia Davis, Christine Lebednik, Terri Hughes-Lazzell and Brenda Ruggiero

Melissa & Doug is leading the wooden toys category with three toys in our top-10 list: ABC Chunky Puzzle, Picture Blocks and Cutting Food Box. Those were mentioned by some of the 51 specialty retailers who told

TD

monthly Magazine about wooden toy sales in their stores. HABA (ToyShow) wasn't too far behind, with Natural Cubes and blocks to build a Castle.

Here's the complete list of wooden best sellers:
ABC Chunky Puzzle by MELISSA & DOUG


This alphabet puzzle toy was designed to combine fun and learning. It comes with large pieces containing letters and drawings that are visually and intellectually appealing to the growing mind. It's handcrafted of solid wood.
— "We sell a lot of puzzles. Most of the ones we sell well are Melissa & Doug. They're a really great company," said Rene Leonardi, assistant manager at Ouray Toys in Ouray, Colo.
— Owner Elaine Hackney of Boing! JP's Toy Shop has carried these chunky puzzles for a couple of years and said they are best sellers due to their graphics and play value. "Each puzzle piece stands alone and can be used for pretending as well as for the puzzle," she told TDmonthly in summer 2007.
— Rick Davis, from marketing at Melissa & Doug, told TDmonthly that "We just try to make it fun to sell our toys, and from what we hear from our vendors, customers, and from the media, it sounds like we're succeeding." 10/23/2006 (MSRP: $26.99; Age: 3 and Up)



Cutting Food Box by MELISSA & DOUG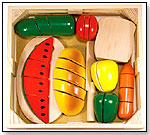 The Cutting Food Box is a super-sized play-food set that comes with a child-safe knife. Kids prepare their own healthy meals, cut into them as they make a crunching sound, and then have fun trying to put them back together again. The set includes a cutting board and a wooden crate for easy storage.
— "I think Melissa & Doug certainly ramped up the trend toward wooden toys in designing things like the food-cutting box out of wood," said Nancy Streeter, owner of Eureka in Newburyport, Mass.
— Melissa & Doug dominated the wooden toys' category in an early 2007 survey, as the brand was cited more than 50 times by a collective 51 retailers.
— Two of 39 retailers told TDmonthly that Melissa & Doug cutting foods make popular playsets.
— As of 8.03.2010, this product had 5 out of 5 stars from 201 reviews on Amazon.com and was No. 20 in the top 100 best-selling toys and games. PROS: Entertaining and well-made. CONS: Paint can peel. (

Watch Video) 1/31/2007 (MSRP: $19.95; Age: 3 and Up)



Castle by HABA USA/HABERMAASS CORP.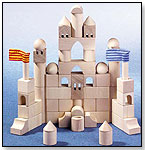 This accessory set stands alone or can be used as an addition to other HABA block buildings. Designed and crafted in Germany, the set is made of solid, finished wood. Each piece is sized for children as young as 1 year. It comes with 59 pieces, including two colored flags.
— "We're a wooden toy store; we don't sell plastic. So almost everything is wooden that we sell. One of our mainstays is HABA. They're high-quality designs and open ended," said Dan Marshall, owner of Peapods Natural Toys & Baby Care in St. Paul, Minn.
— "HABA ... is a line of great wooden blocks, but they have skyscrapers that kids can build as well as castles," said Leanna Halbrecht, owner of Animations Ltd. in Teaneck, N.J.
— HABA block sets are designed so that they can be used with other sets to build entire communities and cities. 1/31/2007 (MSRP: $59.50)



Thomas & Friends Wooden Railway Load & Sort Recycling Center by RC2 BRANDS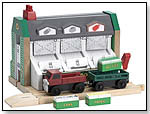 Kids can keep the Island of Sodor in tip-top shape with this recycling center. They can load paper, bottles and cans into the station, and discover what fun sounds they make as they're magically sorted. This "Sights & Sounds" destination includes a hard-to-find vehicle and requires three AA batteries (included). It received the Oppenheim Toy Portfolio Platinum Award for 2007. "Thomas Wooden Railway is specifically designed to grow with a child by fostering creative and imaginative play," Laura Mares, marketing manager at Learning Curve, told TDmonthly. Launch date: 2006.
— "For wood, it would be Thomas," was the endorsement given to TDmonthly by Shanna Frieling, owner of Giggles Toys & More in Bozeman, Mont.
— "The wooden trains by Thomas...by far," was the comment on wooden toy sales provided by Shirley Reilly, owner of Let's Play in Hillsboro, Ore.
—"Thomas & Friends Wooden Railway is the perfect last-minute gift or stocking stuffer. Thomas Wooden Railway's deep product line offers a wide range of price points, from $10.99 engines to deluxe sets, and is always a welcome gift for any Thomas & Friends enthusiast," Mares added. 11/14/2006 (MSRP: $59.99; Age: 3 and Up)



Ryan's Room: Home Again, Home Again A-Frame by SMALL WORLD TOYS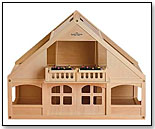 This spacious two-story dollhouse has a charming A-frame design and six large rooms. There's easy access through the roof, sides and front sliding doors, so that little hands can reach in to play, and the upstairs balcony has two rows of colorful flowers. There's lots of floor space, more room for fun… and a built-in handle for carrying.
— "I like the Ryan's Room dollhouse sets by Small World," said Kristen Fennell, manager of Kids R Kids in West Roxbury, Mass.
— "We also do well with Ryan's Room dollhouse by Small World," added Roger Lee, co-owner of Olney Toys in Olney, Md.
— Three of 51 retailers specifically cited the Ryan's Room dollhouses as favorite wooden toys in their stores. 6/29/2006 (MSRP: $131.25; Age: 4 and Up)



Natural Cubes by HABA USA/HABERMAASS CORP.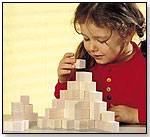 These simple but finely made cubes combine natural beauty with educational value to provide comprehensive play value. As with all HABA wooden blocks, they're designed and finished with precision to allow for an aesthetic and productive play experience. Motor and learning skills are developed as kids master how to handle and piece these blocks together.
— "I really love — and people come to me for — the HABA," said Amy Barrett, owner of Lasso the Moon Wonderful Toys in Helena, Mont., about wooden toy best-sellers in her store.
— "HABA has all-wood products and games for children of all ages," explained Brandy Lindstrom, manager at Little Blue Choo Choo in Scottsdale, Ariz.
— Eight of 51 retailers told TDmonthly that HABA wooden toys were big sellers among their customers. 1/31/2007 (MSRP: $16.95; Age: 3 and Up)



Classic Figure 8 Wooden Train Set by BRIO CORPORATION



The never-ending track makes for never-ending fun. The looping track is made of natural, unstained wood. The wooden train and two trees are brightly painted. The sturdy 24-piece track measures 112" in length. Train cars are held together by magnets.
— "Brio wooden train sets," was the direct answer given by Paula Tremba, owner of One Two Kangaroo in Shepherdstown, W.Va., when asked which wooden toys sell well in her store.
— "We have Brio trains," said David Correa, buyer at Mrs. Tiggy Winkles in Tucson, Ariz. He added, "Brio is really dedicated to really good quality."
— In an early 2007 survey, Brio Trains were specifically cited by three of 51 retailers TDmonthly spoke with about wooden toy best-sellers. 9/30/2005 (MSRP: $34.00; Age: 8 and Up)



Wooden Pop Gun by SCHYLLING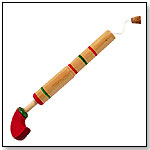 It's not surprising that the Schylling Wooden Pop Gun comes in a point-of-purchase display. Kids simply load and shoot the gun by pulling and pushing the handle. It comes with cork and string to ensure that nothing gets lost.
— At Silly Goose in Essex, Mass., classic toys by Schylling — including pop guns, jack-in-the-boxes and rubber horseshoe games — rank as best sellers, according to Owner Diane Robinson.
— "Our best-sellers are the old-fashioned ones, such as the Pop Gun," said Rene Leonardi, assistant manager at Ouray Toys in Ouray, Colo.
— Two of 51 retailers specifically referred to the Pop Gun as a continuing best-selling wooden toy in their stores. 1/31/2007 (MSRP: $2.99; Age: 3 and Up)



---
---


Copyright © 2021 TDmonthly®, a division of TOYDIRECTORY.com®, Inc.