May 7, 2021

March 2007 | Vol. VI - No. 3

---
Traditional Blocks and Trains Keep Selling
Melissa & Doug Challenges Competitors' Grain
"Anything Melissa & Doug makes sells like hot cakes; we have to re-order constantly." — Chris Thompson, Shenanigans

Fifty-one retailers nationwide said specialty toy stores are keeping up with the grand tradition of wooden toys, selling blocks, trains, puzzles and games from companies HABA (ToyShow), Learning Curve and others — and watching Melissa & Doug build a solid wooden empire while bumping Thomas the Tank Engine off the tracks.

What's Selling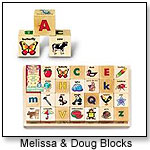 There's little disagreement about today's top brand in wooden toys, as 32 of 51 retailers told

TD

monthly Magazine that Melissa & Doug products are best sellers in their stores.

"It has always been Thomas the Tank, but this year Melissa & Doug has taken over," said Chris Thompson, owner of Shenanigans in Peachtree City, Ga. "Anything Melissa & Doug makes sells like hot cakes; we have to re-order constantly."

Brio trains were named a best seller by three stores.

"They're made by consignment of the king of Sweden," buyer David Correa at Mrs. Tiggy Winkles in Tucson, Ariz., said. "They have a royal heritage."

Royal or not, most retailers agreed that wooden toys do have a sound heritage.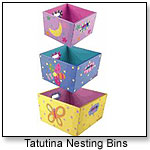 "Standards that have been around forever" define wooden playthings, according to Tom England, owner of Dancing Bear Toys & Gifts in Frederick, Md. His statement is reflective of the 15 retailers who see wooden toys as non-trend-setters — simply traditional.

Brands retailers believe are purchased for aesthetic beauty include Front Porch Classics (ToyShow), Tatutina (ToyDirectory), Holztiger (ToyDirectory) and Maple Landmark (ToyDirectory).

"[Maple Landmark] harvest[s] wood in environmentally friendly ways," Correa said, "and they create toys that are just beautiful."

What's Fading…or Could Be

Small World Toys dollhouses "are slowing, but are still selling," noted Danny Givens, owner of Little Dickens in Lynchburg, Va.

And while Thomas the Tank certainly has competition, eight best-seller mentions indicate that the line is still above and beyond other categorical contenders.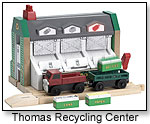 What to Make of It

At least for now, keep taking hints from the big sellers — HABA and Melissa & Doug — and sprinkle in a couple of other brands that seem to stand out from the rest.

Here are some options:
Cutting Food Box by MELISSA & DOUG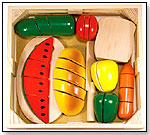 The Cutting Food Box is a super-sized play-food set that comes with a child-safe knife. Kids prepare their own healthy meals, cut into them as they make a crunching sound, and then have fun trying to put them back together again. The set includes a cutting board and a wooden crate for easy storage.
— "I think Melissa & Doug certainly ramped up the trend toward wooden toys in designing things like the food-cutting box out of wood," said Nancy Streeter, owner of Eureka in Newburyport, Mass.
— Melissa & Doug dominated the wooden toys' category in an early 2007 survey, as the brand was cited more than 50 times by a collective 51 retailers.
— Two of 39 retailers told TDmonthly that Melissa & Doug cutting foods make popular playsets.
— As of 8.03.2010, this product had 5 out of 5 stars from 201 reviews on Amazon.com and was No. 20 in the top 100 best-selling toys and games. PROS: Entertaining and well-made. CONS: Paint can peel. (

Watch Video) 1/31/2007 (MSRP: $19.95; Age: 3 and Up)



Ryan's Room: Home Again, Home Again A-Frame by SMALL WORLD TOYS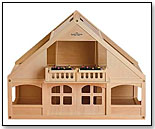 This spacious two-story dollhouse has a charming A-frame design and six large rooms. There's easy access through the roof, sides and front sliding doors, so that little hands can reach in to play, and the upstairs balcony has two rows of colorful flowers. There's lots of floor space, more room for fun… and a built-in handle for carrying.
— "I like the Ryan's Room dollhouse sets by Small World," said Kristen Fennell, manager of Kids R Kids in West Roxbury, Mass.
— "We also do well with Ryan's Room dollhouse by Small World," added Roger Lee, co-owner of Olney Toys in Olney, Md.
— Three of 51 retailers specifically cited the Ryan's Room dollhouses as favorite wooden toys in their stores. 6/29/2006 (MSRP: $131.25; Age: 4 and Up)



My First Railway Set by BRIO CORPORATION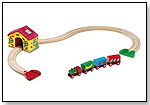 This set includes three separate wagons and an engine to awaken children's fascination with trains. Children ages 2 and up can play with the wagons that are sized for little fingers and compatible with the classic wooden railway.
― Bill of Tutoring Toy told TDmonthly in spring 2007 that Brio "has very good deals for the specialty market."
― Annette Garcia, owner of The Wee Loft in Dana Point, Calif., told TDmonthly that her store sells "10 to 20 units" of Brio trains every month.
― Over 14 percent of retailers who spoke with TDmonthly in early 2008 stated that wooden trains are very popular items in their stores. 2/23/2007 (Age: 2 and Up)



Princess Sleeping Beauty by HABA USA/HABERMAASS CORP.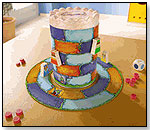 While princes fight to collect the three roses and wake up the Sleeping Beauty, this innovative color dice game from HABA helps develop skills in color recognition and tactical thinking. It's designed for two to four players and comes with a 3-D tower, a game board, 12 roses and instructions.
— HABA games are "very popular," said Brandy Lindstrom, manager at Little Blue Choo Choo in Scottsdale, Ariz.
— "One of our best suppliers … is HABA," seconded Gail Small, owner of Dragon's Toy Box in Seattle.
— Retailers often tell TDmonthly of the quality associated with toys and games made by the German company. 1/31/2007 (MSRP: $23.95; Age: 4 and Up)



Castle by HABA USA/HABERMAASS CORP.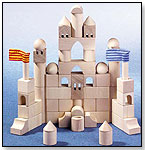 This accessory set stands alone or can be used as an addition to other HABA block buildings. Designed and crafted in Germany, the set is made of solid, finished wood. Each piece is sized for children as young as 1 year. It comes with 59 pieces, including two colored flags.
— "We're a wooden toy store; we don't sell plastic. So almost everything is wooden that we sell. One of our mainstays is HABA. They're high-quality designs and open ended," said Dan Marshall, owner of Peapods Natural Toys & Baby Care in St. Paul, Minn.
— "HABA ... is a line of great wooden blocks, but they have skyscrapers that kids can build as well as castles," said Leanna Halbrecht, owner of Animations Ltd. in Teaneck, N.J.
— HABA block sets are designed so that they can be used with other sets to build entire communities and cities. 1/31/2007 (MSRP: $59.50)



Jungle Animal Bookends by TATUTINA INC.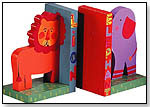 This jungle bookend set is especially colorful and fun with a lion on one side and an elephant on the other. Perfect as a gift for children, the product is hand-painted with non-toxic paints and sealers and designed by a mother-daughter team. The bookends "can coordinate with any jungle animal theme. This makes great gift in any toy store if shown bundled with some jungle books and/or jungle stuffed animals," Roberta O'Neill of Tatutina told TDmonthly. 11/20/2006 (MSRP: $32.00; Age: 1 and Up)



Thomas & Friends Water Tower Figure 8 Set by LEARNING CURVE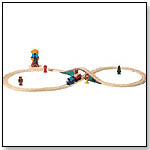 This Figure 8 Set includes a stone bridge, water tower and cargo car along with Thomas, Sir Topham Hatt and more. The assembled set measures 42" by 22". It received an iParenting Media Award and an Oppenheim Toy Portfolio Award. 11/30/2006 (Age: 3 and Up)



Tinkertoy by HASBRO INC.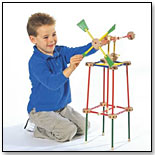 This classic set comes with 66 wooden and plastic Tinkertoy pieces to build big structures quickly. Kids can easily build lots of structures that swing, roll and spin. Every Tinkertoy Classic building set comes in a sturdy canister package with a metal lid and bottom. All pieces, except green flags, are made of 100 percent real wood. The starter kit contains four plastic flags, four pulleys, four end caps and eight connectors.
— "Tinkertoys" was among the best-selling classic toys in the store, according to Sylvia Pudtice, co-owner of Giggles for Kids in Suwannee, Ga.
— When asked about classic toys, Roberta Kenworthy, owner of AbraKIDabra Toys in Greenville, N.C., listed "Tinkertoys" as among the best-selling in her store.
— Tinkertoy was cited by Toys "R" Us on its 2006 guide for kids with special needs. Specifically, Tinkertoy was described as a toy that "challenges kids to think."
— "People love Tinkertoys, as well as Lincoln Logs. We carry both of them because they're so popular," Gail Small, owner of Dragon's Toy Box in Seattle, told TDmonthly. 11/22/2005 (MSRP: $19.99; Age: 3 and Up)



Natural Cubes by HABA USA/HABERMAASS CORP.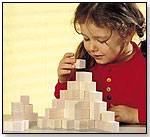 These simple but finely made cubes combine natural beauty with educational value to provide comprehensive play value. As with all HABA wooden blocks, they're designed and finished with precision to allow for an aesthetic and productive play experience. Motor and learning skills are developed as kids master how to handle and piece these blocks together.
— "I really love — and people come to me for — the HABA," said Amy Barrett, owner of Lasso the Moon Wonderful Toys in Helena, Mont., about wooden toy best-sellers in her store.
— "HABA has all-wood products and games for children of all ages," explained Brandy Lindstrom, manager at Little Blue Choo Choo in Scottsdale, Ariz.
— Eight of 51 retailers told TDmonthly that HABA wooden toys were big sellers among their customers. 1/31/2007 (MSRP: $16.95; Age: 3 and Up)



Standard Unit Blocks by MELISSA & DOUG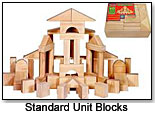 Block sets are a classic that never go out of style, and FamilyEducation.com notes that blocks allow kids to "master math concepts about shapes, space, balancing and gravity."
— "Wooden blocks by Melissa & Doug" were expected to be a 2006 holiday hit at The Name Dropper in Montgomery, Ala., owner Shea Schroll told TDmonthly.
— "Standard building blocks by Melissa & Doug … we sell those every day," Peter (Mr. Toad), owner of Mr. Toad's Toy Company in Naples, Fla., told TDmonthly in April 2008. Erica Welton, manager of Bedford Falls Toy Store in Charlotte, N.C., said her store sells "two or three sets a day."
— More than 17 percent of retailers who spoke with TDmonthly in spring 2008 named this item as their best-selling construction toy. 1/31/2005 (MSRP: $49.99; Age: 3 and Up)



NameTrains by MAPLE LANDMARK WOODCRAFT CO.



Each different-colored letter, available in A through Z, comes on wheels. All letters are crafted from hard maple and have a nontoxic color finish. Magnets allow letters to be strung in a line to form names. $4.90 each.
— "Maple Landmark wooden train letters sell very well," said Gail, manager of the Toy Chest in West Hartford, Conn.
— 44 retailers surveyed in September 2010 said Maple Landmark Name Trains are their best-selling personalized item.
— In an October 2011 survey, Joe Berardoni, owner of Pun's Toys in Bryn Mawr, Pa., told TDmonthly that "We do not personalize, but we do sell a lot of Maple Landmark's colored train letters." They are "great as a newborn gift," and Pun's sells dozens each month. 7/15/2005 (MSRP: $4.90; Age: 3 and Up)



Alphabet Blocks by UNCLE GOOSE TOYS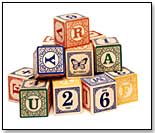 These classic 1-3/4" wooden alphabet blocks are made in the United States from basswood. Designed with cleverly detailed letters and pictures, they help children to spell and build while pleasing parents with their tasteful vintage decorations. The basic set comes in a wagon or box. Other variations include Braille, Braille math blocks or any of 15 different languages. There is even a version of nursery rhyme blocks.
— Owner Tom England of Dancing Bear Toys & Gifts in Frederick, Md., named ABC Blocks by Uncle Goose Toys as a best-seller in his store. 12/21/2004



State Fair Bingo by FRONT PORCH CLASSICS

Ever since its debut in the United States as a tent and carnival game in the 1930s, Bingo has thrilled young and old alike with its festive play and riveting moments of anticipation. Front Porch Classics State Fair Bingo captures all the thrills and excitement of these carnival games of yore. Featuring nostalgic shutter-style bingo cards, a classic metal ball spinner, wooden bingo balls and a solid wood Bingo Board, State Fair Bingo makes this classic pastime today's party game sensation. 12/1/2006 (MSRP: $49.99; Age: 8 and Up)



---
---


Copyright © 2021 TDmonthly®, a division of TOYDIRECTORY.com®, Inc.