November 30, 2021

March 2007 | Vol. VI - No. 3

---
Toy Sleuth: It's Granny by a Nose
Weird and Wonderful Winners
Sometimes what's bubbling under the surface can be revolutionary. Sometimes it can be evolutionary. And sometimes, it's just plain weird and wonderful.

This month, Toy Sleuth looked high and low for new and different toys out on the fringes and came up with a slew of oddities that are fun, strange and...well, very toy. Scan and digest; they may just be for you...
Kawaii Petit Mushroom Chair by STRAPYA NEXT CO. LTD.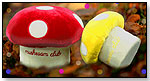 Want to turn those Mario-loving couch potatoes into Mushroom Potatoes that stay healthy and slim? According to Tomonari Higuchi, president of Strapya Inc., which distributes the product, these Mushroom Chairs do just that: "They give kids good posture with the Japanese Seiza seating style that doesn't allow the bending of the backbone." These puffy rump rests are catching on big in Japan with "young women in their teens, 20s and 30s," added Higuchi. "It's also good for elders, as well." For anyone who loves Seiza, Zen or anything about Japan/Japanese culture, these chairs come in four colors: brown, blue, pink and red. These chairs are featured on the hit Japanese drama "Hanayori Dango 2," which is an ongoing weekly TV series in the Land of the Rising Sun. 2/27/2007 (MSRP: $19.10; Age: 5 and Up)



Power Tour Electric Guitar by HASBRO INC.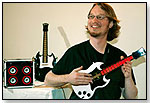 Eric Clapton in Cream, Angus Young of AC/DC, Lars Frederiksen of Rancid — they're all notorious Gibson SG guitar players. Now tweens, "who are the target audience," according to Josslynne Lingard Welch of Litzky Public Relations, can have their own Gibson-inspired guitar in their own tween size: The Power Tour. Launch date: August 2007. 2/9/2007 (MSRP: $69.99; Age: 10 and Up)



Remote Control Granny Racers by JUMPIN BANANA



Slot cars and grandma? What do the two have in common (unless you have a granny who grew up in Southern California in the '60s)? This new high-speed senior citizen slot-car package takes the usually slow and infirmed, wheelchair-bound old fogies and turbo charges them for the track. We're talking two grannies with rugs over their knees, 10-piece cross-over track (for dangerous navigating), remote controls, clip-on crash barriers (you don't want those grandmas cartwheeling into the "stands," do you?), and a whole lotta fun. They're great for kids or old-age home retirees: Who says we slow down with age? The racers require four 1.5V AA batteries (not included). It's been an excellent seller for Jumpin Banana, according to its sales staff, with an "excellent novelty value." 2/27/2007 (MSRP: $19.95; Age: 8 and Up)



Disney USB Drives by BUFFALO TECHNOLOGY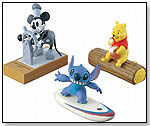 Computers, cameras, game consoles and USB flash drives have become part of a kid's life. Now Disney (another part of a kid's life) has licensed some of their classic (and soon-to-be classic) characters including Mickey Mouse and Winnie the Pooh to digital/computer wiz Buffalo Technology, resulting in the cutest, most cartoonable flash drives ever. Storing 512 MBs per animated character, they can be collected, traded, or just used happily on the desk. According to Morikazu Sano of Buffalo Technology Inc., their "deal with Disney is limited to Japan at the moment." But this could be in the process of change, according to sources at Disney Marketing. 2/27/2007 (MSRP: $27.00; Age: 6 and Up)



---
---


Copyright © 2021 TDmonthly®, a division of TOYDIRECTORY.com®, Inc.