September 22, 2020

April 2007 | Vol. VI - No. 4


TDmonthly's Top-10 Pomona Picks
Creative Toys Took the Reins at the Western States Show
From an a-maze-ing marble-run construction kit to a whack-y ball that exercises the mind, the WTHRA show took buyers and reps into a creative realm of fun and interactivity. Newer companies such as GeeGuides (ToyShow) and Unknown Games presented options with unique designs and cool graphics, while the Only Hearts Club (ToyShow) gave girls what they really want: horses.

Here are the toys

TD

monthly Magazine thought made the best impression at the show:
Q-BA-MAZE 20-Pack Cool Colors (blue, green, clear) by Q-BA-MAZE INC.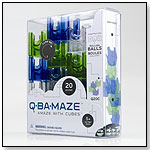 Designed by a former architect, Q-BA-MAZE (kyoo-ba-maze) is a construction system of interlocking cubes that form pathways for rolling balls. The system uses just three kinds of cubes and is easy to learn, but is also endlessly fascinating because the cubes attach in many different combinations and the action of the balls is so unpredictable. It is part art and part science, and even adults can enjoy it as an interactive desktop sculpture. "We believe in the value of design: product design that inspires creative play for children and adults; packaging design that uses resources efficiently, stands out on the shelf and demonstrates the product in the box; and web design that provides lasting value beyond the box with helpful videos, interactive tools and printer-friendly PDF instructions," CEO Andrew Comfort told TDmonthly. Launch date: May 1, 2007.
— "We picked up a new toy called Q-Ba-Maze and those have been really, really popular," Alicia Smith, owner of Juneau's Imagination Station in Juneau, Alaska, told TDmonthly in May 2008. (

Watch Video) 3/22/2007 (Age: 5 and Up)



UberBots 621 by UBERSTIX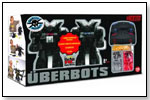 "Kids" can create radio-controlled, rumbling robots and pit up to six of them against each other at a time, thanks to six interchangeable RC frequencies. Working with sturdy, yet flexible interlocking Uberstix components, builders utilize physics, engineering and creative skills to design robots that can trounce their opponents. In the heat of battle, UberBots employ jabs and hooks and even speak preprogrammed Japanese phrases designed to conquer all foes. Knocking down an opponent three times is a win. Then the fighters retire to redesign their Bots and devise another unbeatable strategy for victory. The 621 kit includes two UberBots, 250 Uberstix pieces, two remote controls, two flags, 14 rechargeable Ni-Cad batteries, two chargers and building instructions.
— These Japanese-speaking robotic construction toys received a TDmonthly Top Toy 2007 award for many reasons: the scientific knowledge they invite in construction and redesign, their RC capability to fight multiple robots at one time, the creativity and inventiveness required when reprogramming the UberBots, and the signature, interlocking Überstix parts that make up their distinctive structure. Finally, Überstix are made from recycled plastic and can be combined with other building toys, setting their kits on a higher plane than other construction toys. (

Watch Video) 3/28/2007 (MSRP: $149.99; Age: 8 and Up)



Ball of Whacks by U.S. GAMES SYSTEMS, INC.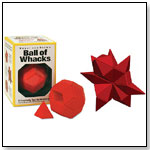 A marvel of engineering, the Ball of Whacks is made up of 30 magnetic rhombic pyramids that can be taken apart and rearranged in endless creative ways. More versatile than a puzzle and lots more fun than a brainteaser, there's no right or wrong way to use it. Just pick it up and play with it! Designed to be a creativity workshop in a box, Ball of Whacks comes with a 96-page illustrated guidebook providing exercises for creative brainstorming, strategies for problem solving, insights into the creative process challenges to construct shapes and mosaics, and to invent new ones. The game is also a good stress reliever for active individuals working under pressure. 8/21/2006 (MSRP: $29.95)



Super Sports OgoDisks Set by OGOSPORT, LLC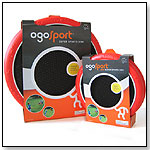 This 18" sports disk features a foam ring with a high-strength elastic membrane, and can catch and throw balls up to 150'. It is a safe, high-quality sports activity device that adapts to volleyball, tennis, baseball and other sports, and can be a blast at the beach or pool. A 12" size is also available. Suggested retail price for the two sizes ranges from $15 to $40. "The Super Sports Disk products are fantastic as confidence-building, motor-skill activities for young children, but are also great for more advanced users," Kevin Williams of OgoSport told TDmonthly. This product received a Spring 2007 Parents' Choice Award. Launch date: May 20, 2007.
— Quality materials and a super bouncing effect earned the classy OgoSport a TDmonthly Innovations 2007 award. Its broad appeal and correlation to other sports make the disk applicable to a variety of fun and healthy activities, and its bright color and sleek packaging grab attention.
— "OgoSport is a good line for us," Eric Masoncup, owner of Gepetto's Toy Box in Oak Park, Ill., told TDmonthly about his best-selling gift for boys in summer 2009.
— Joe Beradoni, owner of Pun's Toys in Bryn Mawr, Pa., told TDmonthly in a Summer 2011 survey about best-selling toys that "during the summer, we sell 5-7 a week."

Past videos: WTHRA 2007 (

Watch Video) 2/21/2007 (MSRP: $44.00; Age: 3 and Up)



Natural Friends Sheep Music Box by sigikid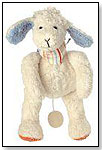 Part of an organic 17-item line that includes stroller clips, rattles, hand puppets, blankets and more, this 9.84"-tall Sheep Music Box is made of organic cotton (outside) and stuffed with organic lambs wool for a super-soft feel. It is machine washable in the wool cycle. "When sigikid launched the organic line, it was paramount to find the softest organic materials on the market, while meeting the highest quality standards. The color scheme of Natural Friends is refreshingly different [from] the often overused pastel colors in baby toys, and is focused on brighter colors, without neglecting the natural aspect of the line," CEO Eva Gottstein of sigikid told TDmonthly. 3/28/2007 (MSRP: $57.00; Age: 0 and Up)



Foam Craft Workshop by CREATIVITY FOR KIDS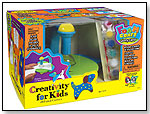 The Foam Craft Workshop includes a tool so cool you have to try it to believe it. This tool allows you to do wood-working-type projects with foam, but it's easier and safer to do. Children simply guide the foam patterns through the machine and the wire heats up and slices through the foam. They can then use the foam cut-outs for a variety of fun craft projects — frames, door hangers, magnets and more. This complete set includes paint, glue and all the craft accessories needed to complete each project. It requires two D batteries (not included). Launch date: March 2007.
― Gwen Bowden, manager of Doodlehopper 4 Kids in Springfield, Va., told TDmonthly in spring 2007 that Creativity for Kids is one of the most fair and accommodating suppliers. (

Watch Video) 3/14/2007 (MSRP: $29.99; Age: 7 and Up)



Only Hearts Horse & Pony Club™ by ONLY HEARTS CLUB GROUP LLC



Only Hearts Club introduces its newest line, the Only Hearts Horse and Pony Club™. This exciting brand features a complete equestrian line, from horses, to riders, to stables and tack-room accessories. The Only Hearts Horse & Pony Club features both Western and English riding lines, and is sure to delight horse lovers of all ages. Kids can experience realistic fashions and horse breeds with soft and poseable dolls and horses.
— "Only Hearts Club with the equestrian theme," is tops for fashion dolls at J.W. Allen and Sons Children's Provisions in Park City, Utah. Owner Jonathan Allen said, "We sell on the average 15 a month."
— "Only Hearts Club has done well as far as fashion," agreed Stephanie Dupuy, owner of Playville in Covington, La.
— Ten percent of retailers surveyed in January 2008 named the Only Hearts Club as their most "stable" fashion line. (

Watch Video) 2/22/2007



---
---


Copyright © 2020 TDmonthly®, a division of TOYDIRECTORY.com®, Inc.