August 11, 2020

May 2007 | Vol. VI - No. 5


Tweens Shun the Tub
Big Kid Products Go Down the Drain
"When your 13-year-old and the high school kids in the store get excited, you know you're going to have a winner." — Kate Tanner, Kidstop Toy and Book Store
With additional reporting by regional correspondents Virginia Davis, Dennis Furlan, Elizabeth Greenspan, Terri Hughes-Lazzell and Brenda Ruggiero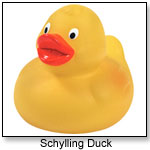 From one to 12 bath toys splash out their doors each week, 25 of 37 specialty retailers told

TD

monthly Magazine, but they're almost all "kiddy" toys. This modest (average: 6 percent of total sales) but reliable category has retailers scrambling to find new lines to supplement or replace perennial favorites that now glut the market, they said. And despite recent trends to the contrary, a new water construction toy by AquaStruct has at least one retailer hopeful that she'll clean up with tweens.

WHAT'S SELLING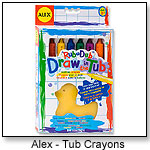 Alex Toys dominates the tub waves, claimed toy-store owners, despite some customers' concerns that bath crayons and paint sets may discolor grout. Alex also acquired other water faves such as Big Boing's TubTunes, in 2006, and Sandholm Stickers, in 2005.

"We have Alex, but we're looking for a new line," Kara Graff, owner of Full of the Dickens in Sandusky, Ohio, shared with

TD

monthly. "My first question now is: Is anyone else carrying this?"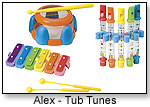 The non-Alex lines that made

TD

monthly's Top-10 Most-Wanted Bath Toys included Challenge & Fun, International Playthings, Toysmith, Schylling, Small World Toys and Damert. Other good sellers were bilibo and Sassy bath toys.
WHAT'S FADING

Health concerns have pulled the plug on some bath books, warned Green. "[Parents] don't like their kids coming into contact with the vinyl, even though the risk is minimal."

And tween-related luxury products, such as bubble baths and lotions, are stagnant, sighed two retailers.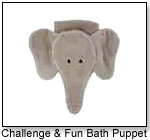 WHAT'S COMING

Fighting the tide, AquaStruct is trying to tempt tweens back into the tub with a new low-water-use shower construction system.

"My 13-year-old is waiting for AquaStructs," shared Kate Tanner, owner of Kidstop Toy & Book Store in Scottsdale, Ariz. Did she order it? "Absolutely! When your 13-year-old and the high school kids in the store get excited, you know you're going to have a winner."

In the meantime, grandparents and parents still buy the majority of bath products for their littlest loved ones. Here's what manufacturers and retailers say is making a splash:
Bubba the Bottom Feeder Game by FUNDEX GAMES


Bubba the Bottom Feeder is an underwater game that can be played in the shallow or deep end of the pool. Players take turns "feeding" Bubba fish and the first one to make Bubba float to the surface wins. The fish are weighted differently so no game is ever the same. The game includes Bubba and eight goldfish.
— Kids like Bubba the Bottom Feeder "probably because they get to dive," said Susan Robinson, manager of Wishing Well Toy Company in Omaha, Neb.
— Pool toys sell well for Greg Bonner, owner of Heights Toy Center Inc. in Little Rock, Ark.
— Bubba can be played alone or with friends. 6/27/2006



Whale-of-Fun by TINY LOVE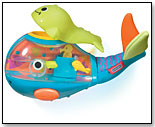 Whale-of-Fun attaches to the side of the tub with rotation suction cups and teaches cause and effect. Babies can fill the whale with water using the detachable fish-shaped scoop or press a button to see water squirt from the whale's blow hole. Other features include colorful sea graphics inside the whale, a jiggling eye, a peekaboo seahorse and a crinkly, squeezable tail. Parents will be happy to know that the whale drains easily from its top spout. Whale-of-Fun promotes cognitive, sensory and coordination skills for children 9 months of age and older. "Bath time is never dull when baby is learning about cause and effect with the push of the waterspout button or refines her eye-hand coordination while filling the whale full of water with the fish-shaped filling scoop, " Maureen Footdale of Tiny Love assured TDmonthly. 3/6/2006 (MSRP: $14.95)



Bathtub Fun Center by RAVENSBURGER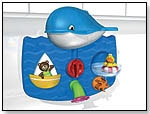 Bath time can be so much fun when a friendly whale doubles as a water scoop. Tots can pour water into the whale tank and choose an exciting function by turning the red dial. They'll see the duck swim in circles and the starfish spin, switch the pink sea anemone from faucet to shower, and watch the bear's boat rock back and forth. It's easy to attach with suction cups. 11/28/2006 (MSRP: $19.99; Age: 1 to 2)



Tub Tunes Symphony by ALEX BRANDS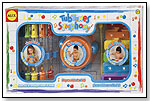 Three real instruments for the tub are included in a deluxe gift set. The set includes a xylophone, drum and flutes plus laminated music sheets for every instrument. Also included are mallets for drumming and playing the xylophone.
— "Alex Tub Tunes. All varieties in that line sell well," Mary Porter Green, owner of The Curiosity Zone in Ashburn, Va., told TDmonthly of her best-selling bath play toys in spring 2010.
— Seven of 39 storeowners in a March 2010 survey said Alex's Tub Tunes are a top-selling item in their stores. 1/11/2007 (MSRP: $32.99; Age: 3 and Up)



Whistling Hippos by ALEX BRANDS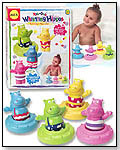 With this toy, little ones can match the four colorful hippos with their floating rings, and then dunk them to hear them whistle. This bath toy comes with four hippos in bathing trunks and four floating rings. They whistle while babies wash. Bath time is now Hippo Time.
— Debbie Wurzburger, owner of Toy Chest in Pikesville, Md., estimated that she sells 24 to 36 water toys by Alex per month. 1/11/2007 (MSRP: $13.99)



AquaStruct XXL™ Ultimate Extreme Shower Adventure Construction Set™ by AquaStruct Inc.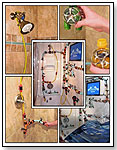 This 44-piece set includes an assortment of valves, tubes, hoses, caps, suction mounts and a sprayhead, as well as the AquaStruct WaveRider OceanSpray Surfboard Tub Mat and the AquaStruct TubeWave OceanSpray Shower Curtain. It is designed to help tweens create a low-flow shower adventure, and it intuitively teaches circuit logic, problem solving and resource allocation. It also saves water with AquaStruct's 2.5 gallons per minute earth-friendly AlphaValve. Launch date: August 2007. 3/1/2007 (MSRP: $95.00; Age: 7 and Up)



iBaby™ Float-Alongs™: Rub-a-Dub-Dub by INNOVATIVEKIDS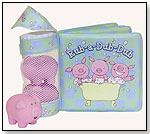 "Rub-a-dub-dub, three pigs in a tub!" Mama pig counts 12 tiny feet, six pink ears and three shiny faces in this adorable waterproof counting book. Three pink pigs store in this bath book's mesh tube for lots of fun in the tub. iBaby lets babies be babies. "This adorable waterproof counting book lets babies learn and exercise motor skills as they play with three charming toy pigs that store in the book's mesh tube," explained Jennifer Bittorf, marketing coordinator for innovativeKids. Launch date: April 2007. 3/29/2007 (MSRP: $12.99; Age: 0 to 3)



Floating 3D's – My Home by EDUSHAPE LTD.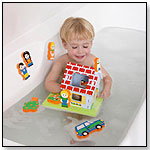 This wet-and-stick floating three-dimensional playhouse is fun to use in the tub. Children can make the characters take a ride in the car, sit in the yard or sneak inside the house — it inspires hours of dream play. Launch date: April 2007. 3/19/2007 (MSRP: $11.95; Age: 3 and Up)



SquidSoap by SQUIDSOAP LP


Designed to teach children healthy hand-washing habits, SquidSoap works by applying a small ink mark on a person's hand when they press the pump to dispense the soap. The ink is designed to wash off after the hands are washed for about 15 to 20 seconds — the time recommended by most doctors. SquidSoap is fun for kids and makes hand washing more like a game. Also, the very stretchable squid toy is a blast to play with and will provide hours of entertainment. 2/27/2007 (MSRP: $3.99; Age: 3 to 12)



Anti-Microbial Liquid Soap Dispenser by GIANTMICROBES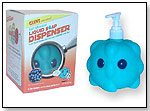 The GIANTmicrobes® soap dispenser looks like the common cold microbe and is a fun reminder to wash away germs — the best way to avoid getting sick. It is perfect for adults, children and everyone in between. "Our unique soap dispenser, shaped like the common cold virus, helps remind kids of all ages to keep their hands clean and germ-free," Dan Oliver, director of business development for GIANTmicrobes, told TDmonthly. Launch date: November 2005. 3/22/2007 (MSRP: $9.95; Age: 5 to 12)



Digital Bath Spout Cover With Built-in Thermometer by 4MOMS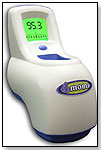 This soft, cushy cover makes bath time easier and safer, and allows parents to actually see the water temperature. The color-changing backlit display has a Comfort Zone indicator, audible high-temperature alerts, and an ON button with auto shut-off. Blue means too cold, red means too hot and green means just right. The mildew-resistant product is easy to install and clean. According to Lisa Orman of KidStuff PR, "It's the only spout cover to ever have won The National Parenting Center Seal of Approval." Launch date: January 2007.
— "The 4moms Digital Bath Spout Cover makes bathtime easier for parents and safer for children because of the benefits of its patent-pending TempAssure and CoverSafe Technologies," Rob Reuter, vice president of marketing for 4moms, told TDmonthly. 1/29/2007 (MSRP: $29.95; Age: All Ages)



Mother / Baby Sets by MINDWALK INC.

Baby Penguin and Clown Fish magnetically hug in place, as the Mothers spin, flip and race up and down and all over the place. They can be used for bath or pool play. When the babies are not attached, they float to the surface. 10/26/2006 (Age: 5 and Up)



Rub A Dub Knights Adventures by ALEX BRANDS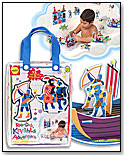 Kids will enjoy this action-packed adventure in the kingdom of ALEX. This interactive toy will have them chasing dragons, protecting the castle and casting spells with the wizards. Stick pieces to tub wall or build a 3-D ship that floats. The 33-piece medieval magical world floats, too. 3/6/2006 (MSRP: $12.99; Age: 3 and Up)



Rub A Dub Bath Writers by ALEX BRANDS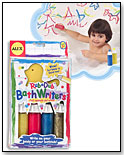 Now kids can write on tub walls during bath time. Squeeze each bottle to make drawings and play games right in the tub. When you're done, just wipe off. Comes with a set of four writers (red, blue, yellow and gold). Push-pull cap never gets lost. It's safe, clean and fun. 3/6/2006 (MSRP: $8.49; Age: 2 and Up)



Al-i-Sorter by SASSY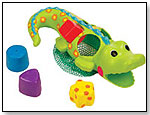 Al-i-Sorter brings baby's favorite activity of shape-sorting to the tub. Baby can either drop shapes through alligator's back or "feed" alligator by placing shapes in his mouth. After-bath pick-up is fun and easy as shapes store in alligator's tummy. The Al-i-Sorter helps develop baby's motor skills by encouraging eye-hand coordination. "This toy has many facets to it and lots of different activities," Peggy Barrett, public relations consultant for Sassy, told TDmonthly. "You can even hang it to dry because the tail is the hook." 4/10/2007 (MSRP: $8.99; Age: 1 and Up)



Rubber Ducks by SCHYLLING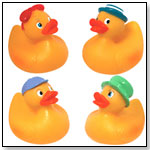 These 3.25" x 2.75" x 3.25" guys, sold in sets of four, are great for little ones in the tub, sandbox or just as a new pal. They're also phthalate free.
— Although rubber duckies have "slowed down" from a few years ago, according to store owner David Campbell of Amazing Toys in Great Falls, Mont., three of 39 retailers said they were still a steady-selling bath item. 4/10/2007 (MSRP: $1.99; Age: 0 and Up)



bilibo by KID O PRODUCTS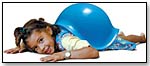 bilibo is a Swiss-designed plastic shell that rocks when children sit in it. Kids have fun stacking the product as well, since it nests snugly in other brightly colored bilibos. Young children enjoy the simple design that they use in many imaginative ways. Awards: 2010 TIA Awards Toy of the Year; 2006 UK Good Toy Awards Toy of the Year; 2003 Deutscher Lernspielpreis, Auswahlliste; 2002 Dr. Toy 10 Best Active Products; 2002 Spiel Guy Arbeitsausschuss Kinderspiel 2002; 2002 Design Distinction I.D. Design Review
— "bilibo: We had to keep ordering it," was the response about hot-selling Xmas toys that TDmonthly got from Jenny Goodlund, manager at JT Puffin's in Madison, Wis.
— Peg Scholtes, owner of Capitol Kids Ltd. in Madison, Wis., had great things to say about bilibo: "It's great for 2- to 5-year-olds. It's the modern version of the cardboard box."
— "We keep a DVD going up on the front counter that shows kids playing with [the bilibo]. Kids instinctively understand it, but adults don't," said Co-owner Mary Sisson of Kazoodles in Vancouver, Wash., of this best seller in her store. (

Watch Video) 5/10/2005 (MSRP: $30.00; Age: 2 to 7)



Fishing Game by CASTLE TOY INC.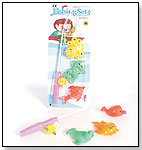 A fishing pole and three fish are packed on a 17" x 7" blister card.
— This bath game is a good seller at Mr. Toad's Toy Company in Naples, Fla., the store's owner, Peter, told TDmonthly. 4/10/2007 (MSRP: $4.50; Age: 3 and Up)



---
---


Copyright © 2020 TDmonthly®, a division of TOYDIRECTORY.com®, Inc.