June 4, 2023

May 2007 | Vol. VI - No. 5

---
Jonti-Craft Furniture Sits Well With Education
Quality Wooden Pieces Offer Learning for a Lifetime
"Our workers have a great, hard-working ethic. They take pride in the furniture they produce." — Nick Schwarz, Jonti-Craft

Children's furniture may give kids a place to sit, relax and sleep, but educational and early-learning furniture does more than just support kids' bodies: it develops minds as well. Although most people see educational toys as products that include numbers and letters, furniture plays an important role in development by teaching children about cleaning up and organizing.

And when it comes to educational furniture, Jonti-Craft is a winner, with more furniture awards from Earlychildhood NEWS than any other company in the industry.

FOUNDED ON FAMILY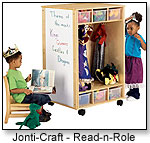 Family-owned Jonti-Craft has had its share of challenges, but as the company's massive product catalog shows, determination and a great work ethic have propelled this business to the top.

Don and Cathy Schwarz bought Jonti-Craft in 1979. Don had been working as an intern at Rapids Sash and Millwork while attending college, which allowed him to hone his woodworking skills while also getting to know the owner of the company, John Tessari. When Tessari opted to sell the company, Don and wife Cathy saw an opportunity.

The couple's three young children inspired their product line: The Schwarzes decided to produce the high-quality wooden furniture for kids they could not find in stores.

GROWTH AFTER FIRE

But tragedy struck in 1980 when the factory burned to the ground.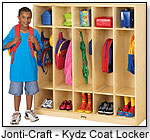 The couple relocated closer to their hometown of Wabasso, Minn., and restarted with "a few machines and three employees," son Nick, director of marketing at Jonti-Craft, told

TD

monthly Magazine. Since then, the business "has taken off quite a bit," he said modestly.

Jonti-Craft is now a leader in educational and early-learning furniture, making more than 8,000 different products and creating one of the largest educational furniture catalogs in the industry.

One of the challenges the company has had to face is limited retail space.

"Furniture sometimes scares retailers off, but it represents a great opportunity," Nick told

TD

monthly. He noted that Jonti-Craft drop-ships, so that retailers can sell from a catalog. Plus, the company makes every effort to provide the best quality service possible.

BUILT ON QUALITY AND PRIDE

Small-company service shouldn't fool customers, though, Schwarz emphasized. Jonti-Craft has a high-tech factory virtually unmatched in the country. Thanks to the fact that the furniture is made in Minnesota, Jonti-Craft can oversee the work and ensure that it meets the highest standards.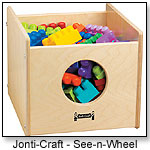 "Our workers have a great, hard-working ethic. They take pride in the furniture they produce," Schwarz explained. "Most of our products have a lifetime warranty."

Each item in the Jonti-Craft roster offers a practical use as well as educational potential. That may be one of the reasons why the furniture is popular with consumers, retailers, homeschoolers and classrooms in Canada, the United States, Mexico and even Europe.

"It's fun to hear of the people who had our product in their class 20 years ago and now they order our furniture in their own home-school classroom or class," Schwarz concluded.

Here are some of the products educators have been ordering:
Utility Cart by JONTI-CRAFT INC.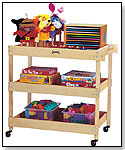 The Utility Cart allows children to neatly stack their play items or books and wheel their things from one room or location to the next. Easy to assemble and with a lifetime warranty, the cart is sure to last a lifetime — and beyond. Functional and practical, the cart features three large tier shelves that offer plenty of room, and deep trays so that items don't come tumbling out. Like much of the Jonti-Craft catalog, the Utility Cart is designed on the core principle of "making safe, affordable and durable educational furniture," according to Director of Marketing Nick Schwarz. 4/16/2007 (MSRP: $239.80)



Ultimate Lockers by JONTI-CRAFT INC.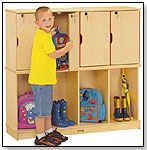 These stackable lockers feature four lower open lockers and four upper lockable lockers for plenty of storage space. With sturdy construction, safe edges and durable hinged doors, this storage solution is meant to last. In fact, these lockers come with a lifetime warranty, so customers only have to "buy the item once," Nick Schwarz, director of marketing at Jonti-Craft, told TDmonthly Magazine. A special KYDZTuff® finish keeps the lockers free of marks and makes the furniture easy to clean. 4/16/2007 (MSRP: $461.00)



Coat Locker With Step (5 Sections) & Individual Locker mats by JONTI-CRAFT INC.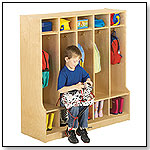 This coat locker includes a handy edge for sitting while tying shoes or putting on boots. It's 48" wide x 17½" deep x 50½" high. 1/26/2007 (MSRP: $434.70)



---
---


Copyright © 2023 TDmonthly®, a division of TOYDIRECTORY.com®, Inc.