July 13, 2020

June 2007 | Vol. VI - No. 6


Überstix Builds Creativity Around the Globe
Thinking Big Brings Construction Toys to Underprivileged Kids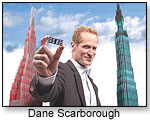 Most toy manufacturers want their toys to do better than the competition, but Dane Scarborough, founder, CEO and president of Überstix, is not your typical business owner.

Scarborough has a degree from Santa Monica College of Design, Art and Architecture and a background in manufacturing, but he built his company on pure passion. He donates 5 to 10 percent of his profits to underprivileged schools. And he doesn't see other companies as threats.

BUILD TOGETHER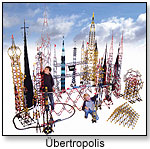 "I've never had an interest in being competitive with any other company in terms of selling the same product. There's no point in that," he told

TD

monthly Magazine.

In fact, Scarborough recently wore a LEGO T-shirt and was surprised when people asked him why he was promoting the competition.

"We're fans of LEGO, K'Nex and all building systems," he explained. He even designed his Überstix to link up with those systems to create new designs and structures.



PROTECT THE ENVIRONMENT

Überstix can also be used with Popsicle sticks, straws, plastic bottles, egg cartons and other recyclables. The Überstix all-inclusive design allows children to re-use everything around them. Überstix does not require the endless purchasing of new licensed products; a few Überstix and some common household items can keep kids busy for months, Scarborough said.

Popular Überstix products such as Übertropolis and Überbots allow children to build entire buildings and radio-controlled robots that actually work. The basic Überstix Starter Set builds everything from bridges that support HO-scale trains to boats that float.

CONSTRUCT IDENTITY

In addition to safeguarding the environment, Scarborough is committed to helping underprivileged kids by sending Überpacks to third-world schools. The packs include lesson plans on simple machines as well as Überstix building systems.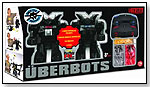 Scarborough believes that giving kids a toy is more valuable than sending money.

"When you send cash help outside the United States, it may never see the person it's intended to help," he explained to

TD

monthly. "Our mission is to create an environment where all kids discover some of their potential and get a chance to build a structure bigger than they are. Something taller gives them a sense of possibility, makes other things seem possible. It increases their self-esteem. We are dedicated to seeing that as many kids as possible get to have this experience."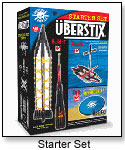 SMALL INVESTMENT PAYS OFF BIG

While children in the United States have, on average, hundreds of dollars of toys bought for them each year, children in third-world countries are lucky if they have a few dollars' worth of possessions in total. The program to send Überpacks overseas costs "less than 25 cents per child," Scarborough explained, but offers years of learning and fun.

"Life is too short not to contribute something extraordinary," he concluded.

Here are the Über kits:
UberTropolis™ 101 by UBERSTIX



ÜberTropolis 101 is a great way to introduce kids to ÜberTropolis building. This basic set comes with 101 Überstix pieces that allow children to build bridges, towers and the Mobius strip. In addition to basic Überstix I-sticks, the set comes with quarks, which allow kids to build towers and other structures taller than they are. Sturdy components result in structures that can hold a child's weight. ÜberTropolis 101 can be used with other building systems and recyclables. "In designing everything to be accessible, it's not just about the price point but also being able to add onto it. You can buy a few thousand Popsicle sticks for a few bucks or you can get some McDonald's straws ― those are free," CEO Dane Scarborough of Überstix explained. 4/23/2007 (MSRP: $14.99; Age: 8 and Up)



UberStix Starter Set (450 piece kit) by UBERSTIX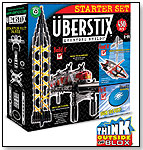 Future architects, engineers, and even rocket scientists will love using this versatile construction system that utilizes principles of physics and mathematics to build, float, and fly their wildest projects. The highly flexible, yet sturdy links, crossbeams and connecting panels interlock to form rigid structures that soar. This 450-piece set has plans for a tower, boat, bridge, ray-gun and UFO. Complete instructions are included. 3/30/2006 (MSRP: $44.99; Age: 7 and Up)



Uberbot by UBERSTIX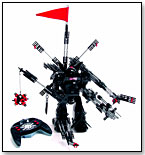 With the Überbots construction and RC kits, kids spend most of their time designing and building offenses and defenses and then testing their assumptions on the field of battle. If they are knocked down three times, they return to their lab and redesign to come back stronger. The more kids play, the more sophisticated their designs become. Dane Scarborough, inventor of Überbots and Überstix, told TDmonthly, "Build a boat and it floats or sails; build a UFO and it really flies; build a skyscraper and your ceiling may get in the way. More than one retailer told me that placing the order felt good because Überstix are designed to work with recycled items, including water bottles, Popsicle sticks, McDonald's straws, paperclips, etc. … This feature allows kids of all economic backgrounds to build big." The kit builds two Überbots with 250 Überstix, two controllers and two flags. Each Überbot will operate on a different RC frequency, with up to six Überbots capable of battling simultaneously. The kit can also be purchased with rechargeable batteries. (

Watch Video) 3/20/2006 (MSRP: $149.95)



UberTropolis™ 601 by UBERSTIX



Kids can create buildings and structures that are taller than they are with the ÜberTropolis 601 set. It includes complete instructions for four different towers, including one to build a 5' tower with a flag to put at the top. 7/11/2006 (MSRP: $54.99; Age: 9 and Up)



---
---


Copyright © 2020 TDmonthly®, a division of TOYDIRECTORY.com®, Inc.