April 11, 2021

June 2007 | Vol. VI - No. 6

---
Toy Sleuth — Inner Eye to Outer Limits
Rainbows and Star Readers Come Home
June's Toy Sleuth takes you from the smallest particle/wave of light to the biggest thing there is: the cosmos. We hunted and peered, turned up rocks and asked a lot of manufacturers what was up "out there" — and here's what came back:
Rainbow Maker by KIKKERLAND DESIGN INC.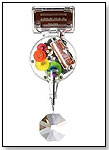 Kikkerland Design's Rainbow Maker, available in four designs, brings rainbows right into the home. Just attach the rainbow maker to a window using the suction cup and watch as the Swarovski crystal slowly rotates, and the sunlight from outside is broken into its components and flooded into the room in rainbow form. A sunny day is all you need. Kikkerland's Perrine Giacomazzo said they're "selling very well" to a wide target audience from kids to seniors. "It could fit in a child's room as well as in a living room." 5/2/2007 (MSRP: $19.95; Age: 5 and Up)



Cat Paw "Nekonyanbou" by BANDAI AMERICA INC.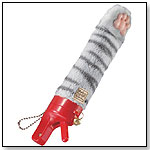 This fake cat's paw has a bell on the handle and a trigger to make the claw ... well, do claw things. Backscratcher? Friend tapper? Dog deceiver? This thing is just straight weird. The user manual shows things such as using it to reach for a coffee cup, confuse a real cat, and even duel — if your opponent also has a cat paw. It looks fun, and Izumi Nagano at Bandai headquarters in Tokyo explained that "it is something that is unique and brings both playfulness and joy." 5/2/2007 (MSRP: $20.00; Age: 7 and Up)



Star Wars Chubbies by HOT TOYS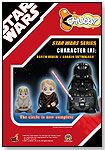 These squat cartoony-looking PVC dolls depict several iconic Star Wars characters, each one opening up to reveal two more figures within (just like those Russian Matryoshka nesting dolls). For instance, the Alec Guinness-era Obi Wan opens up to reveal the bearded Jedi from Episode II, who in turn opens up to contain the fresh-faced young apprentice from Episode I. Audris Rumaldo of Sandbox Strategies, PR representatives for Firebox, thinks they're "suitable for both adults and kids. Everyone seems to be a 'Star Wars' fan, but, of course, I believe adult collectors would appreciate it more." 5/2/2007 (MSRP: $14.95; Age: 8 and Up)



Hydrocar (FCJJ-20) by HORIZON FUEL CELL TECHNOLOGIES PTE. LTD.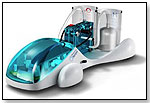 This space-age-looking follow-up to Horizon's H-Racer fuel-cell toy uses the next generation of "polymer electrolyte membrane-base fuel cell" to power it to fast-driving fun. Yet another demonstration by Horizon of the shape of fuel to come, the Hydrocar's new technology operates at a lower temperature and lower pressure than previous fuel cells, making it a safer technology if it were to be used in full-sized automobiles (or neighborhood energy infrastructures). Since this little car only turns after it bumps into things, it's probably a good thing it's not going to go all Hindenburg on us. 5/2/2007 (MSRP: $85.00; Age: 12 and Up)



---
---


Copyright © 2021 TDmonthly®, a division of TOYDIRECTORY.com®, Inc.