September 22, 2020

June 2007 | Vol. VI - No. 6


Marvel-ous Heroes Conquer Toy World
But Specialty Retailers Don't Want a "License" to Sell
"With licensed products, you have to place a huge order." — Cheryl Richmond, Punkin Doodles

With additional reporting by regional correspondents Virginia Davis, Dennis Furlan, Elizabeth Greenspan, Terri Hughes-Lazzell, Christine Lebednik and Brenda Ruggiero

"I try not to carry [licensed toys] because you can get them anywhere," Susan Castor, owner of Pentwater Toy Box in Pentwater, Mich., recently told

TD

monthly Magazine.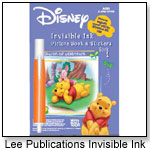 Her words echoed those of 39 specialty retailers, 77 percent of whom said they carry little to no licensed products. Nonetheless, characters new and old (think Dora the Explorer and Betty Boop) still drum up business in some parts, and manufacturers keep tuning in to toons and film stars to determine their next licensed steps.

WHAT'S SELLING … A BIT



TD

monthly's Top-10 Most-Wanted Licensed Toys article invites nostalgia for Raggedy Ann and the Smurfs, as well as features more contemporary characters. But often, what's selling in licensed goods isn't found on specialty store shelves.

Perhaps that's because "with licensed products, you have to place a huge order," as Cheryl Richmond, owner of Punkin Doodles in Havre, Mont., pointed out.

Linda Hays, owner of Hopscotch Inc., in McMinnville, Ore., named Star Wars, Bob the Builder, Spider-Man and Dora as licenses she doesn't have, but that people "ask for all the time." Dragon's Toy Box in Seattle gets frequent requests for Tamagotchi, Owner Tristan Hewitt said.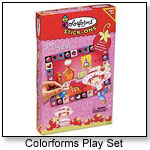 "Colorforms Dora and Strawberry Shortcake are about it. They do fairly well for that line of toys," Dean Nelson, owner of Wizard Kids Toys in Toledo, Ohio, told

TD

monthly about licensed sales in his store.

And Owner Jamie Burdette of LB Toys in Media, Pa., expressed satisfaction with Disney Invisible Ink Books and Magnetic Paper Dolls from Lee Publications. The company's Karen Nethery confirmed that their Disney products are always strong sellers.

WHAT'S NEW

In August, RC2 Brands is expanding its Take Along line to include popular Nickelodeon characters Dora and Diego, and this fall will attach a Marvel license — including Hulk and Captain America — to its new Play Town homes and small wooden characters.

K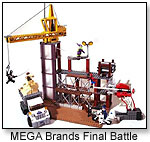 amhi World is focusing its licensing energy on the big screen — namely the upcoming Simpsons movie and "Shrek the Third" — with talking pens and clip-on accessories.

MEGA Brands is also capitalizing on film sequels, with construction toys and character play sets for "Pirates of the Caribbean: At World's End" and "Spider-Man 3." Some of the Pirates toys even contain hidden webcodes that access online information.

Check out more licensed favorites below:
Shrek Clip-ons – Puss 'n Boots by KAMHI WORLD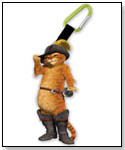 This clip-on is 3" tall and says lines from "Shrek the Third." It can be clipped to backpacks, key chains, belt loops, handbags and more. "It not only has audio in Antonio Banderas' actual voice, but it is also his most famous line from 'Shrek the Third,' which was featured on American Idol," President Jay Kamhi of Kamhi World told TDmonthly. Launch date: April 2007.
(

Watch Video) 1/9/2007 (MSRP: $5.99; Age: 8 and Up)



Simpsons Talking Pens by KAMHI WORLD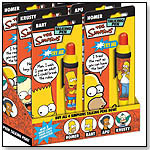 Each Simpsons pen says five funny Simpsons lines in the character's own voice.
— "The big screen movie hits theatres July 2007, and fans have been waiting 17 years for it!" President Jay Kamhi of Kamhi World told TDmonthly. Kamhi said that selecting a license involves looking at movie previews, measuring the popularity of a sequel, and determining "if your target market is into that kind of thing." (

Watch Video) 1/9/2007 (MSRP: $5.99; Age: 8 and Up)



Disney's Finding Nemo 2in1 Books by LEE PUBLICATIONS



Nemo and Dory take the ocean by storm uncovering lots of adventures. The activities include Invisible Ink with Stickers. The Special Pen reveals the invisibly printed pictures. Then match your stickers to the appropriate spot. Each book includes 24 pages of fun, a special pen and stickers. 1/2/2007 (MSRP: $3.99; Age: 3 and Up)



Spider-Man Light-Up Wand by WEGLOW INTERNATIONAL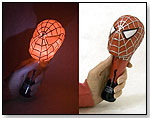 Exclusively developed by WeGlow International and distributed by Virginia Toy and Novelty Company, this wand features a soft rubber dome shaped in the form of Spider-Man, with a series of inside lights that spin to create a colorful light show. The handles come in two colors and include the black suit Spider-Man theme to coincide with the movie plot. Matt Smith of WeGlow International shared with TDmonthly that "it took over eight months of development to design and create. … Incorporating one of the hottest licenses with an already existing and successful product makes the Spider-Man Wand remarkable." Launch date: April 15, 2007. (

Watch Video) 4/6/2007 (MSRP: $5.99; Age: 3 and Up)



Dora Bebe Crib Bedding and Room Decor by BABY BOOM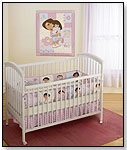 This four-piece baby bedding set features Dora and her best friend Boots against a palette of soft pink, blue and yellow. It includes a soft comforter, fitted sheet, bumper and crib skirt. A coordinating wall hanging and other room décor are also available. Launch date: April 2007. 4/23/2007 (MSRP: $49.99; Age: 0 to 2)



Star Wars Chubbies by HOT TOYS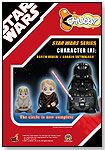 These squat cartoony-looking PVC dolls depict several iconic Star Wars characters, each one opening up to reveal two more figures within (just like those Russian Matryoshka nesting dolls). For instance, the Alec Guinness-era Obi Wan opens up to reveal the bearded Jedi from Episode II, who in turn opens up to contain the fresh-faced young apprentice from Episode I. Audris Rumaldo of Sandbox Strategies, PR representatives for Firebox, thinks they're "suitable for both adults and kids. Everyone seems to be a 'Star Wars' fan, but, of course, I believe adult collectors would appreciate it more." 5/2/2007 (MSRP: $14.95; Age: 8 and Up)



Bob the Builder Follow Me Remote Controlled by RC2 BRANDS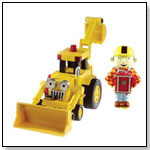 This tractor coop can follow Bob – and your child – with this delightful, easy-to-use remote control vehicle. This toy features working lights, 10 sounds and Bob-the-Builder's theme song. 12/8/2006 (Age: 2 and Up)



Cinderella Magnetic Fun® Mini Tin by LEE PUBLICATIONS



Dress Cinderella and Prince Charming for a day of imagination and fun!
Each tin consists of 2 characters printed on the tin, activity card to be used on the tin and 1 sheet of magnets.
— "The kids like it because they have so many options. They can manipulate it so it gives them an opportunity to be creative," said Tricia Cooper, buyer for Le Jouet Inc. in Metairie, La., who said they sell a lot .
— "The Travel Tins by Lee Publications," said Betsy Justings, owner of Betsy's on Ross in Auburn, Ala., when asked about best-selling travel toys in her store. Three other retailers agreed.
— Justings told TDmonthly she sells at least one of these travel tins a day on a regular basis. 6/22/2006 (MSRP: $3.99; Age: 3 and Up)



Betty Boop – She's Still Got It by WESTLAND GIFTWARE INC.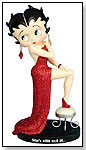 From the Betty Boop Collection, this sculpture features Betty Boop in a sparkling red gown and reads "She's Still Got It" on the base. It is made of solid resin and measures 8.5" tall. "Even though Betty's career in films was short (the 1930s), she became so well known [that] her life as a sought-after collectible continues," Tammy Aldridge, owner of retailer Goodies Galore, told TDmonthly. Launch date: March 2007. 5/21/2007 (MSRP: $37.00; Age: 13 and Up)



Dora the Explorer Treasure Quest by COLORFORMS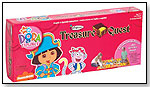 With this fun and engaging set for two to four players, kids can join Dora and Boots on their search for adventure. Children spin their way around the giant play map to reach the treasure chest, and then select a play scene and create stories using the Colorforms stick-ons and treasure hunting pieces. It's a colorful and enjoyable way to stimulate creativity and imagination, and kids can learn colors in English and Spanish. The set includes a play map, four play scenes, 33 Colorforms stick-ons, four treasure hunting pieces, a spinner and instructions. Launch date: January 2007. 5/15/2007 (MSRP: $15.98; Age: 3 to 8)



The Very Hungry Caterpillar Magnetic Adventures Play Tin by COLORFORMS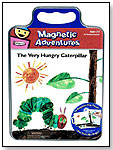 The Very Hungry Caterpillar comes to life in these beautifully detailed magnetic play sets. With The Very Hungry Caterpillar Magnetic Adventures, children will enjoy creating their own stories over and over, all over the house. They can play with the colorful caterpillar and butterfly pieces on the fridge, on the washer/dryer and in the play tin. The set includes four play scenes and 24 magnetic play pieces. Launch date: April 2007 5/15/2007 (MSRP: $9.99; Age: 3 to 8)



Raindancer Smurf by SCHLEICH NORTH AMERICA, INC.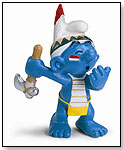 This adorable Smurf is decked out in Indian garb, tomahawk and face paint included. Launch date: January 2007. 5/15/2007 (MSRP: $2.99; Age: 3 and Up)



---
---


Copyright © 2020 TDmonthly®, a division of TOYDIRECTORY.com®, Inc.