February 26, 2021

June 2007 | Vol. VI - No. 6


Kids Take Culture "To Go"
Playsets Emphasize Our Small, Small World
"[Be Good Company's Sandbox Play Sets] are almost as hot as Plasma Cars." — Linda Angel, Kidoodles Toys

With additional reporting by regional correspondents Virginia Davis, Dennis Furlan, Elizabeth Greenspan, Terri Hughes-Lazzell, Christine Lebednik and Brenda Ruggiero

Straight to the moon! Or the rodeo. Kids travel the universe, using playsets that emphasize the world outside their doors.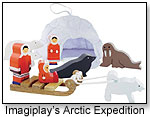 "[Manufacturers] are doing more current kinds of things. … They'll include sushi or an ATM," Jordan Walden, store manager for Finnegan's Toys and Gifts in Portland Ore., commented to

TD

monthly Magazine.

"The themes used to be farms and dollhouses [but they're] expanding and being more imaginative," seconded Barbara Aimes, founder and president of Imagiplay.

WHAT'S NEW

Even sandboxes are now cosmopolitan; Be Good Company's tabletop Sandbox Play Sets featuring dino digs, mermaids and more have suddenly taken off in one mid-western store.

"I have to reorder them every three months and have to do at least two to three cases of each style," said Linda Angel, owner of Kidoodles Toys in Norman, Okla., who has been carrying them since early last year. "They're almost as hot as [Plasmart] Plasma Cars."

Sand trays and figurines also do well at Anna's Toy Depot in Austin, Texas, said Owner Anna Barr.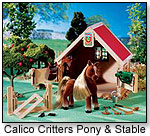 WHAT'S SELLING

Playmobil's still on top of

TD

monthly's Top-10 Most-Wanted Playsets list, but Calico Critters by International Playthings aren't far behind.

Though parents and grandparents snatch up the critters as gifts, girls are "coming in with their own money [and buying] everything from little critters to a full-sized house for about $120," noted manager Sean O'Brien at Blinn's in Fairfield, Conn.

In the fantasy realm, six of 31 retailers mentioned that pirate playsets still "sail" well, but another recently noticed a fall-off.

Other playsets with legs included Brio's Figure 8 Set, RC2's castle and pirate items, princess sets by International Playthings and cars with play mats by Spinner Toys. And play tables are popular, asserted Kim Duff, manager of Giggles Toys & More in Bozeman, Mont.

WHAT'S COMING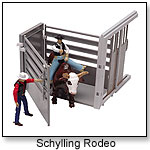 In addition to emphasizing diverse cultures, soft, portable, screwless and all-in-one are the trends for playsets, representatives from Playground Enterprises, Top Shelf Holdings and Odyssey Toys told

TD

monthly. Owner Tom England of Dancing Bear Toys & Gifts in Frederick, Md., also noted "more fascination with wooden items" among his customers.

Finally, Schylling's having success with a new niche-within-a-niche product — its all-inclusive rodeo playsets, which sell well in cow country. Look for more micro-marketing as toy manufacturers search for new ways to sell their toys.

Following are some of the worlds kids are toting around with them. (And browse through more playsets and traditional dollhouses here.)
Pirate Treasure Hunt by PLAYGROUND ENTERPRISES INC./DANNY FIRST TOYS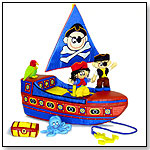 Captain Danny and first mate Sally brave the high seas in search of lost treasures. The set includes a pirate ship, Danny and Sally poseable dolls, treasure and an anchor. "Danny First playsets are designed for both girl and boy play. … They promote imaginative play...no batteries required!" VP of Product Development & Sourcing Jeff Alward told TDmonthly. "Soft sets like ours are mostly in the specialty market. Other playsets, like Playmobil, in the mass market, are not so user-friendly for younger kids." (

Watch Video) 4/6/2007 (MSRP: $39.95; Age: 2 and Up)



My Little Sandbox Play Set – Pirates Ahoy! by BE GOOD COMPANY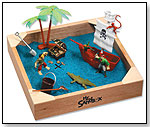 This little wooden sandbox measures 10" x 10" x 2" and comes with a 20" x 20" no-mess play mat. It features ultra-fine sand, two pirates, a sailing ship, palm trees, a treasure chest, treasure, a booty bucket, a grooming rake, a treasure shovel, a monkey, a parrot and a crocodile. Other new sets include Princess Dreams and Nativity. "Kids are engaged in My Little Sandbox Play Set twice as long as other play sets because of the ultra-fine craft-quality sand. This is proven out by the eight successful themes in the line previously launched (Beach, Construction, Dinosaur, Farm, Mermaid, Fire Rescue, Monster Truck, Space)," Vince Kurr of BE Good Company told TDmonthly.
— Though the sandboxes had been available since 2003, it wasn't until the company introduced a demonstration display for retailers in 2004 that the product really took off. "The mom will go into the store and the kids will be at the display the whole time. Even though it's a $25 item, it's an impulse purchase, and then it becomes a great birthday gift," Kurr explained. Launch date: June 2007.
— These sandbox play sets were listed as best sellers at Key West Toy Factory in Key West, Fla., in late spring 2010 by Manager Katie Harris. "We carry eight different versions of these adorable 12" sandboxes," she told TDmonthly. "Each one has a different scene that kids can build and play with." 3/22/2007 (MSRP: $24.99; Age: 3 to 8)



Breyer Classics Veterinary Care Gift Set by REEVES INTL. INC.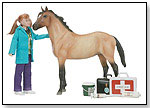 This cute young veterinarian in cool-colored scrubs has everything she needs to take care of her dun Thoroughbred cross. The set includes horse and veterinarian figurines, a first aid kit, a bag, medicine and more. "Our Veterinary Care Gift Set encourages children to use their imagination but is also educational in that it teaches them how to care for their animals," Kim Abbott of Reeves International told TDmonthly. "This set also includes authentic replicas of a horse and veterinary medical accessories." 3/6/2007 (MSRP: $25.00; Age: 4 and Up)



ZipBin® Country Stable Play Set by NEAT-OH! INTERNATIONAL LLC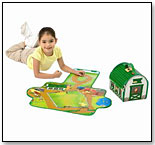 This soft-sided, horse stable-shaped and -decorated carrying case converts to an entire horse farm playscape with a barn, stable, corral and riding paddock. Gerry Linda, director of marketing at Neat-Oh! told TDmonthly, "We're beginning to sense a movement toward branded/licensed accessories and toys in playsets, driven more by manufacturers than by consumers or the trade. However, we are also seeing higher-quality toys and accessories being incorporated into playsets ... and this demand is coming from consumers. Either way, playsets are taking on a more important role." Launch date: February 2007. This product was previously catalogued under the name ZipBin® Softie™ Country Stable (changed January 2009).
— Georgia Wampler of The Learning Station in Newark, Del., called ZipBins "very, very clever" while at Toy Fair 2007. "They can be used in a lot of different ways. We were excited about the good price point," she said. (

Watch Video) 2/28/2007 (MSRP: $19.99; Age: 3 to 8)



Only Hearts Horse & Pony Club™ by ONLY HEARTS CLUB GROUP LLC



Only Hearts Club introduces its newest line, the Only Hearts Horse and Pony Club™. This exciting brand features a complete equestrian line, from horses, to riders, to stables and tack-room accessories. The Only Hearts Horse & Pony Club features both Western and English riding lines, and is sure to delight horse lovers of all ages. Kids can experience realistic fashions and horse breeds with soft and poseable dolls and horses.
— "Only Hearts Club with the equestrian theme," is tops for fashion dolls at J.W. Allen and Sons Children's Provisions in Park City, Utah. Owner Jonathan Allen said, "We sell on the average 15 a month."
— "Only Hearts Club has done well as far as fashion," agreed Stephanie Dupuy, owner of Playville in Covington, La.
— Ten percent of retailers surveyed in January 2008 named the Only Hearts Club as their most "stable" fashion line. (

Watch Video) 2/22/2007



Misty 'n Molly by WOW TOYS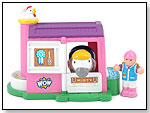 This set includes a stable with a rotating pony feeder, a horse and a girl figurine. Children can play with best friends Misty and Molly, and can "twist the cockerel to turn the clicking trough and feed Misty her favorite meal," according to Wow Toys PR Manager Tanya Laperouse. Launch date: February 2007. 2/1/2007 (MSRP: $14.99; Age: 2 to 5)



Riding School by TOP SHELF HOLDINGS LLC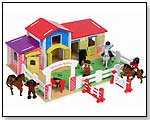 Children love to "saddle up" with this colorful equestrian playset, which comes ready-to-play with four realistic horses with bridles and removable English saddles, two jumps, one saddle horse, and four flexible wooden equestrian dolls. The buildings feature five working doors and the roof pieces can be removed for plenty of "indoor" and "outdoor" play. The set assembles in minutes without screws or hardware. Launch date: March 1, 2007.
— "This year Top Shelf Holdings LLC has pushed the envelope of our 'ready-to-play playset' concept by combining different materials and components — whatever is necessary to make the perfect equestrian playset," Eric Meade of Top Shelf Holdings told TDmonthly. "Heritage Playsets includes all the figures, animals and other accessories that a child would need to play with the playset immediately." 1/5/2007 (MSRP: $99.95; Age: 3 and Up)



Pirate Max Treasure Chest by AURORA WORLD INC.



Pirates "ARRRRR" all the rage, thanks to Aurora (and some clever amusement park rides and action-packed high-budget movies). Aurora's plush Pirate Max Treasure Chest highlights the all new Pirate Max line for 2007. The 6" on-the-go chest opens and closes, fastened by a velcro attachment. There are four, 4" characters inside, each making a fun sound. Captain Max and Mate Max both "Woof," Chump the Monkey makes monkey noises (think "E-e-e-e-e-o-o-o-o-o") and "Arrr" the Parrot chirps and squawks accordingly. The line also features Aurora's Pirate and Mate Max Flopsies, as well as Pirate Max and Mate Max body puppets and a Max Lil' Pack (a 13" backpack). 1/15/2007 (MSRP: $19.99; Age: 1 and Up)



Enchanted Palace by INTERNATIONAL PLAYTHINGS LLC


This playset features five detailed characters — king, queen, princess, magician and jester — a table, two thrones and a bed so that every little girl can play happily ever after. The tower doubles as a handle for take-along play and the castle gates really work. 5/8/2007 (MSRP: $39.99)



Rolf's Castle Bridge by RC2 BRANDS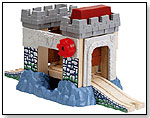 Rolf's Castle Bridge spans a colorful moat. Kids can turn chunky knobs to raise and lower the castle gate. The package measures 10" x 7.5" x 9.75" and weighs 3.53 lbs.
― "RC2: that's our major vendor," Lisa Pippin, manager of Action Toys in Billings, Mont., told TDmonthly in spring 2007. "Part of it is because of their website. You can order online. They're good about products that have been damaged." 5/8/2007 (Age: 3 and Up)



46-Piece Emergency Set With Play Mat by SPINNER TOYS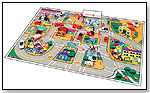 This emergency set includes die-cast vehicles, motorcycles, helicopters, firemen, policemen, street signs and a large playmat. The window box is 20" x 14" x 1.5". 5/8/2007 (MSRP: $30.00)



Dinosaur Dig Play Set by ODYSSEY TOYS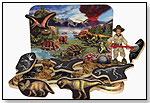 This unique playset includes seven moving pieces buried in two layers. Kids lift the first layer of dinosaur puzzle pieces to reveal a second layer of fossil pieces. The two layers connect magnetically, the animals can move the magnetic backdrop, and animal names are printed on each piece. The backdrop can be used on either side, for the land of dinosaurs or the fossil dig site. The product is handcrafted in wood, except for the included poseable plastic figure, which has gripping hands, a detailed sculpted face and soft, sewn clothing. "We added value to the set by adding the figure," explained Jessica Klein, vice president of sales for Odyssey Toys. "We wanted moving pieces, because kids love that, and magnetic features so they could play in the car." Launch date: April 20, 2007. (

Watch Video) 3/19/2007 (MSRP: $19.95; Age: 3 and Up)



Pretend & Play Animal Hospital by LEARNING RESOURCES INC.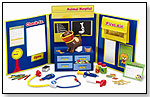 Tender loving pet care goes anywhere with this portable animal hospital, and role-play encourages participation in caring for family pets. The hospital comes complete with a puppy and 34 pieces to ensure a thorough check-up. Write-and-wipe components let children play repeatedly, and a tri-fold board with pockets stores components neatly. Launch date: January 2007.
— "Learning Resources: school and doctor sets," said Danny Givens, owner of Little Dickens in Lynchburg, Va., when asked about popular playsets in his store. One other retailer that TDmonthly spoke with agreed that Learning Resources playsets sell well.
— Twenty units per month was a figure one retailer provided to TDmonthly when asked about sales.
— "Dramatic play toys are always a staple item in specialty toy stores, but what makes the Pretend & Play Animal Hospital special is its topic. Since 60 percent of families have at least one household pet, the idea of children taking care of pets — even through imaginative role play — will resonate with parents," Kim McLynn of Learning Resources told TDmonthly. 3/19/2007 (MSRP: $34.95; Age: 3 to 6)



28-Piece Pirate Ship Adventure Set by ESCO TOYS

This 16" ship features sails, six pirates, a cannon, a treasure chest, a row boat, three flags and more. It is sold by the piece and packaged in a 11" x 10" printed box. 3/26/2007 (MSRP: $18.00)



Pirate Treasure Kid Kit by EDC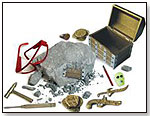 Kids can carefully excavate the six-piece treasure chest out of the rock. They can then assemble the chest and put the treasure in the treasure chest for safekeeping. This kit includes the following: pirates (beginners) book, pirate treasure chest and treasure encased in excavation rock, digging tools, eye goggles and brush. "Not only do the treasure chest and treasure match the pictures shown in this beautifully illustrated Usborne book, but the quality of the rock also sets this product apart from similar products. It literally provides hours of fun," Janis Riley of EDC Publishing told TDmonthly. Launch date: January 2007. 3/1/2007 (MSRP: $19.99; Age: 6 and Up)



27" x 47" Sandtable by SANDLOCK SANDBOXES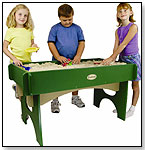 The SandLock Sandtable is made from all commercial-grade plastic with a simple interlocking design. It is designed for easy assembly and long-lasting durability. With an attractive design and color, it fits easily into any surrounding. To enhance the sand play experience, a variety of accessories such as casters, umbrellas, a waterliner, a watertub and covers are also available for this model. According to Chris Freres of SandLock Sandboxes, "quality and durability" set this product apart. It received the 2007 Teachers' Choice Award from Learning Magazine. Launch date: March 5, 2005. 4/13/2007 (MSRP: $299.99; Age: 2 and Up)



Train Table by HEROS TOYS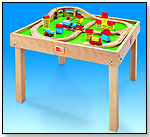 The solid wood Heros train table is a perfect size for the home, being smaller than the huge ones typically seen in toy stores. It measures 26-1/2" x 24" x 18-1/2". It can be purchased with the complete train and track set or as just the table for all kinds of play. This quality product is made in the Heros factory in Germany. Launch date: March 2007. (

Watch Video) 4/6/2007 (MSRP: $149.00; Age: 3 and Up)



Activity Table by BOIKIDO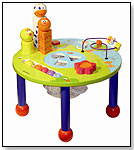 The Boikido Activity Table includes three magnetic stacking animals, a zigzag activity, a bead coaster, a magnetic spinning flower, counting beads and a shape sorter. It develops shape recognition, imagination, problem solving and fine motor skills. Adult assembly is required. "The combination of bright colors, themed graphic design and age-appropriate activities makes it attractive, interesting and developmental for young children," Jonathan Segal of Boikido told TDmonthly. He added that "Boikido changed … the traditional look of wooden toys of primary colors and exposed wood grain in favor of more contemporary and fresher colors that appeal to infants." Launch date: October 2006. 3/19/2007 (MSRP: $49.99; Age: 1 and Up)



Rodeo Deluxe Playset by SCHYLLING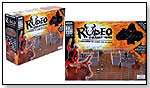 The Rodeo Deluxe Playset brings the thrill of the rodeo into a living room. Four-inch-high action figures and bulls each have 21 points of articulation, detailed features and rodeo gear. Rodeo Champion bulls have jointed skeletons and life-like Bio-Skins that move freely to bring the bulls to life. The set is designed by professional rodeo athletes to be as authentic and true to life as possible. Kids can build the arena of their choice using real working chutes, gates and fences. Everything is scaled down for enhanced realism.
— When asked about popular playsets in her store, Cheryl Richmond, owner of Punkin Doodles in Havre, Mont., said, "Probably the Rodeo Champions by Schylling. We have a lot of cowboys around here." One other retailer agreed with Richmond.
— "We probably sell five or six per month, which, for our store, is real good," Richmond added.
— The idea for western-themed playsets came from the company's owner, who took up horseback riding a couple of years ago, Stephen Medina of Schylling Toys told TDmonthly. "The jointed and poseable characters of the Rodeo Champions Playsets are so realistic that you'll feel like you're at a real rodeo or bull riding event. The play value is off the charts and the scenarios are endless." 5/2/2007 (MSRP: $79.99; Age: 4 and Up)



Transform N' Play Activity Table by MAXIM ENTERPRISE INC.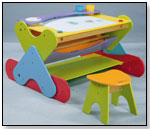 Bringing new life to an old item, this activity table transforms into a drawing table or desk. The table easily converts, and the set includes a stool, two cups, a roll of paper, and a painter's palette. The table is available in a natural wood finish, as well as in playful colors. "Our table allows parents and children to decide what type of medium they need at any particular time," Kris Millington, vice president of marketing and development for Maxim Enterprise, told TDmonthly. "We've taken the need for multiple pieces of furniture in a family's home out of the equation." Launch date: June 1, 2007. 3/1/2007 (MSRP: $180.00; Age: 3 and Up)



Heritage Playsets Princess Palace by TOP SHELF HOLDINGS LLC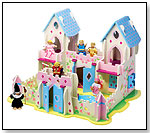 Dreams come true in this fairy tale palace. With a realistic footbridge, working doors and windows, a rope ladder, a secret entrance and a set of six flexible wooden figures, this playset will provide years of imaginative play. 5/8/2007 (MSRP: $109.95; Age: 3 and Up)



Heritage Playsets Wildlife Park by TOP SHELF HOLDINGS LLC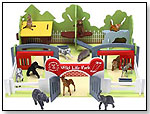 It's natural to love this playful wildlife reserve, where animals feed, sleep, play and hide as a child's imagination unfolds. It features working doors, a ladder, sliding gates, two feeding troughs and 12 realistic wild animals. (

Watch Video) 5/8/2007 (MSRP: $99.95; Age: 3 and Up)



Heritage Playsets Medieval Entourage Doll Set by TOP SHELF HOLDINGS LLC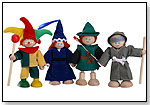 The Medieval Entourage Doll Set includes an archer, a damsel, a monk and a court jester. The archer, monk and court jester each come with a unique accessory. All dolls stand approximately 4" tall. 5/4/2007 (MSRP: $14.95; Age: 3 and Up)



Creative Craft Box by AWESOME KIDS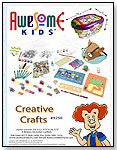 Craft Box is a newly added item that has almost every imaginable craft from painting to structuring to assembly. It's a great value at $22.95, including freight. 11/14/2006 (MSRP: $22.95; Age: 3 to 8)



Sushi-Slicing Play-Food Set by MELISSA & DOUG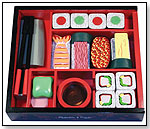 Kids can serve up a low-fat, high-protein meal to their teddy bears with this wooden play set.
— "Wood slicing food by Melissa & Doug," Anna Barr, owner Anna's Toy Depot in Austin, Texas, told TDmonthly, when asked about her store's best selling wooden toy item.
— "We sell numerous sets of wooden food, like Melissa & Doug ones," Emily Holmes, a buyer for Ambassador Toys in San Francisco, Calif., told TDmonthly.
— Over 11 percent of retailers told TDmonthly in early 2008 that wooden play-food sets were selling very well in their stores. 5/11/2007 (MSRP: $19.95; Age: 3 and Up)



Classic Figure 8 Wooden Train Set by BRIO CORPORATION



The never-ending track makes for never-ending fun. The looping track is made of natural, unstained wood. The wooden train and two trees are brightly painted. The sturdy 24-piece track measures 112" in length. Train cars are held together by magnets.
— "Brio wooden train sets," was the direct answer given by Paula Tremba, owner of One Two Kangaroo in Shepherdstown, W.Va., when asked which wooden toys sell well in her store.
— "We have Brio trains," said David Correa, buyer at Mrs. Tiggy Winkles in Tucson, Ariz. He added, "Brio is really dedicated to really good quality."
— In an early 2007 survey, Brio Trains were specifically cited by three of 51 retailers TDmonthly spoke with about wooden toy best-sellers. 9/30/2005 (MSRP: $34.00; Age: 8 and Up)



---
---


Copyright © 2021 TDmonthly®, a division of TOYDIRECTORY.com®, Inc.