September 24, 2020

June 2007 | Vol. VI - No. 6


Mixis Mix It Up
Fashion Dolls Celebrate Ethnic Combinations
"Kids need to be encouraged to celebrate all aspects of their multiracial background." — Debbie Goodland, YNU Group

The founder and president of YNU Group lived a "Mixis" life long before she ever considered making the 12" multiracial fashion dolls.

Jamaican-born Debbie Goodland grew up around various ethnicities and a church that was home to 74 different nationalities, and, in fact, has a diverse heritage herself — African, Scottish, Irish and English.

"My kids are the true Mixis," she told

TD

monthly Magazine, noting her marriage to a Caucasian Canadian.

A NARROW MARKET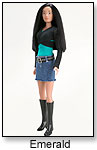 Goodland came up with the idea for Mixis more than a decade ago, after a disappointing Internet search led to few websites dealing with mixed race. She noticed, too, a lack of multiracial dolls in the market.

Marrying someone of a different race was illegal in the United States just a few decades ago, she said, and "kids need to be encouraged to celebrate all aspects of their multiracial background." That's why each of the eight Mixis dolls has handcrafted features representing different ethnic combinations.

A NINE-YEAR DREAM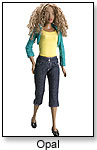 An esthetician by profession, Goodland said she had to make the decision to follow her dream of creating the dolls. "I like esthetics," she said, "but I wasn't really fulfilled in it."

So in 1996, she called up a Toronto Star-featured portrait doll artist who happened to be Jamaican — and a Mixis. "She could relate to what I wanted. I didn't [have to] draw anything," Goodland said.

Advised by a toy association not to sign a disclosure agreement with a manufacturer at the time, Goodland sat on the idea until 2005. Then she decided, "I'm not going to live my life without ever pursuing this."

LONG-TERM INVESTMENTS

The pursuit began with a CAN $20,000 loan from an associate, which covered legal work, the creation of porcelain prototypes, a creative director and contact with a Hong Kong-based manufacturer.

Within five months, YNU Group had a prototype, but it required another CAN $200,000 from another associate to keep things going.

WAITING IT OUT

October 2006 brought a change in factories and a restructuring of YNU Group — including the addition of a key advisor/investor who has "years of experience that money could not pay for," Goodland said. "We are constantly getting a lesson on how to run a corporation, how to count the cost."

One lesson has been in knowing what, and what not, to pursue. Goodland returned from Toy Fair 2007 with interest from several companies, she told

TD

monthly, but slowed down at the advisor's recommendation: "As much as those are exciting leads, we are not ready for them, [he said]. You cannot meet the demand."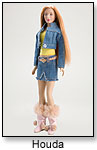 A MIX OF MERCHANDISE

In trying to balance high quality and playability, the company is battling "what people have been taught to expect for a price point in fashion dolls," Goodland told

TD

monthly. Production costs are higher, she noted, because of the quality workmanship and the fact that three techniques are used on the doll's faces and their eyes are curved for a more realistic appearance.

YNU Group is planning to launch other items in August, including a cultural scrapbook and a World Travel Book with Mixis Paper Dolls. Additionally, children will be able to participate in storytelling, send postcards and play games on the Mixis website, which may one day be as interactive as Webkinz, Goodland said.

Interactive play is important in the Mixis line as children learn who they are, she added: "We're not telling you what mix is. You define what it is for you."

See more about Mixis below:
Mixis™ by YNU GROUP INC.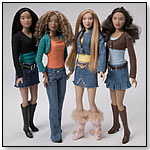 Mixis™ collectible play dolls have been delicately designed with varying skin tones, realistically painted eyes, unique facial characteristics, fully articulated body parts and a naturally proportioned body. The focus is on the blending and fusion of races, ethnicities and cultures, encouraging a dialogue between children and their families that explores the richness and diversity of their individual backgrounds. (

Watch Video) 1/30/2007 (Age: 6 and Up)



---
---


Copyright © 2020 TDmonthly®, a division of TOYDIRECTORY.com®, Inc.