February 25, 2021

June 2007 | Vol. VI - No. 6


TDmonthly's Psychologist Mom
She'll Put Your Toys on the Couch
Dr. Wright doesn't just look at toys; she analyzes them. In and out of the box, she scrutinizes them for playability, appropriateness and educational value. The latter quality is especially important to this psychologist/mother, who also homeschools her three children.

This month,

TD

monthly Magazine's Psychologist Mom has a blast with beads and shares her views on a symmetrical chess game and a zip-up play mat, rating each product with 1 to 5 TD stars (for

TD

monthly!); 5 is the top mark.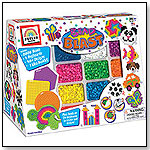 Perler Beads Bead Blast by DIMENSIONS
Gender: Boys and Girls
Category: Arts & Crafts



TD

monthly rating:





The Dr.'s Impressions: These little beads are used to create a design on a pegboard, and then one irons the design to meld the beads into one shape. The kit comes with 8,000 beads, several pegboards, an idea booklet, two storage trays and ironing paper. There is enough in this well-designed box to create more than 40 bead designs.

Kids' Perspective: My detail-oriented 8-year-old really loves these beads. He spends hours at a time putting different shapes together, and irons them only occasionally. He also looked up more projects on the Perler Beads website, which is conveniently printed on the box and is full of fun activities. I think he could play with this kit for years! It is only April and he is already making gifts for Christmas.

Recommendation: Bead Blast is a wonderful kit for children. It inspires creativity and attention to detail. Shape relation and color balance are strongly utilized when the child forms a design; children seem to get lost in the experience of this activity. I can't recommend it highly enough.

---
Ministers Chess — Third Edition by CORINTHIAN GAMES LTD.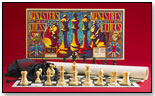 Age: 6 and Up
Gender: Boys and Girls
Category: Board Games
MSRP: $32.95



TD

monthly rating:





The Dr.'s Impressions: Ministers Chess is quite a chess game. It includes a 9 x 9 folding board on one side, a traditional 8 x 8 pattern on the other side, tournament-sized plastic playing pieces, a vinyl roll-up board and a nice cloth bag. This variant is very close to traditional chess but provides "symmetry" by renaming the Queens "ministers" that can flank the King. This symmetry apparently corrects an anomaly of the structure of chess by eliminating the bishop-side weakness of the king.

Kids' Perspective: My 8- and 10-year-old boys did not want to learn chess another way. The more we tried to play, the more confused they became. I think this variant is better suited to much older children and adults.

Recommendation: This beautiful chess game provides an interesting alternative to chess but allows conventional play as well. I found after several games that I was much better at chess than I was before trying Ministers Chess. This variation allows for more sophisticated maneuvers and strategies and is not quite as influenced by the first 10 to 20 moves as is conventional chess. I recommend this game highly, though it might be best suited to older teens and adults, or younger kids who haven't yet learned traditional chess play.

---
ZipBin™ Softie Train Depot by NEAT-OH! INTERNATIONAL LLC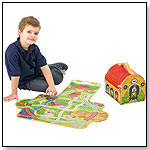 Age: 3 to 8
Gender: Boys and Girls
Category: Playsets

Watch Video



TD

monthly rating:





The Dr.'s Impressions: This soft-sided carrying case is shaped and decorated like a train depot and converts to a village and train yard playscape. The storage bin is neat and folds up small. When unzipped flat, it is colorful, looks nice and provides a play mat for children to ride their toy trains upon. The tracks are the same gauge as most wooden trains.

Kids' Perspective: Little ones liked this fold-up mat and found that unzipping and laying it out was half the fun. The 3- and 5-year-old children played train depot and train crash, and then zipped it back up and sat on it. Overall, they enjoyed the mat very much.

Recommendation: It is hard to go wrong with a play mat that can be folded up and put away. It is very convenient and attractive and pleasing to look at. I think this makes a nice gift and a good travel toy for a trip to a grandparent's house or a play-date.
---
---


Copyright © 2021 TDmonthly®, a division of TOYDIRECTORY.com®, Inc.