September 21, 2020

July 2007 | Vol. VI - No. 7


Classics and Mods Go Head to Head
Die-Cast Rolls Along With the Best of Both Worlds
With additional reporting by Alison Marek and regional correspondents Dennis Furlan, Terri-Hughes-Lazzell and Christine Lebednik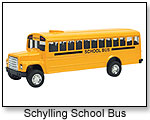 Over the past few months,

TD

monthly Magazine spoke with 34 specialty toy-store owners and managers to discover the forecast for die-cast in their stores. Eight said they don't sell die-cast at all, but of those that do, popular buys include everything from 5" Volkswagen Beetles to pull-back school buses.

WHAT'S SELLING

Kate Noreen, manager of MudPuddles Toys & Books in Sherwood, Ore., has noticed a shift toward contemporary die-cast cars, such as Mini Coopers and Cadillac Escalades.

"They're moving more toward the modern cars and away from the classics like T-Birds and Corvettes," she said.

TD

monthly's list of the Top-10 Most-Wanted Die-Cast Vehicles, in fact, features a balance of cars new and old.

Manager Char Mcaulay of Toy Town in Casper, Wyo., indicated that even weather can drive die-cast sales. "Because it's nicer out," she said, "we're selling more of the convertibles and tractors. We're selling more cars than airplanes, too." Only three of 35 retailers mentioned airplanes as best-selling die-cast items.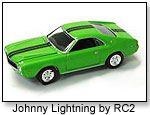 Fred Rosenberg of On the Park in Kingwood, Texas, said demand for collectibles has increased. His assessment is based on tween boys, ages 8 and up, for whom his store is "going to bring in collectible Star Wars and die-cast."

WHAT MIGHT BE FADING

Merritt Smith of Sarah's Small World in Newport, Vt., told

TD

monthly that die-cast isn't very popular in her area.

But more specifically, "NASCAR is dead," she said, claiming the organization "killed the market for itself" by changing paint colors by the race and making it necessary to purchase multiple models to keep up.

On other fronts, "RC2 has pretty much bowed out," shared David Campbell, owner of Amazing Toys in Great Falls, Mont., who believes certain scale models are losing momentum.

"I think the big business in collectible cars, in general, like the 1:18, has probably played out, too. Everyone in the Baby Boom generation has their 1:18 scale car of their dreams," he said.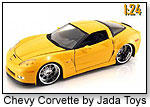 Vice President of Marketing Greg Miller of RC2 Brands, however, told

TD

monthly the company is "seeing some renewed competition in classic cars," and consensus regarding a rise of modern models "may reflect the automotive industry and how they're trying to develop the classic look in their new cars."

Miller also believes "there are new buyers coming into the marketplace."

Die-cast manufacturer Greenlight also leans toward classics. As President Kevin Davey noted, the company's line is roughly only 40 percent contemporary.

See the die-cast that manufacturers and retailers are talking about below, and find more toys in July 2007 New Toys – Die Cast.
2006 Chevy Corvette Z06 by JADA TOYS INC.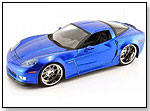 Jada Toys' newest rendition of America's premier sports car is the 2006 Chevy Corvette Z06, also known the "The Supercar Killer." The 1:24-scale Big Time Muscle Chevy Corvette Z06 comes in four colors: black, victory red, velocity yellow and candy blue. It's a must-have for all Vette lovers. Launch date: Late June 2007. 5/15/2007 (MSRP: $24.99; Age: 8 and Up)



Welly - VW Beetle Convertible by TOY WONDERS INC.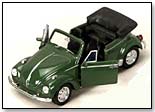 This 1:34-scale Volkswagen Beetle is a 4.75"L x 2"W x 1.5"H diecast metal car with pull-back action and doors that open. This VW car is manufactured by Welly. There are 12 pieces per display box in assorted colors and 72 pieces per inner box. 5/15/2007 (MSRP: $6.99)



Kinsmart - Chevy Tow Truck by TOY WONDERS INC.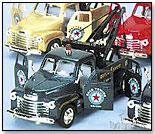 The 1953 Chevrolet Wrecker is a 1:38-scale diecast collectible model car. The tow truck is 5.5"L x 2"W x 2.5"H and has pull-back action. It features openable doors and has a hitch to hook up and pick up wrecked cars — hence the name "Wrecker." There are 12 pieces per display box, in assorted colors, and 72 pieces per inner box. 5/15/2007 (MSRP: $7.99)



Precision Series Pennzoil Kenworth Tanker by TONKIN REPLICAS INC.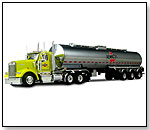 Tonkin Replicas' Precision Series has long been the elite diecast replica for private trucking companies, and now a new Pennzoil tanker is available, with the details that have made the Precision Series name. Features such as opening doors, hitches and hood along with turning wheels and independent suspension adorn this Kenworth W900 Day Cab and chemical tanker. The Precision Series has been voted diecastcollecting.com's Favorite Diecast Line and is continuing to win more fans every year. 4/23/2007 (MSRP: $85.00; Age: 18 and Up)



1:25 International TD-24 Crawler With Superior Pipe Layer by SpecCast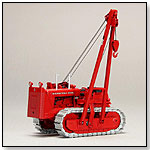 This die-cast 1:25 scale crawler features more than 180 individual parts. The side boom pipe layer is fully functional. The metal tracks are free rolling. "This is the first mass-produced crawler with a functioning side boom pipe layer," Mike Sinnott of SpecCast told TDmonthly. Launch date: January 2007. 2/27/2007 (MSRP: $89.00; Age: 8 and Up)



Motormax - Chevy Corvette Convertible by TOY WONDERS INC.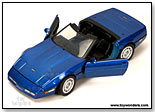 This 1986 Chevy Corvette Convertible is a 1:24-scale diecast collectible model car. It measures 7.25"L x 3"W x 1.75"H and has openable doors and hood, workable steering and free wheeling. It is manufactured by Motor Max diecast collectibles. There are four pieces per display box in assorted colors and 16 pieces per inner box. 5/15/2007 (MSRP: $14.99)



RC2 Johnny Lightning JL Retro R2 Cars by TOY WONDERS INC.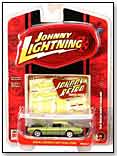 These 1:64-scale , 3"-long diecast model cars are limited edition collectibles manufactured by RC2 Brands. Each car is individually blister carded, and an assortment includes three of each of the following cars: 1969 AMC AMX, 1968 Chevy Corvette (Chevrolet), 1968 Mercury Cougar and 1968 Plymouth Barracuda. 5/15/2007 (MSRP: $6.99)



Panzer III H Eastern Front by ADMIRAL TOYS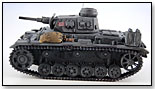 The new paint technique and weathering makes this tank look like it just rolled off the Eastern Front. These 1:72-scale tanks are made of 90 percent metal. The quality that they can achieve with metal puts their models a step above the competition. 2/6/2007 (MSRP: $18.49)



Big Time Muscle 2006 Chevy Camaro Concept - White by JADA TOYS INC.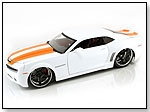 The Big Time Muscle line reflects the modernization of muscle cars that has recently been popularized through hot rod publications and car customization television shows. This 2006 exclusive product licensed by General Motors is a 1:18-scale die-cast model featuring custom paint jobs; a detailed interior; a detailed chrome engine bay; opening doors, hoods and trunks; and licensed wheels. Radio-controlled versions are also available. Launch date: October 2006. 1/29/2007 (MSRP: $24.99; Age: 8 and Up)



Norscot Scale Models - CaterpillarŪ CB-534D XW Vibratory Asphalt Compactor With Closed Cabin by NORSCOT COLLECTIBLES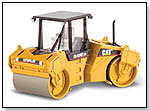 This 1:50 scale model features clear windows and interior cab details, heavy die-cast metal construction, full exterior and interior detail, front and rear rolling die-cast drums and articulated steering. It measures 4" long, 1 ¾" wide and 2 ½" high. 1/9/2007 (MSRP: $31.95; Age: 14 and Up)



F-104C Starfighter 1:72 Die-Cast Model by Hobby Master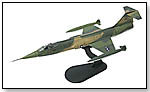 Replicating "Pussy Cat," a USAF F-104C flown out of Thailand by 435th Tactical Fighter Squadron commander Lt. Joe Nevers, this 1:72-scale die-cast model features finely engraved panel lines, a detailed cockpit with an optional-position canopy, fuselage-mounted missiles and wingtip fuel tanks, optional-position landing gear that perfectly replicates the F-104's unusual arrangement, an authentic jungle camouflage paint scheme, and more. It measures 9" long and includes a display stand. Launch date: February 2007. 1/8/2007 (MSRP: $29.95; Age: All Ages)



Kinsmart - Mini Cooper Classic by KINTOY DIE-CAST MANUFACTORY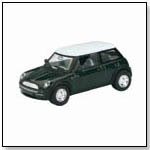 A miniature, 1:56-scaled, metal die-cast version of the real thing, the 2.5" Mini Cooper Classic provides kids with a detailed model at a very low price. Other cars from the line allow kids to build up their own collection of the playable models.
— "They just look very real and the younger kids — 3, 4 and 5 years old — just love to play with them," was the reaction from Char Mcaulay, manager of Toy Town in Casper, Wyo.
— "Probably the quality matters more than anything," added Jenny Pyle, assistant manager of Discovery Pond in Miles City, Mont.
— The MINI trademarks are used under license from BMW AG. The model is available in blue, black, red, yellow, green and silver, and features pullback action. 7/28/2006 (MSRP: $3.95)



Hot Wheels 2007 Cadillac Escalade by MATTEL INC.


This 1:18-scale die-cast SUV model is highly detailed. 6/11/2007



---
---


Copyright © 2020 TDmonthly®, a division of TOYDIRECTORY.com®, Inc.