December 6, 2023

July 2007 | Vol. VI - No. 7

---
TDmonthly's DVD Expert
Two Good Books and a Comic
This month's DVDs go from updated Bible-inspired stories to old-time cartoony fun. And yet, somehow, they're all kid friendly. Read away to find out how.


Eloise Goes to School by STARZ MEDIA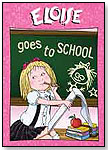 Age: 6 to 10
Gender: Boys and Girls (but more girls)
Category: Videos & DVDs
MSRP: $14.98

Bringing classic stories to film/video is always risky business. Starz Media takes on Kay Thompson's "Eloise" books through the studio of Film Roman (from "Bobby's World" and "Mighty Max," and as the animators of "The Simpsons"). Because of the distinctive artwork in the "Eloise" books, the method of animation is very defined: can't get away from all those thin lines (though the titles are a whole 'nother style and very refreshing).

With some quality actors including Tim Curry and Lynn Redgrave, the story looks to be a fun one. Eloise — who lives a rather magical life in "a room on the tippy-top floor" of the Plaza Hotel in New York — decides after running out her tutor that she will go to school. Normal, humdrum, everyday school! The rest is disaster ... Eloise-style.

Rules and Eloise don't mix, and the snooty girls at The Hawthorne Prep aren't Eloise's speed either. But in typical Eloise manner, our heroine rallies, and after learning a few things, stands up for her friends and is "herself" to the benefit of all.

The direction is journeyman-like, the writing is OK (more Nickelodeon than Eloise at times) and the animation is within the small budget. But those take nothing away from the enjoyment. The one note I have — literally — is that in kids' filmmaking, "mischievous" somehow translates to "shrill" when casting. The actress does fine — it's simply the timbre of the voice they had her do. Oh, well. It's still good for "Eloise" fans and "Eloise" fans to be.


| | |
| --- | --- |
| Budget | |
| Creativity | |
| Bells & Whistles | |
| Usefulness | |
---
Cartooning: Shortcuts, Formulas, & Cheap Tricks by HAMMINATION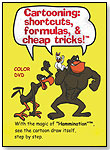 Age: 8 and up
Gender: Boys and Girls
Category: Videos & DVDs
MSRP: $19.95

Hammination? That's Gene Hamm's way of teaching how to do a comic strip where one can actually "see" the cartoon draw itself. It's a little like watching John Madden drawing on the screen during a football game. Gene takes the audience through each step of the process of creating a comic strip in simple, kid-follow-able ways.

From basic shapes to the whole megillah, this DVD has 23 lessons that cover the kit and the caboodle. There are segments on drawing a cartoon face, drawing hands and feet, and expressing emotions with the face and body. Everything a budding cartoonist needs to know. Gene has a knowing way of talking about things, with some cool insights (like "never give away the original drawing").

The program is simple, nothing fancy. And dorky-but-fun accordion music in the background rounds it out. This is not Will Eisner, nor is it Winsor McCay; it's the basic of the basics. But as a beginning tool for a budding artist, it's a great starting point.


| | |
| --- | --- |
| Budget | |
| Creativity | |
| Bells & Whistles | |
| Usefulness | |
---
BibleMan PowerSource Series: Tuning Out the Unholy Hero by TOMMY NELSON

Age: 6 and up
Gender: Boys and Girls
Category: Videos & DVDs
MSRP: $14.99

As Bob Dylan said: "You're gonna have to serve somebody." All videos have agendas, and the BibleMan series agenda is religious. Wielding the Sword of the Spirit and the Armor of God, BibleMan is a masked superhero who quotes the Bible and is truly holier than thou. With his sidekicks Cypher and Melody, this sacred threesome has both an adventure and a Bible verse theme in each DVD.

When 2KUL 4SKUL takes over the airwaves with his own television station, WBIG, kids look to him as a role model. But the roles he's modeling aren't good: "Don't listen to your parents." "Eat YukBars." "Watch what you want to on TV." Soon, droves of children are going over to the Godless side. But two kids, Mark and Tammy, stand up to 2KUL, quoting scripture at him, which hurts. When Cypher tries to help, 2KUL uses his human-controlling remote control to stop him. Fortunately, BibleMan and his crew infiltrate the WBIG station and put on a "show of their own."

Ranking up there with "Power Rangers" and Superhuman "Samurai Cyber Squad" in production value (cool special effects in a fun, cheesy manner), and lesser in the acting realm, it's still a fun view for younger kids. Granted, the agenda isn't disguised and there's no subtlety in the writing. In fact, the lack of imaginative writing is its biggest downfall: the jokes are outdated and the dialogue is stilted.


| | |
| --- | --- |
| Budget | |
| Creativity | |
| Bells & Whistles | |
| Usefulness | |
---
---


Copyright © 2023 TDmonthly®, a division of TOYDIRECTORY.com®, Inc.