August 13, 2020

August 2007 | Vol. VI - No. 8


TDmonthly's Top-10 Most-Wanted Dolls
It's "All About Baby"
With additional reporting by regional correspondents Virginia Davis, Terri Hughes-Lazzell, Christine Lebednik and Brenda Ruggiero

Baby dolls are cute and cuddly, of course, but realism and detail are in demand, too, according to 62 specialty retailers who spoke with

TD

monthly Magazine. Corolle's Interactive Lia talks back, Manhattan Toy's Groovy Girl Charisse rocks, and Ashton-Drake's Emmy is a Tiny Miracle to behold.

Here are the dolls retailers say are finding homes. Read more about doll-selling trends in Dolls Won't Let Up.
Interactive Lia by COROLLE DOLLS



Corolle's 17", multilingual baby doll communicates in French, English, Spanish or Italian. Through a simple, well-hidden and secure battery system, little girls can activate Lia's language skills using different Corolle charm bracelets. Specific, gentle touches and tickles to Lia result in endearing, realistic responses. She is dressed in velour pajamas and a cap. Accessories include a bib, bottle, pacifier, teddy bear and charm bracelets. AAA batteries are not included.
― "I like working with … Corolle as I can order only what I can use for the time period," Owner Patti Tepper-Rasmussen of Learning Tree Toys in Oklahoma City, Okla., told TDmonthly in spring 2007.
— "I think people want more interactive dolls," said Nellie Fais, owner of Toy Magic in Bethlehem, Pa. Twenty-seven of 62 retailers said in spring 2007 that Corolle is their best-selling doll brand, with sales ranging from six to 25 units per month. Corolle's Lia and Lila are best sellers for Brain Station and Tree Town Toys in Ann Arbor, Mich., Owners Hans and Tricia Masing told TDmonthly in fall 2007.
— Interactive Lia is a precious baby doll from a company that's popular with specialty retailers. She earned a TDmonthly Top Toy 2007 award for educational value, as she speaks pertinent baby phrases, such as "I'm hungry!" in four languages. Her little baby voice is as pleasant as her pretty pink outfit and accessories. She's much more than the average baby doll, and vanilla-scented at that. (

Watch Video) 5/8/2007 (MSRP: $100.00; Age: 3 and Up)



Tiny Miracles - Emmy by ASHTON-DRAKE COLLECTIBLES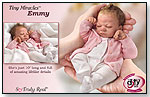 Now little girls can cuddle one of the tiniest miracles ever with the captivating and exclusive Tiny Miracles Emmy doll. It's the first So Truly Real® doll ever created in a 10" size, brilliantly sculpted by renowned master doll artist, Linda Webb. It has RealTouch™ vinyl skin, micro-rooted hair, wispy eyelashes and hand-painted fingernails and toenails. Emmy was honored with the 2007 DOTY® award.
— "We sell a lot of the Ashton-Drake," said Gary Green, owner of Collector's United in Chatsworth, Ga., when asked about top-selling dolls.
— Two of 62 retailers named Ashton-Drake as a favorite collectible doll item for customers.
— "Tiny Miracles Emmy is a unique doll designed by Linda Webb. It's patented RealTouch vinyl is part of what gives Emmy her true-to-life look and feel," said Don Vaccarello, general manager for Ashton-Drake Collectibles. 6/15/2007 (MSRP: $59.99)



All About Baby - All-In-One Fashion Set by SMALL WORLD TOYS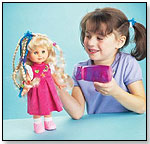 This All-In-One Fashion Set comes with 150 fashion accessories to make a girl's doll the best-dressed baby on the block. Kids will love styling every aspect of their dolls, from hair to clothes to makeup. The Fashion Set features a beautiful doll with a number of different outfits. It comes with a working hair dryer, pretend makeup and cool accessories. There's no end to the stylish looks kids can create with this set.
— "We sell quite a lot of the Small World baby line. Across the board their stuff does well," said Karen Leppmann, owner of Finnegan's Toys and Gifts in Portland, Ore., when asked about hot-selling dolls.
— Two of 62 retailers TDmonthly spoke with in spring 2007 said Small World is a best seller in the doll category. Some specialty retailers told TDmonthly they sell three or four units a month of the Small World dolls.
— "Featuring a smiling doll, three complete outfits and an exciting assortment of styling tools and accessories, this all-in-one fashion playset comes complete with 150 pieces, giving it endless imaginative play value for children and economic value for parents," said Debra Fine, CEO of Small World Toys. 6/15/2007 (MSRP: $31.50)



A Friend Like Me by LINDA RICK, THE DOLL MAKER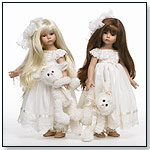 The 18" vinyl A Friend Like Me is a classic Doll Maker doll styled in ivory and laces — a design for which doll maker Linda Rick is well known. It was designed by Rick as an addition to the Key to My Heart Collection, which also includes redhead dolls. This doll wears a key on her wrist as a symbol for the key to her heart.
— "We do well with Doll Maker," said Faye Kitchens, owner of Dolls & Stuff in Social Circle, Ga., when asked about hot-selling dolls. Two of 62 specialty retailers agreed in spring 2007 that Doll Maker dolls are top-sellers in their stores.
— "In collectible dolls, it is a year-round market and not just the holidays. So we sell the most when the dolls are first introduced," Kitchens added.
— "What makes this doll special is that she looks like she'd be a friend, 'like me,'" said Susan Calliari, national accounts manager at Doll Maker. 6/15/2007 (MSRP: $130.00)



Sarah by Monika Peter-Leicht by MASTERPIECE DOLLS



Per collectors' request for another Monika Peter-Leicht "large" baby, the company produced 31" Sarah. This lifelike doll has a head circumference of 19" and is made of silicone and vinyl for a realistic feel. Her arms are sculpted above the elbows and her legs above the knees. She has beautiful brown eyes and a lovely human hair blend brunet wig. She wears a cute pink shirt and denim skirt with a coordinating headband, as well as pink shoes (bear not included). This is a limited edition of 350 pieces.
— "Dolls by Masterpiece Dolls," are best-sellers in the store of Faye Kitchens, owner of Dolls & Stuff in Social Circle, Ga.
— Although Kitchens was the only retailer of 62 who cited Masterpiece Dolls as a best-selling doll brand, she also said, "We sell Masterpiece before they even come out. I just sold 35 Masterpiece dolls yesterday."
— "Our new doll kit and limited edition collections will be available at the IDEX show in Las Vegas. All our dolls are realistic looking [and] great quality, and we limit what we bring out every three months," said Shirley Blackall, owner of Masterpiece Dolls. 5/1/2007 (MSRP: $179.00)



Penelope Peapod in Montgomery by PENELOPE PEAPOD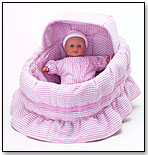 The one-of-a-kind Penelope Peapod, created by a city mother with a brood of seven, is a small self-contained carry-along toy for little girls. Depending on its configuration, Penelope Peapod is a doll in a bassinet, a doll in a playpen, or a sweet and stylish handbag for a little girl. It is the perfect fashion accessory and a wonderful take along toy sure to amuse for hours.
— "Penelope Peapod is our best-selling doll," said Kim Smith of Red Wagon Toy Co. in Woodstock, Vt., in spring 2007.
— Smith said she sells 30 to 40 Penelope Peapod dolls monthly, on a regular basis.
— "The response to the Penelope Peapod in Montgomery has been wonderful. There's nothing else like it. It's a handbag as well as a bassinette. It's fun and fashion combined," said Lorna Brett Howard, co-owner of Penelope Peapod. 5/19/2006 (MSRP: $40.00; Age: 2 to 8)



---
---


Copyright © 2020 TDmonthly®, a division of TOYDIRECTORY.com®, Inc.