August 8, 2020

August 2007 | Vol. VI - No. 8


TDmonthly's Top-10 Most-Wanted Play Houses and Furniture
Having a Big Tent in a Small World
With additional reporting by regional correspondents Virginia Davis, Terri Hughes-Lazzell, Christine Lebednik and Brenda Ruggiero

Dollhouses, tents, tables and stoves are selling in the play houses and furniture categories, 62 specialty retailers told

TD

monthly Magazine. Home Is Where the Heart Is with the latest Ryan's Room dollhouses. Tables and chairs by both Melissa & Doug and Guidecraft are adding a touch of class and functionality to the toy category. Cozy is cool, too, with the polyester Clubhouse tent by Small World. Here's what's capturing kids' imaginations in household role play:
Deluxe Wooden Fold & Go Dollhouse by MELISSA & DOUG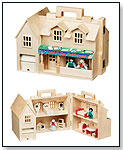 The Fold & Go is a roomy portable dollhouse that features working doors, two flexible wooden play figures, 11 wooden furniture pieces and easy-access design, as well as a convenient carrying handle. It's an adorable "mobile home" that's solid, lightweight and built to last. The Fold & Go measures 11.5" x 16" x 10" and weighs 6 lbs.
— "We have a Melissa & Doug Fold & Go Dollhouse that does real well for us," said Joel Hardy, owner of Magpie Toys in Red Lodge, Mont., when asked about play house favorites in his store.
— Seventeen of 62 retailers TDmonthly spoke with in spring 2007 cited Melissa & Doug when asked about play house and furniture favorites with their customers.
— Lynn Robillard told TDmonthly in summer 2007 that Melissa & Doug wooden items are top sellers at her store, Toys in the Attic in Manchester, Vt., for many reasons: They are non-toxic and the company is diverse, including "arts and crafts, magnetic dolls and a huge array of everything imaginable." 6/15/2007 (MSRP: $29.99; Age: 3 and Up)



Ryan's Room: Home Is Where the Heart Is by SMALL WORLD TOYS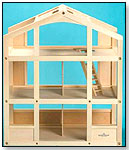 This sturdy, three-story dollhouse is the perfect setting for expansive living. There's plenty of room for all kinds of accessories and endless imaginative play. Features include an open design for easy access, stairs from the second to third floor, and a built-in handle in the roof for easy carrying. "With its sturdy, heirloom-quality wood construction and open design, this beautiful dollhouse is not only a home where little imaginations can play and grow, but also a wonderful setting to encourage cooperative play with caregivers and other children," said Debra Fine, CEO of Small World Toys.
— "They're really good quality," said Tristan Hewitt, manager of Dragon's Toy Box in Seattle, when asked about Ryan's Room dollhouses.
— Seventeen of 62 retailers told TDmonthly in spring 2007 that Small World is generally the best-selling brand in play houses. One or two dollhouses a year was a common sales figure given among retailers — especially those concentrated in the Northwest — regarding the Ryan's Room brand.
— Ryan's Room dollhouses and furniture are in the top-10 best sellers at LB Toys in Media, Pa. "The traditional dollhouses and furniture are made of natural wood," Owner Jamie Burdette told TDmonthly in spring 2008. "That's obviously a plus with the lead-paint situation." 6/15/2007 (MSRP: $110.25)



Calico Critters Lambrook Sheep Family by INTERNATIONAL PLAYTHINGS LLC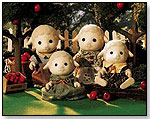 Everyone in the Lambrook Family loves nothing better than fresh fruit. This is not surprising, as Father Danny is in charge of the orchards in Cloverleaf Corners where he grows delicious apples and pears. Mother Barbara helps him take care of the trees, while sister Iona and brother Winton help with smaller jobs after school. Calico Critters are a best seller at Henry Bear's Park stores in Massachusetts, Owner Sally Lesser told TDmonthly in spring 2007.
― In spring 2007, Roberta Edwards, owner of Wishes Toys & Gifts in La Quinta, Calif., named International Playthings as a vendor who has "gone the extra mile."
— "We probably sell more of the Calico Critter dollhouse than anything from International Playthings. They're hot," said Jeanne McCullough, owner of Children's Store Inc. in Boise, Idaho. Five of 62 retailers cited Calico Critters when asked about best-selling play houses or furniture in their stores.
— Known as the Sylvanian Families across the pond, Calico Critters' cute little animal families are collected and loved by little girls and boys around the world. Since being reintroduced to the States, the furry minis have taken off big time, earning them a TDmonthly Classic Toy 2007 award.

Where to Buy: Luv U Pumkin; Blue Turtle Toy Store 5/22/2007



Chalet Dollhouse With Furniture by PLANTOYS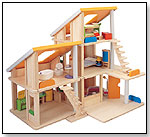 The Chalet Dollhouse With Furniture offers kids the full package in dollhouse play. It comes in two units that can be manipulated to form numerous dollhouse layouts. It also comes with furniture, so that nothing's missing when dolls come to visit. The Chalet Dollhouse includes three stories, slanting chalet roof and creative stairs, as well as an innovative floor plan. It is 32" x 24" x 14", is made from recycled rubber wood, is coated with a non-toxic finish, and all colors are made from vegetable dye.
— When asked about best-selling play houses and furniture, Teri Soelter, owner of Teri's Toybox in Edmonds, Wash., said "Plan Toys. People will buy the furniture by itself and the dollhouses later."
— Four of 62 retailers TDmonthly spoke with in spring 2007 said Plan Toys makes some of the most popular furniture and play houses in their stores. They sell about three Plan Toys dollhouses per month. Seven percent of 56 retailers surveyed in January 2009 said doll houses and accessories are among their top sellers.
— "These products are so beautiful," Teneen Dobbs, owner of Kits & Kaboodle in Carmel, Ind. told TDmonthly. "They display well. People just love wooden items." (

Watch Video) 2/19/2007 (MSRP: $250.00; Age: 3 and Up)



Super Fort by CRANIUM INC.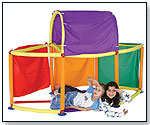 Kids can supercharge their imagination with Cranium's Super Fort building system. Hundreds of structures can be built with the Super Fort, including submarines, fantasy castles and more. The fort can be built safely and easily using quick-snap magnetic connectors and foam tubes, and it comes with floor and fabric panels, clips and large and small storage bags.
— "Probably the best [play house] we've got going now is the Super Fort from Cranium," said Dan Willis, owner of Communique Toys in Seattle. "We probably sell a couple a month."
— Two of 62 retailers TDmonthly spoke with in spring 2007 specifically cited Cranium forts when asked about customer favorites in play houses and furniture.
— "As opposed to fantasy-based play delivered by traditional small-scale construction toys, Super Fort delivers a stronger role-play experience where kids can actually climb into the 'rocket' they just built, for example," said Cranium Head of the Hive Heather Snavely. 6/15/2007 (MSRP: $39.99)



Table & Chairs Set by MELISSA & DOUG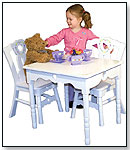 Every little girl will feel like a princess with Melissa & Doug's Table and Chairs Set. The table and two chairs are elegantly carved with scalloped edges and adorable heart cut-outs, and are embellished with delicately painted flowers and foliage. The set is the perfect size for fancy tea parties, playing "house" or even finger painting, as the table measures 20" H x 24" L. The chairs are 13.5" x 26.25" x 14".
— "I would say our best-selling furniture is the table and chair set that we have from Melissa & Doug," said Char Mcaulay, manager of Toy Town in Casper, Wyo.
— Seven of 62 retailers TDmonthly spoke with in spring 2007 said Melissa & Doug furniture is a hot-selling commodity in their stores.
— "A handful a year" was a common answer about sales of Melissa & Doug furniture that TDmonthly received from specialty retailers. 6/15/2007 (MSRP: $149.95; Age: 2 and Up)



Cozy Clubhouse by SMALL WORLD TOYS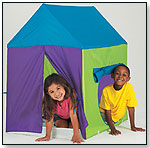 The Cozy Clubhouse makes for a perfect play house setting. It's a cabin-shaped tent with two mesh windows, hook-and-loop enclosures, and an awning that rolls up and ties. It comes with a waterproof ground sheet, lightweight and brightly colored polyester, and plastic poles for safe and active play. The Clubhouse includes a bag with hook-and-loop closure for easy storage, and it connects to Tube Travel, Hide In Hideout and See Mee TeePee.
— "Small World's crawl tent" was among the best-selling items in play houses according to Amy Barrett, owner of Lasso the Moon Wonderful Toys in Helena, Mont.
— Three of 62 retailers cited Small World play houses as best-sellers in their stores. These specialty retailers told TDmonthly in spring 2007 that they sell about one Small World tent per month.
— "Lightweight, brightly colored, and ideal for indoor or outdoor fun, this clubhouse strengthens all of the skills associated with active play, including movement and agility, while also encouraging imaginative play. It makes for the perfect playhouse for all children," said Debra Fine, CEO of Small World Toys. 6/15/2007 (MSRP: $31.50)



Grande Mansion by PLAYMOBIL INC.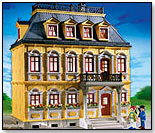 This stately mansion gives Playmobil characters plenty of room to relax. It features an interlocking wall assembly system with workable doors and windows. Two large rooms on the first two floors and a sprawling attic allow kids to manipulate the space in a variety of ways. Whether peopled with modern or period characters, this home will surely be somebody's castle. Characters and furniture sets are available separately.
— "We sell the Playmobil Grand Mansion," David Campbell, owner of Amazing Toys in Great Falls, Mont., told TDmonthly about best-selling play houses in his store.
— Two of 62 retailers who spoke with TDmonthly in spring 2007 said the Playmobil brand is a customer favorite for play houses in their store.
— "The Playmobil Grande Mansion, a five room house, offers hours of imaginary play. You can set up house, pretend to cook, clean and explore the world of dollhouse play," said Michelle Winfrey, marketing and public relations manager for Playmobil USA. 9/29/2005 (MSRP: $129.99; Age: 4 and Up)



My First Stove by ALEX BRANDS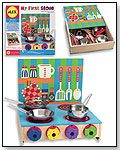 Kids can cook up a mighty feast on this full-color, durable wooden stove top. It's perfect for little cooks in the kitchen. When they're done, they can remove the back so that the stove turns into a storage box for cooking and playing accessories. The open stovetop measures 12" x 11" x 11" and has won the Oppenheim Toy Portfolio Gold Seal Award.
— "My best seller in furniture is probably kitchen sets. It kind of varies what people will buy, depending on the budget. I sell a lot of basic Alex wood stoves, for under $50, for gifts," said Nellie Fais, owner of Toy Magic in Bethlehem, Pa.
— "The less expensive ones, I sell maybe 12 a month. The bigger ones, I sell a couple a month," Fais said about sales of wooden toy stoves in her store.
— Two of 62 retailers TDmonthly spoke with in spring 2007 named Alex as a top brand in furniture and play houses. 6/15/2007 (MSRP: $19.99; Age: 3 and Up)



---
---


Copyright © 2020 TDmonthly®, a division of TOYDIRECTORY.com®, Inc.