May 10, 2021

August 2007 | Vol. VI - No. 8

---
TDmonthly's Top-10 Most-Wanted Plush
Kids Go Ape Over Lil'Kinz
With additional reporting by regional correspondents Virginia Davis, Terri Hughes-Lazzell, Christine Lebednik and Brenda Ruggiero

It's a zoo in the plush and puppet category, and the Lil'Kinz Gorilla is leading a wild display of exotic animals, according to 62 specialty retailers who recently spoke with

TD

monthly Magazine. "Mousy" is in with Folkmanis and Steiff. Wild Republic snakes up with its latest Green Rock plush, while TooDee proves that plush can never be TooUgly. Here's what kids are hugging these days:
Lil'Kinz Gorilla by GANZ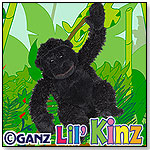 To help meet the demand for Webkinz sweeping the continent, Ganz has come out with a new line of Lil'Kinz. Like their larger counterparts, Lil'Kinz characters come with their own codes that are revealed after purchase. Kids adopt the little guys as their own and take them into an online world of fun and KinzKash. Kids can now make Lil'Kinz Gorilla their best buddy, play some games at the Arcade and stop by the W shop to pick up a bowl of crunch shoots n' roots. The Gorilla is 6" long.
— "It's really going to be interesting because we've carried Webkinz for a couple of years and they were really slow and hard to move. But then, just this year, the popularity has gotten crazy and everybody has been coming in and asking for them. Nobody has them or they can't find the ones they want. I just got in a major shipment," said Mary Duncan, manager of Tinkerz Toy Shop in Coeur d'Alene, Idaho.
— About a quarter of the 62 retailers TDmonthly spoke with in spring 2007 said Webkinz were the hottest selling plush in their stores. When asked to provide monthly sales figures for Webkinz, retailers told TDmonthly they sold hundreds — sometimes thousands — of units per month, or simply couldn't keep up with the demand.
— Seven of 32 retailers told TDmonthly in summer 2007 that Webkinz are the best-selling collectibles in their stores. 6/26/2007 (MSRP: $10.00; Age: 3 and Up)



Brown Mouse by FOLKMANIS INC.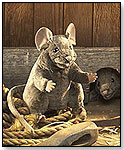 This 8" mouse is an addition to Folkmanis' 2007 stable of new animals, which also includes the Teddy Bear and the Fluffy Cat. The Brown Mouse comes with a workable mouth as well as a detailed educational hang tag for young puppeteers. The puppet measures 4" x 6" x 8" and weighs 3.2 oz.
— "The mouse from Folkmanis" is what's selling in plush at Lasso the Moon Wonderful Toys in Helena, Mont., Owner Amy Barrett said.
— Eighteen of 62 retailers who spoke with TDmonthly in spring 2007 agreed with Barrett about the popularity of Folkmanis with their customers.
— Specialty retail sales of Folkmanis puppets range from a few units a month to as many as 50 units a month. 6/26/2007 (MSRP: $15.99; Age: 3 and Up)



15" Rigby by GUND INC.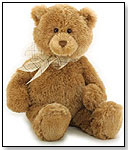 The 15" Rigby, a cozy and classic Gund bear, features milk chocolate super-soft fur, a sophisticated brown-and-tan plaid ribbon, a soulful expression and a potbelly. He's perfect for both cuddling and displaying. He also comes in a 24" version and weighs 1.1 lbs. Rigby is part of a Gund line of classic bears that also includes Fabian and Corin. The accompanying rocking chair is not included.
— "If I had to pin it down, I'd say the brown classic teddy bear from Gund," said Andrew Lev, manager of Smart Kids Toys in Greenwich, Conn., about the best-selling plush item in his store. Twelve of 62 retailers TDmonthly spoke with in spring 2007 said Gund is among the most popular plush with their customers.
— According to retailers, sales of Gund plush across the country range from a few units per month to about 200 per month.
— "Great for kids and adults, Rigby's soft, long pile plush makes him the perfect bedtime companion, while his sophisticated cream and chocolate organza ribbon makes him a wonderful home décor piece," pointed out Shallu Chhabra, marketing and licensing manager for Gund. 6/26/2007 (MSRP: $15.95)



Onyx by DOUGLAS CUDDLE TOYS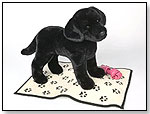 This adorable black lab is part of the Douglas 2007 Stand-Up Styled Dogs: Cuddle Toy Classics line. Onyx is 15" long and is accompanied in this line by friends Ellie, a border collie, and Lucky, a golden retriever.
— "For Douglas, I sell dogs — all different sizes," said Amy Barrett, owner of Lasso the Moon Wonderful Toys in Helena, Mont., when discussing hot-selling plush with TDmonthly.
— Eleven of 62 retailers said Douglas plush is a hot-selling brand in their stores.
— Sales of Douglas plush items varied with retailers across the country, ranging from one or two to as many as 200 a month. 6/26/2007 (MSRP: $39.95; Age: 3 and Up)



Giant Plush Stuffed Sea Turtle by MELISSA & DOUG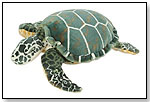 Children can have a swimmingly good time without getting wet with this Stuffed Sea Turtle. This gentle guy is cuddly, realistic and big, at nearly 2.5' long and 2' wide. It weighs 2.9 lbs. and will reel kids in at playtime — hook, line and sinker.
— "We sell a lot of plush from Melissa & Doug. The big and more realistic animals do well," said Natalie Reese, manager of Angel's Toy Barn in Greensburg, Pa.
— Six of 62 retailers told TDmonthly that Melissa & Doug is a hot-selling brand in the plush and puppets category.
— Retailers cited sales for the Melissa & Doug large plush at a few per month, with rapid increases to as much as a few per day during the holiday season. 6/26/2007 (MSRP: $29.99; Age: 3 and Up)



Town Mouse and Country Mouse by STEIFF NORTH AMERICA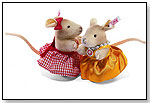 One lives in the city and the other lives in the country, but these sweet little 4" mice are nothing but the best of friends. The City Mouse is elegantly attired in a satin evening gown and wears a string of pearls. The Country Mouse sports a more practical gingham skirt and a red bow in her hair. This playful pair is inspired by 1950s versions sold at legendary toy retailer FAO Schwarz. Now they're back as North American exclusives.
— "We do great with Steiff," said Colette Shockley, owner of The Littlest Princess in Norcross, Ga., when asked about best-selling plush in her store. Three of 62 retailers said in spring 2007 that Steiff is a best-seller with their customers.
— Retailers told TDmonthly that sales of one to four units per month of the luxury plush items from Steiff is average.
— "The Town Mouse and Country Mouse are a nostalgic but updated version of classical plush. People have fond memories of them, plus they're real cute," said Liz Andreadis, director of marketing for Steiff North America. 6/26/2007 (MSRP: $150.00)



My Pet Yapper – Calypso the Cat by RUSS BERRIE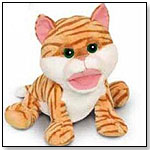 Kids can tune in to the hottest sound around with this singing plush puppet. Each Pet Yapper plays three favorite children's songs, "Old MacDonald," "London Bridge" and "Frere Jacques," in its own distinctive voice. Favorite tunes have never been sung quite this way before. Calypso the Cat is just one of eight styles in the Russ My Pet Yapper assortment, which also includes dogs, a cow, a pig, a frog and a monkey. They're all surface washable, too. This doll measures 12" x 12" x 12" and weighs 1 lb.
— "My Pet Yapper by Russ" was the best selling puppet in the store of Jamie Burdette, owner of LB Toys in Media, Pa. Two of 62 retailers specifically cited the Yappers as customer favorites.
— Burdette said she sold about a dozen of the puppets a month, which is close to the average sales in puppets for most retailers TDmonthly spoke with in spring 2007.
— "When you move your hand inside the mouth, the Yapper will sing each note of the song. So, the Cat will meow the notes, the Dog will bark them, and so on," said Arline Wall, senior vice president of product development and marketing for Russ Berrie. 6/26/2007 (MSRP: $14.99)



Bushy Squirrel by AURORA WORLD INC.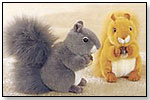 Aurora's 8" Bushy Squirrel carries an acorn and comes in brown and gray versions. It is 8" x 5" x 8" in dimension and weighs approximately 1 lb.
— When asked about best-selling plush in his store, "Jac" of Jac's Dolls in Inman, S.C., said, "Aurora. I have just about given up on the Webkinz."
— A few Aurora plush items a month are what retailers told TDmonthly they sell of the brand on a regular basis.
— In spring 2007, three of 62 retailers cited Aurora as tops in the plush/puppet category with customers. 6/26/2007 (MSRP: $12.00)



---
---


Copyright © 2021 TDmonthly®, a division of TOYDIRECTORY.com®, Inc.