August 11, 2020

August 2007 | Vol. VI - No. 8


Kitchens Heat Up Furniture Sales
Big-Ticket Items Can Squeeze Dollars From Small Spaces
With additional reporting by regional correspondents Virginia Davis, Dennis Furlan, Terri Hughes-Lazzell, Christine Lebednik and Brenda Ruggiero

Twenty-one of 62 retailers told

TD

monthly Magazine they don't sell children's furniture or play houses due to competition from big-box stores, such as Toys R Us, Target and Wal-Mart, lack of space or little interest from customers. But roughly a quarter sell houses or furniture for dolls. And for those who do stock furniture, sales of even two units a month — whether kitchen sets, tents or tables and chairs — are considered successful.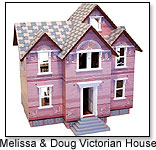 A HOME FOR DOLLY

Half of the products featured on

TD

monthly's Top-10 Most-Wanted Play Houses and Furniture list are doll houses.

David Campbell, owner of Amazing Toys in Great Falls, Mont., has "sold a lot of" the Melissa & Doug Victorian Dollhouse, but Cheryl Richmond, owner of Punkin Doodles in Havre, Mont., indicated that sales aren't easy.

"It's a bit high end," she told

TD

monthly. "On a yearly basis, I might sell a handful."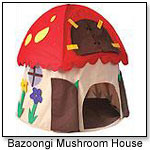 Despite Plan Toys' popularity with four stores, at least one retailer has seen the brand plummet. "Plan doll houses and furniture [are] not dying, but dead!" said Manager Kathalyn of The Treasured Child in LaGrange, Ky.

Overall, Owner Carol Pilarski-Remis of Marblehead Toy Shop in Marblehead, Mass., has noticed more "contemporary, colorful furniture for the dollhouse," as opposed to natural wood.

WHAT ELSE IS SELLING

Sales are also cookin' in the kitchen.

"My best seller in furniture is probably kitchen sets," primarily wooden ones from $50 to more than $150, Owner Nellie Fais of Toy Magic in Bethlehem, Pa., told

TD

monthly.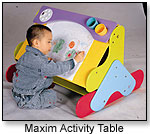 Steve Levy, owner of Toy City in Keene, N.H., said such purchases often lead to additional sales. "Once you sell the kitchen, people come back for … play food, pots, pans. Learning Resources has great stuff," he said.

"We have a lot of people looking for tables and chairs," informed Frances Finfrock, owner of Aunt Franny's Toys in Richland, Wash. And although her store doesn't have space for them, "we will do special orders."

WHAT'S NEW

"What's growing is things like Schylling, their tents. And more of the play forts," according to Karen Leppmann, owner of Finnegan's Toys and Gifts in Portland, Ore.

Free-form tents and forts released this year include Invent-A-Tent, Fortamajig from The Happy Kid Company, AirBlox from Greenhouse International and an improved version of Tinker Minds' Aerobloks.

"Super forts … are more modular now; the kids can rearrange them in different ways," Dan Willis, owner of Communique Toys in Seattle, told

TD

monthly.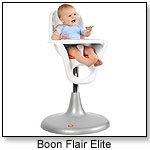 Retailers will have another opportunity for kitchen sales come fall, with Step2's Grand Walk-In Kitchen, which might be described as a "kitchen playhouse," according to Dotti Foltz, director of marketing communications.

"Two or three children could be inside, and then there's also a countertop that wraps around the outside," she said.

Of course, the kitchen craze isn't just for pretend play, as evidenced by Boon's upscale highchair line featuring frosted glass shading and steel components to match appliances. "Instead of having baby prints, we're seeing neutral colors," said Design Principal Rebecca Finell.

Owner Nancy Brown of Springcliffe Designs is giving new feet to decorative footstools with her line of whimsical three-"footed" Tuffets, an idea that started with shoes from a Salvation Army store.

WHAT TO MAKE OF IT

Remember to consider the limited sales rate of big-ticket items and think about offering custom orders for those pieces you just can't squeeze into the store.

Check out some newer products below:
Flair – Pedestal Highchair with Pneumatic Lift by BOON INC.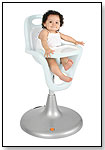 This revolutionary highchair, with a frosted glass-colored seat, white pad and silver metallic finish plastic base, couples innovative features with distinctive modern design. It has a seamless seat for easy cleanup, a pneumatic lift, a chemical-resistant, waterproof cushion, an adjustable-position compact tray and a five-point safety harness system. The sturdy pedestal base is also easy to clean, and it slides smoothly on six urethane casters. "Flair has a unique, modern shape; plus, it is loaded with innovations that are sure to please every parent," Director of Marketing Kate Benjamin of Boon Inc. told TDmonthly. Launch date: June 2007. 6/25/2007 (MSRP: $199.99; Age: 0 to 4)



My Tuffet – Children's Tuffets by SPRINGCLIFFE DESIGNS LLC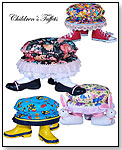 These unique whimsical footstools are finished with real shoes and socks. Each piece is handcrafted and very sturdy. The children's tuffets are 12" in diameter and 10.5" tall. They are fun accent pieces for children's rooms. The patent-protected product is also available in 8"-tall baby tuffets versions (MSRP: $69) that are 10" in diameter. They are perfect for shower, birthday and holiday gifts. "There are no other children's footstools on the market that have real shoes and socks for their leg supports. The shoes complement the fabrics," Owner Nancy Brown of Springcliffe Designs told TDmonthly. 5/2/2007 (MSRP: $129.00; Age: 3 and Up)



LifeStyle™ Grand Walk-In Kitchen by THE STEP2 COMPANY

A culinary playground of epic proportions, the Grand Walk-In Kitchen provides an interactive play experience that is second to none in features or accessories. "To have a kitchen that serves several different services — food preparation and serving, etc. — [provides] the ultimate role-play experience," Director of Marketing Communications Dotti Foltz of The Step2 Company told TDmonthly. This product is a 2007 Parent's Choice Award winner. 5/18/2007 (MSRP: $259.99; Age: 2 and Up)



N32D Toy Chest (Stained) by NILO TOYS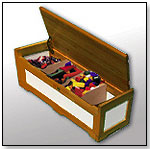 This chest features a rich, dark color and a high quality finish. A matching multi-activity French leg table is also available. Launch date: July 2007. 6/29/2007 (MSRP: $140.00; Age: 2 and Up)



Paint Table With Stools by LUMISOURCE, INC.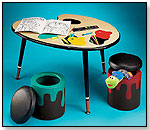 This painter's table is shaped like a paint pallet and features colorful paint splatter storage compartments for art supplies. The wooden set comes with two paint can stools that double as secret hideaways for books and toys. The stools have foam cushions upholstered in vinyl. "We just make sure that things are very bright and colorful," Jacklyn Warrick, marketing coordinator for Lumisource, said of the company's furniture. 6/25/2007 (MSRP: $129.99; Age: 2 and Up)



A Simple Hearth by CAMDEN ROSE



Children use their play kitchen to mimic what they see taking place daily. Our kitchen is created from the warmth and durability of solid cherry. All the knobs turn flawlessly and smoothly without the use of any metal hardware. The metal sink bowl can be removed for easy cleaning and a sliding cutting board pulls out allowing access for more children. 7/10/2007 (MSRP: $299.99; Age: 2 to 8)



High Heel Chair by TINITIKES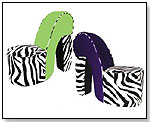 This novel chair comes in both lime fabric with zebra print and purple fabric with zebra print. Other fabric options are available as well. It measures 18" W x 35" D x 31" H. 6/25/2007 (MSRP: $196.00)



Doorway Playhouse by THE STEP2 COMPANY

Turn any room into a playhouse with this unique playset. This indoor "playhouse" can be used in a doorway or freestanding to create a playhouse as big as your child's imagination. "We just make sure that things are very bright and colorful," Jacklyn Warrick, marketing coordinator for Lumisource, said of the company's furniture. 5/22/2007 (MSRP: $59.99)



Princess in Training Bookcase by LC CREATIONS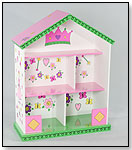 This wonderfully detailed Princess in Training Bookcase features multiple tiers and shelf dividers that not only create decorative storage for books and toys, but also transform the bookcase into the perfect castle dollhouse. Painted in regal pink and cottony white, and trimmed in a delightful green with black curlicues, any little princess will be thrilled to store her royal treasures in this bookcase. It's ideal for the bedroom, playroom or family room. 6/25/2007 (MSRP: $250.00; Age: 2 to 12)



Airport by PLANTOYS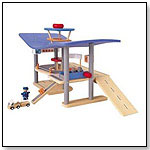 The Airport from Plan Toys is an impressive play experience packaged into a two-story wooden set. Park the car on the first floor, take the elevator to the second, and meet the pilot before taking off in his plane. The Airport also comes with control tower, check-in counters, luggage conveyor-belt, skypath, and limitless play possibilities for imaginative minds. It is 12.6" x 21.7" x 10.6" in size. It is also winner of a Good Toy Award in the UK.
— "Plan Toys have great and unusual things, like the Airport, that most other companies probably wouldn't make," was the upbeat endorsement given by Leanna Halbrecht, owner of Animations Ltd. in Teaneck, N.J. 2/19/2007 (MSRP: $100.00; Age: 3 and Up)



Panelo by IMAGINATION JUMPSTART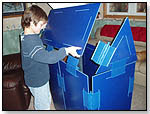 This revolutionary life-sized building toy consists of strong, adjustable connectors and several different-sized panels, allowing children to build any number of structures to play in or around. When play is finished, Panelos can be taken apart and stored in a compact area. (

Watch Video) 1/12/2007



The Original Fortamajig™ by THE HAPPY KID COMPANY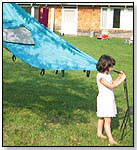 The Fortamjig provides a fun, easy way to build cool play spaces anywhere. The Fortamajig measures an open 8' square and is created out of durable nylon ripstop with no hard pieces to break or lose. It has open-able, stretchy loops around the interior and exterior edges for attachment to chair backs, tree branches, doorknobs and more, and features a closable mesh window, a flap door and four corner pockets. A reversible double-layer design is available for $89.95. This product is a Fall 2007 Parent's Choice Gold Award and Summer 2007 Dr. Toy Best Product Award winner. Launch date: February 2007.
— "The Fortamajig's open-ended design allows kids to create any play structure they can imagine, both indoors and out. Parents will appreciate the versatility the Fortamajig offers in one lightweight, portable and washable unit," founders Katherine Huck and Kristen Stocking of The Happy Kid Company told TDmonthly. (

Watch Video) 1/8/2007 (MSRP: $49.95; Age: 3 to 12)



Ultimate Lockers by JONTI-CRAFT INC.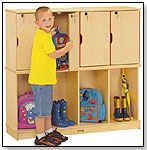 These stackable lockers feature four lower open lockers and four upper lockable lockers for plenty of storage space. With sturdy construction, safe edges and durable hinged doors, this storage solution is meant to last. In fact, these lockers come with a lifetime warranty, so customers only have to "buy the item once," Nick Schwarz, director of marketing at Jonti-Craft, told TDmonthly Magazine. A special KYDZTuff® finish keeps the lockers free of marks and makes the furniture easy to clean. 4/16/2007 (MSRP: $461.00)



Intermezzo – 302 126 by DUTAILIER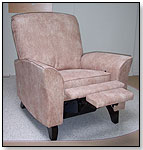 From the Comfort Recliner Collection, this recliner is the only recliner on high legs that has a long glide mechanism. The recliner is made of Corky fabric in the color Champagne and features an Espresso-color finish. This item is available in five styles, six wood finishes and 30 micro-fibers. 6/22/2007 (MSRP: $999.00)



Tent Combo Set by SCHYLLING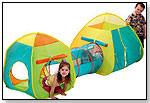 This combo set includes two colorful pop-up tents that pop up and down in seconds, plus a sturdy polyester tunnel that connects them. It includes hold-down pegs and a "Go Anywhere Bag."
— Joe Berardoni Jr, owner of Pun's Toys in Bryn Mawr, Pa., told TDmonthly in a June 2013 survey that they don't sell traditional playhouses, but they do sell these nylon play tents from Schylling. 7/6/2007 (MSRP: $59.90; Age: 3 and Up)



Animal Chairs by SIMPLEX INTERNATIONAL (PVT) LTD.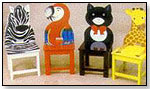 These craft chairs are hand painted with non-toxic and lead-free paints according to the U.S. trading standard. They are made of treated rubber wood and M.D.F. 3/1/2007 (MSRP: $8.50; Age: 5 to 9)



Flair Elite – Pedestal Highchair with Pneumatic Lift by BOON INC.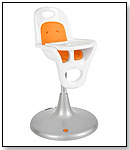 This revolutionary highchair, with a white seat, orange pad and stainless steel base, couples innovative features with distinctive modern design. It has a seamless seat for easy cleanup, a pneumatic lift, a chemical-resistant, waterproof cushion, an adjustable-position compact tray and a five-point safety harness system. The sturdy pedestal base is also easy to clean, and it slides smoothly on six urethane casters. Launch date: Fall 2007. 6/25/2007 (MSRP: $399.99; Age: 1 to 4)



Junior Chair (Natural Finish) by KETTLER INTERNATIONAL INC.



Available in a light mahogany finish, this chair is sure to be a favorite. It allows a toddler to feel like a big kid being able to eat at the table like big brother or sister. The product features a removable safety bar, safety seatbelt and adjustable seat and footrest grows with a child. It is recommended for ages 10 months and up. 4/26/2007



Oval Animal Bag by BOON INC.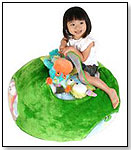 A fun and practical solution for storing stuffed animals and putting them to work, the Boon Animal Bag is an oversized, plush bag covered with large, zippered windows made of transparent, durable mesh. Children can fill the bag with stuffed animals of all sizes, and then use it as a soft seat. The bag is machine washable and earth-friendly because, unlike most beanbag chairs, it does not require foam fillers. It comes in pink and green. Launch date: December 2006. (

Watch Video) 4/13/2007 (MSRP: $60.00; Age: 2 and Up)



The Learning Tower by LITTLE PARTNERS INC.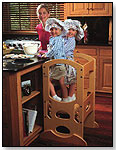 Constructed of sturdy, high-quality layered birch, The Learning Tower is solid and made to last. Its four-sided design and roomy platform foster both the child's and caregivers' feelings of security and safety while enabling the child's desire to be independent and inquisitive. To accommodate different aged children, the platform height adjusts quickly and easily. And its durable, high-gloss, natural finish cleans easily with a damp cloth. It can serve as a step-stool, a desk, a fort or even a puppet theater. The tower is available in its original Natural color, Rich Ebony, Soft White and Dark Cherry. This product is a winner of four national awards including Dr. Toy's Best 10 Active Toys Award, iParenting Media's 2007 Outstanding Products Award, Mr. Dad Father's Day's 2007 Seal of Approval Award and a 2007 National Parenting Publications (NAPPA) Award. Launch date: 1998. (

Watch Video) 4/6/2007 (MSRP: $169.95; Age: 2 to 6)



Easygrow Child Seat by MUTSY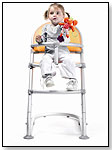 This innovative, fashion-forward child seat not only looks stylish but also provides a child with a safe and comfortable place at the table. Both the seat and foot rest are easily adjustable and can accommodate children from the time they can sit unaided to 12 years of age. The Easygrow with foot rest, eating tray and bumper bar is available in a striking array of colors. The Grow-Up! booster seat (MSRP $49.00) fits neatly inside to expand the seat's useable life for a smaller child. Launch date: January 2007. 2/1/2007 (MSRP: $169.99; Age: 0 to 12)



Kawaii Petit Mushroom Chair by STRAPYA NEXT CO. LTD.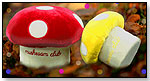 Want to turn those Mario-loving couch potatoes into Mushroom Potatoes that stay healthy and slim? According to Tomonari Higuchi, president of Strapya Inc., which distributes the product, these Mushroom Chairs do just that: "They give kids good posture with the Japanese Seiza seating style that doesn't allow the bending of the backbone." These puffy rump rests are catching on big in Japan with "young women in their teens, 20s and 30s," added Higuchi. "It's also good for elders, as well." For anyone who loves Seiza, Zen or anything about Japan/Japanese culture, these chairs come in four colors: brown, blue, pink and red. These chairs are featured on the hit Japanese drama "Hanayori Dango 2," which is an ongoing weekly TV series in the Land of the Rising Sun. 2/27/2007 (MSRP: $19.10; Age: 5 and Up)



School-Age Vinyl Overstuffed Port Burgundy Chair by BRAND NEW WORLD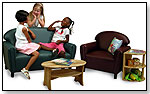 This sturdy, comfortable chair is a perfect place for children to sit back, read or just "chill out." It features soft, durable, easy-to-clean vinyl that is carefully upholstered over a sturdy hardwood frame and dense foam padding. The seat height is 15". A sofa is also available, and both come in a teal color as well. This quality product is built to last and comes with a one-year warranty, Kathy A. Palker, vice president of sales and marketing for Brand New World, told TDmonthly. Launch date: January 2007. 3/19/2007 (MSRP: $111.99; Age: 6 and Up)



The Original Freddy Commemorative Set by FREDDY & FRIENDS LLC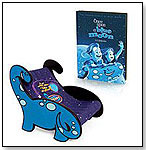 This limited edition set is offered to commemorate the release of "Once Upon a Blue Moon." It includes the first book in a series from author and illustrator S.E. Blakeslee and The Original Freddy Big Chair, designed to fit elementary age children.
— "This chair is designed to last a very, very long time," noted Susan Ledford, one of the homeschooling moms who evaluated the Freddy Big Chair for TDmonthly Magazine. All of the moms commented on the chair's high-quality construction and ease of assembly. Homeschooler Elise Wilson (8) called it "the perfect gaming chair," and the other kids agreed.
—"['Once Upon a Blue Moon'] is an endearing story about a fantastical creature told in four-line rhymes throughout the entire story," commented Ledford. Another Roundtable participant, Lynn Costine, said that her youngest kids loved the sing-songy rhyme scheme. 2/19/2007 (MSRP: $129.95; Age: 3 to 12)



Victorian Doll House by MELISSA & DOUG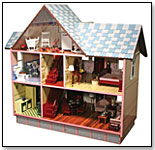 It's every girl's dream home, the beautiful Victorian Dollhouse. Decorative detailing throughout the interior and exterior of this amazing dollhouse makes it a high-quality heirloom to be cherished for years and years to come. Matching room furnishing sets are also available.
— "Melissa & Doug Victorian dollhouse with dolls," Helen Ulrich, assistant manager of Hardware Center Inc. in Paoli, Pa., told TDmonthly when asked about best-selling furniture and playhouse items in summer 2008. "This time of year, we don't sell as many (it's more of a Christmas item) but we sell pieces or dolls."
— "We have a three-tiered [dollhouse] display as you walk in the door. I have all [Melissa & Doug's] furniture around it. The kids love that doll house," said Jeanne McCullough, owner of Children's Store Inc. in Boise, Idaho.
— Six of 62 retailers mentioned doll houses by Melissa & Doug as a strong seller in the furniture and playhouses category in June 2008. Three specifically referenced the Victorian design. 6/29/2006 (MSRP: $148.95; Age: 6 and Up)



Healthy Foods Playset by LEARNING RESOURCES INC.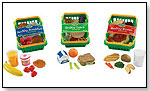 Children can play their way to a healthy lifestyle with these three baskets that are full of healthy meal choices. They are packed with realistic-looking, nutritious foods and include Activity Cards for each meal. All pieces are actual size and washable.
— This play set made Jamie Burdette's top-10 best sellers at LB Toys in Media, Pa. "These very realistic play fruits and vegetables come with a shopping basket," he said in April 2008. 7/6/2007 (MSRP: $59.95; Age: 3 to 5)



Invent A Tent by INVENT A TENT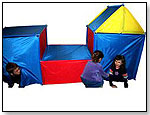 The colorful Invent a Tent system is designed to help build children's minds through creative play, allowing them to construct a unique play structure every time they pull it out. The kit includes set pole lengths and fabric dimensions and condenses easily into one storage bag. "Compared to similar products on the market, Invent A Tent builds a much sturdier play structure that is large enough for multiple children to play in at once. It also comes with an ample amount of fabric to cover the whole structure," Cameron Scott of Invent A Tent told TDmonthly. Launch date: January 2007. (

Watch Video) 7/6/2007 (MSRP: $79.95; Age: 4 to 7)



---
---


Copyright © 2020 TDmonthly®, a division of TOYDIRECTORY.com®, Inc.