May 9, 2021

August 2007 | Vol. VI - No. 8

---
Fashion Passion
On Being a Well-Dressed Doll
Anyone in need of fashion inspiration can cancel that trip to Paris and look instead to these dressed dolls. The collectors and divas in your customer mix may experience serious clothes envy.

For current doll-selling trends, see Dolls Won't Let Up. Or read about baby dolls in Hot Babes.
Ellowyne Wilde™ - Now What? by WILDE IMAGINATION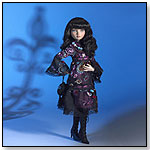 This brunet Ellowyne doll, designed by Robert Tonner, comes in an outfit that includes a printed dress, crochet bag, beaded jewelry, stockings and lace-up boots. The doll stand is included. She comes in a limited edition of 1,000. (EDITOR'S NOTE: Video refers to Ellowyne as being 13 years old, but she's "actually" 18!) (

Watch Video) 7/9/2007 (MSRP: $129.00; Age: 12 and Up)



Ellowyne Wilde™ - Red, White, and Very Blue by WILDE IMAGINATION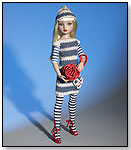 This blond Ellowyne doll, designed by Robert Tonner, comes in a knit dress, stockings, shoes, a bag and a hat. She is made of high-quality vinyl and hard plastic, and boasts 12 points of articulation, hand-painted features, rooted saran hair and designer outfits that use the highest quality fabrics and trims. A doll stand is included. She's available in a limited edition of 1,000. 7/9/2007 (MSRP: $110.00; Age: 12 and Up)



Giftique Starter Set by POCKETS OF LEARNING LLC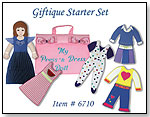 This seven-piece starter set includes a doll, five outfits and an embroidered carrying case. Each outfit has a Velcro backing so that children can dress the doll with just a press of the fingers. "The Press 'n Dress set engages the young child's imagination even before their small motor skills develop," May Grant of Pockets of Learning told TDmonthly. Awards: TDmonthly Top Toy 2008. Launch date: January 2007.

Where to Buy: Camelot Kids (

Watch Video) 6/25/2007 (MSRP: $34.95; Age: 2 to 6)



Patty-Jo Sunday Best by TERRI LEE ASSOCIATES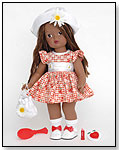 Patty-Jo is all dressed up for Sunday church in her gingham, daisy-print dress. Her accessories include a special daisy hat and matching purse, compact and lipstick, and her very own hairbrush. Patty-Jo has long, beautiful hair for hours of styling fun. "Terri Lee is a toddler doll that is age-appropriate for the toddler market, which is largely underserved," Gretchen McGinnis of Terri Lee Associates told TDmonthly. "Terri Lee was also the first doll company to manufacture African-American dolls in the United States." Launch date: August 2007. 6/5/2007 (MSRP: $19.99; Age: 3 and Up)



Riley Contempo by KISH & COMPANY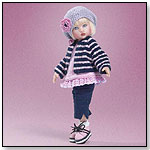 Sassy but chic in navy clamdiggers and a pink cotton sleeveless tee with monochromatic embroidery on the front and a checkered ruffle at the hemline, Riley Contempo wears an ensemble completed by a cropped navy/white striped jacket dotted with pink French knots, a jaunty pale gray beret adorned with a impressive pink crochet flower and pink Vans with navy stripes. She is exquisitely appointed and approximately 7" tall. "Riley reflects at once strength, an attitude of hip and a gentle, vulnerable spirit. People relate to Riley as a personality," Dan James of Kish & Company told TDmonthly. Launch date: July 2007. 4/13/2007 (MSRP: $150.00; Age: 6 and Up)



Ty Girlz™ by TY INC.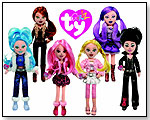 These 14" soft-sculpt dolls are dressed in the latest trend-setting fashions that can be mixed and matched, and each outfit is completed with complementary accessories. Ty Girlz have soft, realistic hair that can be easily combed and made into numerous styles. Their clothes, hair and makeup are coordinated in monochromatic hues for a distinctive look. This new concept in dolls has been created in conjunction with its own 3-D interactive virtual world. Launch date: April 2007.
— "There are many characteristics of Ty Girlz that make them ideal; our patent-pending design, quality, price, fashions, detail and virtual Girlz world set us apart from the rest," a Ty representative told TDmonthly. "Ty Girlz inspire the imagination, emphasize uniqueness and individuality and, with their 3-D interactive virtual world, girls will play games, learn new things, manage their own money and so much more!" 4/13/2007 (MSRP: $12.00; Age: 6 and Up)



12" Series 6 BeGoths Fashion Dolls by BLEEDING EDGE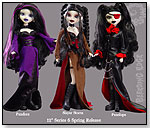 The much anticipated Series 6 BeGoths Collectible Fashion Dolls are available for pre-order now. They are sold by the assorted casepack. The casepack consists of three each of three styles of dolls for an assorted casepack of nine dolls. Launch date: May/June 2007. 3/22/2007 (MSRP: $29.99; Age: 14 and Up)



50th Anniversary Cindy by HORSMAN LTD.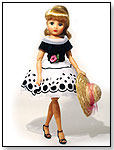 Horsman's 50th Anniversary Cindy wears a reproduction of her most desirable black and white flocked vintage dress. She keeps her vintage charm, updated with the new Rini body with 17 points of articulation so that she can share clothes with her new friends. She comes as a dressed boxed doll with shoes, hat, pantyhose and panties, a numbered certificate of authenticity, a hang tag and an adjustable stand. Three-hundred-fifty pieces of this limited edition doll will be made. "Cindy has all her vintage charm but with a modern 'twist,'" Designer and Art Director Dorinda Balanecki of Horsman told TDmonthly. Launch date: June 2007. (

Watch Video) 3/15/2007 (MSRP: $180.00; Age: 14 and Up)



Mixis™ by YNU GROUP INC.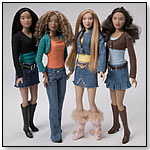 Mixis™ collectible play dolls have been delicately designed with varying skin tones, realistically painted eyes, unique facial characteristics, fully articulated body parts and a naturally proportioned body. The focus is on the blending and fusion of races, ethnicities and cultures, encouraging a dialogue between children and their families that explores the richness and diversity of their individual backgrounds. (

Watch Video) 1/30/2007 (Age: 6 and Up)



MIMO by DRAGON MODELS LIMITED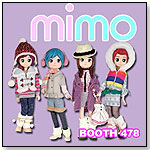 Since their debut at the 2005 Comic Festival, MIMO collectible fashion dolls have taken Hong Kong by storm. Now, after 30 series and more than 100 figures, MIMO have made their way overseas into Japan, and are arriving soon in America. Influenced by Asian pop culture, these 7" fashion dolls follow the lifestyles of two main characters, Mimi and Momo. Immersed in everything that is hip and chic, each character has its own fashion styles and accessories fitting to their personalities. 1/18/2007



Tyler Wentworth® Convertible Basics™ Basic Black Fashion Dolls by TONNER DOLL COMPANY


Each basic doll includes two sets of interchangeable feet — one with a jointed ankle and flat foot, and the other with an arched high-heel foot — and corresponding sandals and high heels. Tyler (center left), Sydney (center right), Jac (far left) and Layne (far right) each come dressed in swimwear, and include sunglasses and a custom display stand. Tyler Wentworth and friends have an extensive wardrobe of separately available clothing and accessories.
— "Today's Tyler incorporates finely engineered jointing for the ultimate in posing ability. The newest innovation of detachable feet adds to the versatility of fashion representation and posing. … Continued development of Tyler's articulation has promoted her from a 'display' doll to a fine 'play' doll," Tom Courtney of Tonner Inc. told TDmonthly. Launch date: Spring 2007. 1/9/2007 (MSRP: $79.99; Age: 9 and Up)



Briana Joy in Fur Jacket, Muff and Hat by ONLY HEARTS CLUB GROUP LLC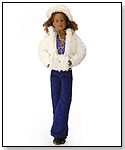 Briana Joy sports a fur jacket, muff and hat to keep warm this winter. Her outfit can be bought separately, too ($10.00). Launch date: February 2007. 7/10/2007 (MSRP: $15.00; Age: 3 and Up)



Garden Party Vintage Dresses by CARPATINA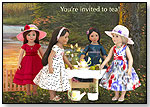 These summer dresses are made to fit any one of Carpatina's 18" all-vinyl dolls. The designs of the dresses have a vintage 1950's look. Launch date: May 2007. 6/13/2007 (MSRP: $24.00; Age: 4 and Up)



Boutique to Go by FASHION ANGELS



This boutique set is fun, portable and includes all props for your doll's shopping experience. It's great for play and storage of your dolls' wardrobe. Light-up Boutique includes mirror, sound player, garment rack, mannequin, cash register, counter, changing screen, sign, shopping bag, five credit Cards, play money, sale receipts, three hangers and instructions. Doll and clothing not included. Dimensions: 12.25" W x 16.5" H x 6" D. 6/5/2007 (MSRP: $50.00; Age: 6 and Up)



Slim Bag by THE DOLL CASE COMPANY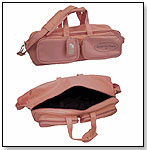 This 18" leather carrier is designed to protect the most precious dolls. It was created for ball-jointed dolls, but would be perfect for any delicate doll. It has thick padding on the inside and two straps to secure the doll while traveling. The bag's metal feet protect it, and it can be carried horizontally or vertically, depending on placement of the adjustable and detachable straps. A 23" black version with silver embroidery is coming soon. "Our company has been designing doll carriers since 1998. We design our products with longevity in mind," Ashley Walicki of The Doll Case Company told TDmonthly. Launch date: March 2007. (

Watch Video) 4/6/2007 (MSRP: $50.00; Age: All Ages)



Zandri by BERDINE CREEDY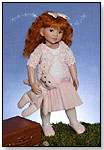 This 10" full-vinyl doll comes complete with a leather-like suitcase and a handmade cat, as well as a book, "In Mamma's Footsteps," authored by collector Deb Troehler. She features brown glass eyes and carrot mohair, and is a limited edition of 130 pieces. Launch date: 2007. 6/25/2007 (MSRP: $235.00; Age: 3 to 8)



Rapunzel by LINDA RICK, THE DOLL MAKER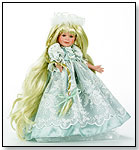 Rapunzel's long blond tresses fall behind her as she stands in an elaborate dress. This 12" doll designed by Linda Rick features a body that is constructed entirely of poseable vinyl. Launch date: 2007. 6/25/2007 (MSRP: $80.00)



April 24, 1944 - Evangeline Ghastly™ Dressed Doll by WILDE IMAGINATION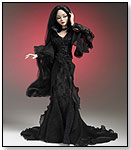 Whether writing in her diary, walking Mouette, or picnicking in the cemetery, Robert-Tonner-designed Evangeline always feels simply ghastly when wearing a beautiful black lace gown featuring a black velvet eyelash jacket with chiffon laced trimmed sleeves over a black spider web embroidered lace, with a chiffon overskirt. She wears it with her favorite black velvet pumps, choker with beaded accents, and matching lace umbrella (a must-have for her delicate, pale skin). Her long black wig and beautiful life-like eyes make for a very dramatic look, although no one ever seems to notice. Evangeline is 19" tall, ball jointed, and crafted entirely of custom-poured fine resin. Launch date: late summer 2007. 7/9/2007 (MSRP: $450.00; Age: 12 and Up)



---
---


Copyright © 2021 TDmonthly®, a division of TOYDIRECTORY.com®, Inc.