March 5, 2021

November 2007 | Vol. VI - No. 11


TDmonthly's Top-10 Most-Wanted Gifts for Girls
Girls Go for Baby Bliss and Flower Power
With additional reporting by regional correspondents Virginia Davis, Terri Hughes-Lazzell, Christine Lebednik and Greg Rock.

What will girls want from Santa this year? Webkinz by Ganz are sure to stick around, retailers told

TD

monthly Magazine, and younger girls are likely to clutch onto the latest dolls from Corolle and Madame Alexander. Alex's Knot-a-Scarf and Melissa & Doug's Flower Power Kit will likely to do well with the older crowd.

Here's what's bound to be popular with girls this holiday season, divided by ages 4 to 8 (first five toys) and 8 to 12 (last five toys):
Coralie by COROLLE DOLLS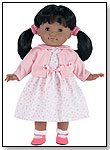 This doll features a huggable, soft body, moving eyes and long silky hair that can be brushed and styled in lots of different ways. Coralie is a quality, loveable addition to a young girl's doll collection, as well as her world of imagination and role play.
— "I have seen the doll category grow significantly this year. Corolle has been a good brand," said Diane Gervais for Amato's in Middletown, Conn.
— "Dolls will do well for [the 4 to 8] age group. Probably Corolle," said Ginger Milligan, owner of Fantasy Island Toys in Fairhope, Ala., when predicting Christmas 2007 sales. Twelve of 54 retailers told TDmonthly Corolle would be a hot seller for girls during the 2007 holidays.
— "The product is wonderful and they have a varied price-point," Michelle Beyer, owner of Clever Kids in Rochester, Minn., told TDmonthly in late 2007 about this best seller in her store. 9/20/2007 (MSRP: $50.00; Age: 3 and Up)



Webkinz Dalmatian by GANZ



This adorable Webkinz pup is the life of the party, as long as you bring along some of his favorite five-alarm chili from the W Shop. As with the entire Webkinz line, the Dalmatian comes with a special code that allows a child to interact with it on the Web. His "special item" includes the Ganz Rapid Rescue Fire Truck.
— "We just got the relatively new Dalmatian. Their new stuff is great," said Chris Walsh, owner of The Whiz Store in Westborough, Mass., about Ganz. "The demand for Webkinz is going down, supply is up and prices are coming down. Yet, it's still selling quite strongly."
— Almost 25 percent of the 58 retailers TDmonthly spoke with expect strong holiday sales of Webkinz.
— Although many specialty retailers have complained about how Ganz has handled Webkinz' sudden popularity, they haven't quibbled at all about the thousands of dollars these little plush toys have added to their cash registers. The extra publicity the toys have generated hasn't hurt either, which makes Webkinz a shoo-in for the TDmonthly Top Seller 2007 award. 9/20/2007 (MSRP: $7.75; Age: 3 and Up)



Calico Critters - A Carriage Ride for Connor & Kerri by INTERNATIONAL PLAYTHINGS LLC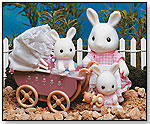 Connor and Kerri Snow-Warren bounce happily in their carriage as Mother Shannon takes them for a stroll to Cloverleaf Corners' Community Park. The Carriage Ride for the Connor & Kerri set includes Mother Shannon Snow-Warren Rabbit, the Snow-Warren Rabbit twins Connor and Kerri, a pram with a pillow and blanket, a rattle and a bottle. This playset also comes with a storybook about the Snow-Warren family.
— "You know what? Calico Critters do great in [the 4 to 8] age range," said Linda Hays, owner of Hopscotch Inc. in McMinnville, Ore., when sharing her Christmas 2007 predictions with TDmonthly. Six of 54 retailers agreed.
— "Calico Critters: It's been crazy and I expect it to continue," said Cathy Foland, manager for Imagination Station in Fenton, Mich., when discussing the upcoming 2007 holiday season.
— "The carriage is highly detailed with moving wheels, sun shade, pillow and blanket," said Sue Tice for International Playthings. 9/20/2007 (MSRP: $16.99; Age: 3 and Up)



Knot-A-Scarf by ALEX BRANDS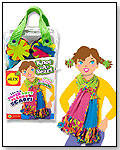 The Knot-A-Scarf makes scarf-making easier than ever. Girls just knot and lace and it's done. No knitting is required. The set includes precut fleece pieces plus laces, a plastic needle and easy instructions. The line of Alex crafts also includes Knot-A-Quilt, Knot-A-Poncho and Flower Crochet Jewelry.
— "Arts and crafts by Alex are big and I expect them to continue to be big. Knot-A-Scarf should do well. The [Knot-A-Quilt] did well last year," said Patricia Masing, co-owner of Tree Town Toys in Ann Arbor, Mich.
— Twelve of 54 retailers told TDmonthly to watch out for Alex arts and crafts in the tween girls section during the 2007 holiday season.
— Following the huge success of our Knot-A-Quilt, we created two new products [in 2007] — Knot-A-Scarf and Knot-A-Poncho. Knot-A-Scarf is a wonderful craft kit because there is no sewing or knitting involved. You simply knot the fringed fleece pieces together to make a super soft, colorful fleece scarf," said Elin Kabo of Alex. 9/20/2007 (MSRP: $14.99; Age: 6 and Up)



Webkinz - Knapsack Purple by GANZ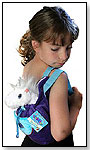 This soft violet backpack is a perfect way for Webkinz lovers to take along their favorite furry friends. It adds function and style to the Webkinz universe that has captivated collectors everywhere.
— "Webkinz by Ganz is our hottest selling item right now. ... With Webkinz, girls start at about 6 to 7 years old," said Amy Oliver, owner of Giggles in Hamilton, Mass.
— "The Webkinz are coming up with a whole slew for Halloween and Christmas. They're the most popular right now," the manager of Fun Among Us in Ipswich, Mass., told TDmonthly.
— Eleven of 54 retailers believe the Webkinz craze will also carry through for tween girls during the 2007 holiday season. 9/20/2007 (MSRP: $14.99)



My Very Own Horse Book by KLUTZ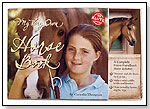 "My Very Own Horse Book" is the perfect item or gift for the horse lover. All the horse sense packed into the book can be applied to a hand-painted, collector-quality horse model that comes with it. Since no horse is complete without its tack, the materials and instructions needed for making a saddle, blanket and bridle are included. Every page features color photography and beautiful artwork. The book is written by Cornelia Thompson. "My Very Own Horse Book will teach readers everything they'd ever want to know about horses — from gaits and grooming to breeds and body language," said Samantha Wolfert, publicist for Klutz.
— "They love horses, and the Klutz horse book is still popular," said Priscilla S. Moore, owner of Mr. Fub's Party "Toys and More" in Yellow Springs, Ohio, when predicting what girls ages 8 to 12 will prefer for the 2007 holiday season. Six of 54 retailers told TDmonthly that Klutz books will be hot with older girls for Christmas 2007.
― "Craft kits from Klutz are big for us," said Dean Nelson, owner of Wizard Kids Toys in Toledo, Ohio, in June 2009.
― Pat Cooley, owner of Cooleykatz Toys in Livermore, Calif., named "My Very Own Horse" as a top seller for girls in her store, and 9 percent of 47 retailers said in summer 2009 that Klutz is a best-selling girls' gift line. 9/20/2007 (MSRP: $19.95; Age: 8 and Up)



Flower Power Jewelry Kit by MELISSA & DOUG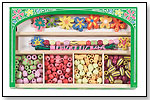 The Flower Power Jewelry Kit offers a delightful variety of shapes, colors and patterns to create necklaces and bracelets that are sure to please. The kit includes more than 150 wooden beads and five laces with beautiful wooden flowers to accent a piece. Children can even make their own bracelet or necklace and take it home as a party favor.
— " Beads — I'm selling Melissa & Doug," said Frances Finfrock, owner of Aunt Franny's Toys in Richland, Wash., when asked to predict a hot-selling item for girls for Christmas 2007.
— Four of 54 retailers who spoke to TDmonthly in fall 2007 said Melissa & Doug jewelry and arts and crafts items will be popular holiday picks for girls ages 8 to 12.
— "The Flower Power Jewelry Kit is a wooden bead set featuring a customized organizer, stunning varieties of beads and stringing cords — everything needed to make beautiful jewelry, decorative items and gifts," said Valerie Cavallaro of Melissa & Doug. 9/20/2007 (MSRP: $9.99; Age: 4 and Up)



Doll Cottage by KIDKRAFT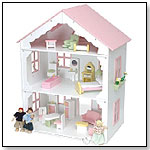 The doll cottage is designed with a child's imagination in mind. With open space to navigate and redecorate, this charming dollhouse offers hours of inventive play. Features include three levels, charming flowers and scalloped trim, rooms typical of any household, sturdy wood construction and a welcoming family of four dolls. The cottage measures 20" x 12" x 25" and weighs 20 lbs.
— Dollhouses by KidKraft were predicted to be hot sellers during Christmas 2007 for girls aged 8 to 12, according to Lisa, manager of The Toy Box in Augusta, Ga.
— We sell a lot of wooden blocks and wooden doll houses by KidKraft," Alison Cox, owner of Animal Quackers in Raleigh, N.C., told TDmonthly.
— Four of 54 retailers cited KidKraft — especially their dollhouses — when discussing sales for the 2007 holiday season. 9/20/2007 (MSRP: $99.95; Age: 3 to 7)



---
---


Copyright © 2021 TDmonthly®, a division of TOYDIRECTORY.com®, Inc.