September 22, 2020

December 2007 | Vol. VI - No. 12


My Best Sellers: Brain Station & Tree Town Toys
Classics and Creativity Rule at These Stores
In addition to collaborating with other specialty retailers in order to sustain a healthy business, Co-owner Hans Masing of online store Brain Station and brick-and-mortar location Tree Town Toys in Ann Arbor, Mich., told

TD

monthly Magazine that vendor reps can be helpful in offering new product suggestions. New or not, see below some of the best-selling items for these two stores. And to find out how these young businesses got their start, read Retailer Spotlight: Brain Station and Tree Town Toys.
Arena by PLAYMOBIL INC.


Engage your gladiators with competition in the arena. Features include audience seating with trap doors to the lions cages, wide gate and large battle area. Also comes with eight figures, two lions, a double-harness chariot and lots of accessories for hours of fun. "Playmobil toys allow the child's imagination to soar, while playing and learning!" Michelle Winfrey, advertising and marketing manager of Playmobil Inc., told TDmonthly. This product is a winner of the 2007 Oppenheim Gold Award. Launch date: August 2007.
— The Roman arena includes a lot of little pieces to assemble, but it's also a lot of fun to play with, offering opportunities for creative play with characters and animals that come to life in a sizeable play space. It earned a TDmonthly Top Toy 2007 award for its detailed figurines and accessories, its playful recreation of an historic landmark, as well as Playmobil's widespread, positive reputation with specialty stores.
— This Roman arena and accompanying accessories are best sellers for Brain Station and Tree Town Toys in Ann Arbor, Mich., Owners Hans and Tricia Masing told TDmonthly in fall 2007.
— "I'm a big fan of Playmobil," Scott Loveless, owner of Toys That Teach in Bothell, Wash., told TDmonthly, "especially in today's environment of toy recalls."
Where to Buy: Really Great Toys (

Watch Video) 1/4/2007 (MSRP: $89.99; Age: 5 and Up)



Magnetic Chalkboard and Dry Erase Board by MELISSA & DOUG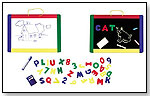 This two-sided board allows kids to release their artistic expressions either on a chalkboard or dry-erase surface. It comes with colored chalk, a dry-erase marker, and 36 magnetic letters and numbers. The board measures 16" x 12" x 0.75".
— As of fall 2007, new art supplies by Melissa & Doug rank as a top seller at Brain Station and Tree Town Toys in Ann Arbor, Mich., said Owners Hans and Tricia Masing.
— "Melissa & Doug has some cute new travel games they just came out [with], and we are selling one or more a day," Andre Truso, a longtime salesperson at The World of Mirth in Richmond, Va., told TDmonthly in March 2008.
— "New travel games by Melissa & Doug…We just got them in, but they are selling pretty fast," Mary Fortier, a longtime salesperson at The Toy Palace in Jackson, Miss., told TDmonthly in March 2008. 11/5/2007



PlasmaCar® by PLASMART INC.



The Original PlasmaCar continues to intrigue and fascinate. Powered by kid power; no batteries, gears, or pedals needed. Just sit, put your feet up, and turn the steering wheel to propel yourself forward. The patented safety seat design places riders in a safe, comfortable position and minimizes tipping. Moves up to 6 mph on any smooth, flat surface. Supports up to 220 lbs. Visit www.plasmacar.com to see all the wonderful colors available.
— In a March 2015 survey, two out of 10 retailers told TDmonthly that Plasmacar is a best-selling outdoor toy.
— As of 05/13/2011 this product had 4.5 out of 5 stars from 122 reviews on Amazon.com. Cons: Does not work well on surfaces that aren't completely smooth.
— This top-seller in specialty stores earned a TDmonthly Top Toy 2007 award for its distinctive aerodynamic design and ease-of-use. TDmonthly believes it has the potential to become a classic due to its fresh, contemporary appeal and application in a child's formative years.
Awards: 2012 Parents Choice Awards Recommended, 2009 Green Parents List Check Mark, 2009 DisneyFamily.com Top Action Figures and Toys for Toddlers, 2009+2008+2005 The National Parenting Centre Seal of Approval, 2008 iParenting Media Toy Award, 2008 Fat Brain Toy Award Active Play, 2006 TIA Outdoor Toy of the Year - Specialty Toy of the Year, 2006 Oppenheim Toy Portfolio Platinum Award, 2005 Oppenheim Toy Portfolio Gold Seal Award, 2005 Dr. Toy Best Vacation Products, 2005 Creative Child Seal of Excellence, 2001 International Patent Fair, Hong Kong Gold Medal 6/28/2005 (MSRP: $69.99; Age: 3 and Up)



Baby's First Blocks by HABA USA/HABERMAASS CORP.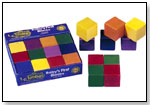 Suitable for ages 6 months and up, this simple set includes 12 colored cubes in six different shades. Each measures 1.75" square. 11/5/2007 (Age: 1 and Up)



Constructive Eating Utensil Set by CONSTRUCTIVE EATING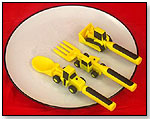 This set, designed to "feed kids creatively," includes one Fork-Lift Fork, one Front-Loader Spoon and one Bull-Dozer Pusher. (

Watch Video) 11/5/2007 (MSRP: $19.95)



Color-a-Messenger Bag by ALEX BRANDS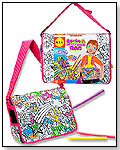 Decked out with designs of pets, fruits, stars and flowers, this bag, measuring 14" W x 11" W x 4" D, allows kids to custom-color to their heart's content. It is large enough to carry school books and binders, and comes with six permanent markers in a pouch. This product was named one of Dr. Toy's 10 Best Creative Products and 100 Best Children's Products.
— "The Color-a-Messenger Bag from Alex is a good one for us," said Emily Bieritz, manager of My Favorite Toy Store in Downers Grove, Ill., of the strongest-selling items for girls in her store in summer 2009.
— In late 2007, 40 percent of retailers singled out Alex-Panline USA Inc. as their best-selling arts-and-crafts manufacturer. Two of 47 retailers told TDmonthly in June 2009 that the Color-a-Messenger Bag is a best-selling gift item for girls.
— Ken, working manager at Toys Unique in Dallas, Texas, told TDmonthly previously that his store does well with Alex's Color-a-Messenger Bag, selling just under 50 per month. Explorations Inc. Owner Chuck Harper in Granger, Ind., had named this item as his store's best-seller. (

Watch Video) 11/5/2007 (MSRP: $19.99; Age: 7 and Up)



Magna-Tiles by VALTECH CO.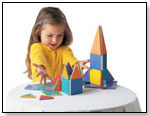 According to Valtech Co., Magna-Tiles were inspired by Pythagoras of Samos (560-480 BC), an important historical mathematician. (Perhaps you recall the Pythagorean Theorem from high school.) If this lofty inspiration doesn't impress you, perhaps the design of the magnetic tiles themselves will. While using the tiles to build various constructs, children will also be developing familiarity with geometric shapes, which will lay a strong foundation for advanced mathematics, such as geometry and calculus. This product has no equal, Michael Ziegenhagen, owner of Playmatters in Cleveland, told TDmonthly. "It's used in some schools to teach geometry and spatial reasoning," he added.
— Two of 50 retailers who spoke with TDmonthly in spring 2008 singled out this item as the best-selling construction toy in their stores.
— "We're constantly selling Magna-Tiles. This is a weekly seller, and they're even high end," said Peggy Sebert, owner of Becky & Me Toys in Glenview, Ill., during an April 2009 survey of 49 retailers on their best-selling construction toys.
— "We sell the Magna-Tiles from Valtech really well on a consistent basis," Kim Emigh, VP of e-commerce at Growing Tree Toys in State College, Pa., told TDmonthly of her store's top-selling construction items in spring 2009. (

Watch Video) 10/3/2006 (MSRP: $49.50; Age: 3 to 7)



Interactive Lia by COROLLE DOLLS



Corolle's 17", multilingual baby doll communicates in French, English, Spanish or Italian. Through a simple, well-hidden and secure battery system, little girls can activate Lia's language skills using different Corolle charm bracelets. Specific, gentle touches and tickles to Lia result in endearing, realistic responses. She is dressed in velour pajamas and a cap. Accessories include a bib, bottle, pacifier, teddy bear and charm bracelets. AAA batteries are not included.
― "I like working with … Corolle as I can order only what I can use for the time period," Owner Patti Tepper-Rasmussen of Learning Tree Toys in Oklahoma City, Okla., told TDmonthly in spring 2007.
— "I think people want more interactive dolls," said Nellie Fais, owner of Toy Magic in Bethlehem, Pa. Twenty-seven of 62 retailers said in spring 2007 that Corolle is their best-selling doll brand, with sales ranging from six to 25 units per month. Corolle's Lia and Lila are best sellers for Brain Station and Tree Town Toys in Ann Arbor, Mich., Owners Hans and Tricia Masing told TDmonthly in fall 2007.
— Interactive Lia is a precious baby doll from a company that's popular with specialty retailers. She earned a TDmonthly Top Toy 2007 award for educational value, as she speaks pertinent baby phrases, such as "I'm hungry!" in four languages. Her little baby voice is as pleasant as her pretty pink outfit and accessories. She's much more than the average baby doll, and vanilla-scented at that. (

Watch Video) 5/8/2007 (MSRP: $100.00; Age: 3 and Up)



Harry Potter Hogwarts School of Witchcraft and Wizardry Building Cards by KLUTZ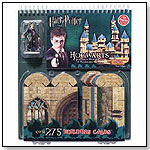 This building set includes more than 275 cards that allow users to construct their own version of the Hogwarts School of Witchcraft & Wizardry. Sturdy slot-to-slot construction means there is no need for glue or nails and the cards can be taken apart and reassembled over and over again. The instructions feature assembly hints, step-by-step illustrations and directions so simple even a Muggle could follow them. The set also comes with a custom-molded Harry Potter figurine. Launch date: May 2007.
— Licensed products may be frowned upon in specialty stores, but don't tell that to the smiling retailers who are profiting from the super combo of best-selling Klutz books with super-hot Harry Potter. It's a new item, but it's already made the radar blink. That's why it's a winner of a TDmonthly Top Seller 2007 award.
— This set is a top seller Brain Station and Tree Town Toys in Ann Arbor, Mich., Owners Hans and Tricia Masing told TDmonthly in fall 2007. 6/13/2007 (MSRP: $19.95; Age: 8 and Up)



Ernie Fire Engine by WOW TOYS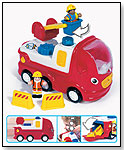 Ernie Fire Engine comes to the rescue with his powerful friction motor and crew of firefighters. Little firefighters can ring his push-button bell and watch his revolving light before using the click-and-turn ladder to fight any imaginary blaze. The firefighter's hand opens the back door to reveal two emergency barriers. Ernie is great for long-lasting role-play fun.
— "Wow is an excellent line of cars, especially for the 1- to 1½ -year-olds," said Fred Rosenberg, owner of On the Park in Kingwood, Texas, in spring 2007. "It's hard to find things as well made as [Wow] that you can actually sell to that age. In the fall [2006], we brought them in, and they've done very well." They've also become a best seller for Brain Station and Tree Town Toys in Ann Arbor, Mich., Owners Hans and Tricia Masing told TDmonthly in fall 2007.
— "This is my baby's favorite toy. She plays with it every day," shared TDmonthly's Baby Roundtable reviewer Sharri Hefner. She and her co-reviewers voted Ernie No. 1 for lasting value out of the 12 toys they evaluated from March to July 2007.
— Ernie Fire Engine is full of "wow" for toddlers — from its friction-prompted motion and siren to its friendly face and likable figurines. Doors that open and close, a workable ladder and attractive packaging also contributed to its receipt of a TDmonthly Top Toy 2007 award. Saving trips to the store to buy batteries (it doesn't need them) helped, too! (

Watch Video) 5/10/2007 (MSRP: $29.99; Age: 2 to 5)



---
---


Copyright © 2020 TDmonthly®, a division of TOYDIRECTORY.com®, Inc.