March 5, 2021

November 2007 | Vol. VI - No. 11


Twelve Toys of Xmas
What's Hot in Europe
"The technological advances … were quite amazing." — Gary Grant, Toy Retailer's Association

Technological wizardry and creative diversity are going to top the list of toys for British kids this Xmas, according to a survey carried out by PlayZak. The list also reflects this year's big and small screen successes, with toys inspired by Transformers the Movie, Dr. Who, pre-school favourite Roary the Racing Car, and game show Golden Balls.

Hamleys, Harrods, Woolworths and the Toy Retailer's Association (the TRA represents 75% of the industry in the U.K.) each provided PlayZak a list of their likely top dozen bestsellers. Their choices were then evaluated and tabulated to create an overall 'Top 12'.

The selection of toys in 2007 "again demonstrates the versatility of the toy industry," Gary Grant, the Chairman of the Toy Retailer's Association, told TDmonthly. "The technological advancements used in many of the toys we reviewed this year were quite amazing."
FlyTech Dragonfly by WOWWEE GROUP LTD.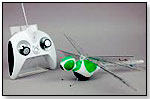 Capable of reaching speeds of up to 18 mph, the radio-controlled flying insect features an ultra-light, dual-wing design and crash-resistant structure. It flaps its wings like a real insect and can take off from any smooth surface and soar, dive-bomb, hover and glide. The motion of the flapping wings can keep the bug aloft for up to 15 minutes.The futuristic bug also features multifaceted LED eyes, two pairs of fluttering wings, a powerful tail rotor and an elongated body that fits in the palm of one's hand. (

Watch Video) 12/21/2006 (MSRP: $49.99; Age: 8 and Up)



Igglepiggle Interactive Dancing Plush by HASBRO INC.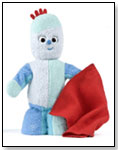 The creators of 'In the Night Garden' on the CBeebies channel have turned to the toy-makers Hasbro to come up with all the merchandise. The pick of the bunch is looking like it will be the interactive all singing and dancing Igglepiggle toy, though Igglepiggle's red soft fleece blanket with a miniature Igglepiggle tucked inside [at MSRP: $71.17] is also tipped to be a sellout. 11/12/2007 (MSRP: $30.19; Age: 1 and Up)



Roary the Racing Car by VIVID IMAGINATIONS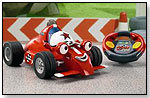 Moves forwards, backwards and left and right. Comes with a steering wheel remote control and sounds and phrases from the TV programme. Packaged with 'Try me' batteries only. Dimensions: 232 x 354 x 198 mm 11/12/2007 (MSRP: $60.40; Age: 3 and Up)



Doctor Who "Dalek Sec" Hybrid Voice-Changer Mask by THE CHARACTER GROUP PLC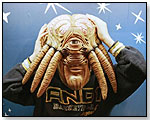 Features two brain hemispheres, a wrinkly nose and several tentacles that come out of the side of the head. This voice-changer is "Dalek Sec" Hybrid which features speech and voice-changing effects. It has two play buttons. Button one activates Dalek question, followed by Dalek Sec Hybrid's reply. Button two activates Dalek Voice-Changer Function. Batteries included. 11/12/2007 (MSRP: $60.92; Age: 5 and Up)



Transformers Movie Leader: Optimus Prime by HASBRO INC.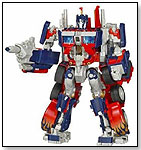 Electronic robot-to-vehicle figure features lights and sounds, and partially automated Advanced Automorph Technology. This technology is designed to enhance vehicle-to-robot conversion with partially animated mechanical triggers that activate the final shift to battle mode. Includes 2 "AA" batteries. 11/12/2007 (MSRP: $39.99; Age: 5 and Up)



Barbie Girls MP3 Player by MATTEL INC.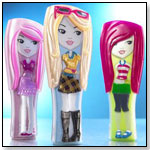 This doll-shaped music player can hold as many as 120 MP3 or 240 WMA-file songs and links up to the Barbie Girls website, a virtual world in which the player acts as a real character. The site gives girls the opportunity to tailor their characters' styles, shop for clothing, decorate their online room and adopt a pet. For safety purposes, the website features information filters and only allows a 2,000-word limited vocabulary. 4/30/2007 (MSRP: $59.99; Age: 6 and Up)



Are You Smarter Than a 5th Grader? by PARKER BROTHERS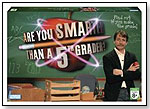 Based on the hit game show, this game features Jeff Foxworthy and five 5th Graders putting ordinary adults to the test by having them answer real questions from the 5th grade curriculum. The fun is that a 10-year-old has just as much chance of knowing the answers as his or her parent. 11/12/2007 (MSRP: $19.99; Age: 8 and Up)



Baby Annabell New V4 by ZAPF CREATION (U.S.) INC.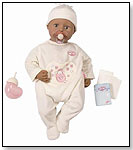 When the "doll mummy" talks to Baby Annabell, she turns her head to the left or the right depending on where the voice is coming from. She babbles, gurgles and sucks on her dummy. When she drinks from the water-filled bottle she makes sucking sounds. Once she has finished drinking, she burps and falls asleep. If she is awakened by noise, she cries - and real tears roll down her cheeks - but singing soon hushes her. The new Baby Annabell's increased capacity to interact with her "doll mummy" will help girl's fluency, confidence and growing sense of responsibility. 11/12/2007 (MSRP: $70.47; Age: 3 and Up)



Golden Balls by VIVID IMAGINATIONS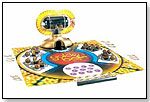 From the hit TV game show, Golden Balls is a game of luck, intuition and barefaced bluff. Grab the cash and avoid those dreaded Killer Balls that can turn millions into cents in seconds. The game is different every time. Requires 3 x AA batteries (not included). 11/12/2007 (MSRP: $40.66; Age: 8 and Up)



Puppy Grows and Knows Your Name by FISHER-PRICE INC.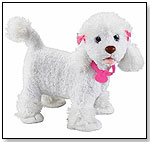 Puppy Grows & Knows Your Name is an electronic mechanized plush dog. Puppy is at his smallest size when the child brings him home and over one week puppy will grow to full size. The child can personalize puppy and as he grows he will learn to speak, learn his own name, the child's name and more. Puppy is personalized using the software on the included CD-ROM. Areas of personalization are: child's name, dog's name, friend's name, favourite place to go with puppy, two activities to do with puppy, child's birthday. 11/12/2007 (MSRP: $50.00)



Say What? by RADICA GAMES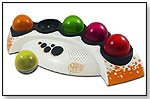 The aim of this board game is to unravel a mixed up situation; in this case, it's a phrase from popular culture that has been sliced up into five different segments. Each of the coloured domes on top of the crescent-shaped game deck represents one of these segments, and it is the player's job to rearrange them from their initial, muddled positions to the correct phrase. In each round the balls light up from left to right, with voices speaking the jumbled phrase accordingly; player's then rush in a crazed panic to swap them around before they forget what each stands for. Smacking the 'Solve button' at the end of the game shows kids which answers they got right. 11/12/2007 (MSRP: $50.83)



Ben 10 Omnitrix F/X by BANDAI AMERICA INC.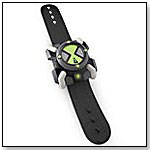 The alien adventures of Ben 10 come to life with the realistic Omnitrix F/X. This awesome role-play toy can be worn on the wrist — just like the one our favorite hero Ben Tennyson wears — and features red and green flashing lights, as well as sound effects direct from the show. Turn the dial to select from one of the 10 alien characters and then press down on the face of the Omnitrix to launch the cool transformation action. This lineup will return in 2007 with different alien characters, as well as new unique features once they have been transformed.
— Cliff Jin, a public relations rep for Bandai America, described Ben 10 Omnitrix F/X as "mini role-play toys." He told TDmonthly that, "It's like having two different toys in one." 10/24/2006 (MSRP: $14.99; Age: 4 and Up)



---
---


Copyright © 2021 TDmonthly®, a division of TOYDIRECTORY.com®, Inc.