July 9, 2020

December 2007 | Vol. VI - No. 12


TDmonthly's Top-10 Stocking Stuffers
Webkinz Spins Web Around Competition
With additional reporting by regional correspondents Virginia Davis, Laurel DiGangi, Dennis Furlan, Gregory Rock, Terri Hughes-Lazzell and Krista Lebednik

Cuddly and interactive is the way to go when it comes to holiday stocking stuffers. Of 58 retailers who shared their thoughts with

TD

monthly Magazine, 14 believed Webkinz by Ganz would fare best in the stocking-stuffers category this holiday season. Other holiday favorites that are small in size but big in popularity hail from Toysmith and Schylling.
Webkinz Dalmatian by GANZ



This adorable Webkinz pup is the life of the party, as long as you bring along some of his favorite five-alarm chili from the W Shop. As with the entire Webkinz line, the Dalmatian comes with a special code that allows a child to interact with it on the Web. His "special item" includes the Ganz Rapid Rescue Fire Truck.
— "We just got the relatively new Dalmatian. Their new stuff is great," said Chris Walsh, owner of The Whiz Store in Westborough, Mass., about Ganz. "The demand for Webkinz is going down, supply is up and prices are coming down. Yet, it's still selling quite strongly."
— Almost 25 percent of the 58 retailers TDmonthly spoke with expect strong holiday sales of Webkinz.
— Although many specialty retailers have complained about how Ganz has handled Webkinz' sudden popularity, they haven't quibbled at all about the thousands of dollars these little plush toys have added to their cash registers. The extra publicity the toys have generated hasn't hurt either, which makes Webkinz a shoo-in for the TDmonthly Top Seller 2007 award. 9/20/2007 (MSRP: $7.75; Age: 3 and Up)



Paddling Duck Wind-Up by TOYSMITH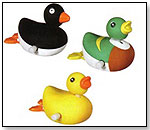 Wind them up and watch these wacky ducks swim across the pool or bath. The ducks move their heads back and forth while they paddle and are part of Toysmith's line of wacky wind-up toys. They come in three assorted styles, are 2" x 2.5" x 1" in dimension, and weigh approximately 1 lb.
— "We sell quite a few wacky wind-ups from Toysmith," said Scott Loveless, owner of Toys That Teach in Bothell, Wash.
— Three of 58 retailers who spoke with TDmonthly in winter 2007 specifically named Toysmith wind-ups as a sure stocking-stuffer hit.
— Over 27 percent of 58 retailers who spoke with TDmonthly cited Toysmith as a popular stocking-stuffer brand. 5/24/2007 (MSRP: $2.49; Age: 3 and Up)



Webkinz Trading Cards by GANZ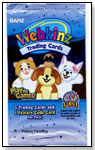 Kids can collect, trade and play awesome games with these cards. The first series of Webkinz Trading Cards includes 80 base-set cards featuring favorite Webkinz pets, characters, items and recipes to collect and enjoy. Kids can also collect three exciting subsets of cards: Challenge Cards, Curio Shop Curiosities and Webkinz Doodlez. Each set comes with 10 packs of cards and six cards per pack. Other amounts and booster packs are also available.
— When asked about the current hot-seller in her store, Kate Tanner, owner of Kidstop Toys & Books in Scottsdale, Ariz., said, "Webkinz of all kinds —from the Googles and Chihuahua to the trading card games and booster packs."
— "I would probably have to say any Webkinz by Ganz accessories," Bill DeFusco, owner of Toyz Toy Store in Chesire, Conn., told TDmonthly, when asked about what he predicted would be his store's most popular stocking stuffer. "Whatever accessories for Webkinz can be found—lip glosses, body spritz, trading cards."
—Eleven of 58 retailers who spoke with TDmonthly cited Webkinz accessories as highly popular stocking-stuffer items. 7/27/2007



Creepy Worm Ball by TOYSMITH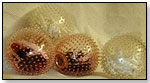 The Creepy Worm Ball allows kids to gross-out their friends. Children can squeeze the ball and watch the ugly worms and flies ooze their way around inside.
— "I actually do hardly anything in novelty toys, although the Creepy Worm Balls are probably my top pick. We get them from Toysmith," said Frances Finfrock, owner of Aunt Franny's Toys in Richland, Wash.
— Although Finfrock told TDmonthly that monthly sales of two units are routine, the product's suitability as a stocking stuffer increases demand during the holiday season.
— Two of 41 retailers who spoke to TDmonthly in spring 2007 cited squishy novelties from Toysmith as popular.
— Toysmith products are so popular for the holiday season, in fact, that preparation is crucial. "I've already got sacks of them, holding them for people," Sherry Grisham of Yesterday's & Today's Dolls in Corinth, Miss. told TDmonthly. 5/22/2007 (MSRP: $2.50; Age: 5 and Up)



Elephant on Bike by SCHYLLING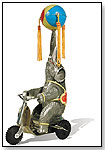 The 10"-tall Elephant on Bike tin wind-up toy is a reproduction of classic tin toys made in the 1940s and 1950s. Kids can wind the key and watch the ball spin on the elephant's trunk while he rides his bike in a circle. Schylling carries approximately 50 tin toy reproductions in its line, including many exclusives.
— Kara Fichtner, owner of Out of the Blue in Albuquerque, N.M., told TDmonthly that she sells up to 100 Schylling animal wind-ups to customers per month.
— "Collecting actual antique tin toys is extremely costly, but the Schylling Reproductions are very affordable and display just as nice," said Stephen Medina, public relations and marketing, Schylling Toys.
— Over 10 percent of 58 retailers who spoke with TDmonthly cited Schylling as a company whose products will make popular stocking stuffers. 5/22/2007 (MSRP: $9.99; Age: 8 and Up)



BANANAGRAMS® by BANANAGRAMS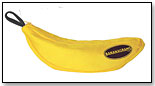 The fast-moving word game consists of 144 ivory-like letter tiles in a zippered banana pouch. Players place the tiles face down on the table and randomly select 21 tiles. They turn their letters right-side up simultaneously and proceed to form as many intersecting and interconnecting words as possible, rearranging their own letters as many times as desired throughout the game. Awards: TDmonthly Top Seller 2007; 2009 TOTY Game of the YEAR, 2006 Oppenheim Toy Portfolio Gold Seal; 2007 iParenting; 2007 Parents' Choice Recommended; 2007 Dr. Toy Best Products. (Read Review)
— This product has been making the TDmonthly Best-sellers lists since 2007.
— As of 05/13/2011 this product had 4.8 out of 5 stars from 456 reviews on Amazon.com.
— Eight of 66 retailers vouched for its best-selling status in May 2008; seven of 63 did in Sept. 2008. Shani Watmough of Planet Toys in Rockland, Maine, said her store sells 60 per month. Fifteen of 38 named it a top-selling game in Feb. 2010.
— As of April 5, 2010, Bananagrams had spent 570 days in the top-100 best-selling toys and games on Amazon.com.
— According to owner Brett Sommer of Figpickels Toy Emporium in Coeur d'Alene, Idaho, "It was the 2009 game of the year. The brilliant packaging definitely helps this product." (

Watch Video) 6/19/2006 (MSRP: $14.99; Age: 7 and Up)



Deluxe Stamp Set by MELISSA & DOUG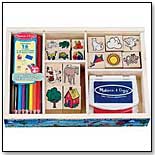 Tucked away in a wooden box are 16 different animal and nature stamps that kids can use to create their own designs. Two different inkpads are included, as are seven colored pencils for filling in the spaces.
— "Holy Moly, there's a ton of stuff that does well" in Melissa & Doug, particularly the stamp and bead sets, enthused Steven Levy, owner of Toy City in Surry, N.H.
— Of 58 retailers who spoke with TDmonthly, four cited Melissa & Doug as makers of popular holiday stocking-stuffer items. Additionally, of the four, three cited Melissa & Doug's art kits as being the "it" product.
— It was one of the best sellers at Imaginit in Decorah, Iowa, said Kayla Storlee. 11/21/2005 (MSRP: $14.99; Age: 4 and Up)



Hyperflex Super Mondo Painted Tip Inside-Out Ball by PLAY VISIONS INC.



These Painted Tip, Inside-Out Balls come in two sizes. When flipped inside out, the painted tips reveal an array of color. They were introduced in January 2005 and have exceeded the company´s retail expectations.
— Virtually every retailer who has these products has told TDmonthly Magazine over the past year that this is a hot-selling product.
— "Are you kidding? They love them!" Chuck Susmilch, owner of J.T. Puffin's in Madison, Wis., responded when asked how well they were selling at his store. "We always sell a lot at Christmastime." He said that other stretchy products, such as the Urchin Ball and Glow-in-the-Dark, Inside-Out Ball from Play Visions, were also great sellers.
— It's a ball … it's a wig … it's anything you want it to be! Retailers want best sellers and the Inside-Out Ball is that, too, which is why it was chosen for a TDmonthly Top Seller 2007 award. (

Watch Video) 1/31/2005 (MSRP: $4.95; Age: 5 and Up)



---
---


Copyright © 2020 TDmonthly®, a division of TOYDIRECTORY.com®, Inc.