April 20, 2021

December 2007 | Vol. VI - No. 12

---
Get These Toys!
Here's What's Hot Right Now for Some of Your Peers
Suddenly out of out-of-doors toys and have to order fast? This month, two retailers from a survey of 60 spontaneously mentioned the Air Pogo, a pogo stick on a rope swing, as a top seller. Early word on KidsGive's Karito Kids was that they would be a keeper. However, on December 7, two different retailers in a survey of 12 said the dolls were flopping. Bananagrams, however, is still selling like bananas, said 4 of 12 storeowners.

The recalls might have finally caught up with Thomas the Tank Engine, because it's tanked, 3 of 12 retailers said. But, for the most part, the recalls that shook up the mainstream toy industry have sent customers into specialty toy stores. Almost everyone told

TD

monthly Magazine that traffic is up, and so are requests for European toys such as Haba and Selecta.

Meanwhile, demand for still-hot Webkinz is starting to waver for some, and may plummet for stores near a Wal-Mart or J.C. Penney, which are both carrying the plush toys for the holidays. Although almost every retailer surveyed was shying away from the new Kookeys by 10Vox, they're a surprise seller at Hoopla in Decatur, Ga., and Owner Sabrina told TDmonthly, "They're going to be hot."

Here's what flying this month: (See last month's Get These Toys!)
Air Pogo by AIR POGO BY HYPERGEE INC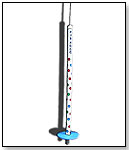 Air Pogo can best be described as a pogo on a rope. It gives kids a big bounce in the air instead of on the pavement. When suspended from a tree limb, deck, wooden swing set or any other 8.5' sturdy overhead support with 6' obstacle clearance, the Air Pogo gives children a great ride — swinging and bouncing up to 2.5' without touching the ground.
— "Air Pogo [is] suddenly going very well," Charles G. Bonner, co-owner of Heights Toy Center in Little Rock, Ark. told TDmonthly right before the holidays 2007. 11/15/2007 (MSRP: $126.00; Age: 3 to 6)



M9 Sports Van by AUTOMOBLOX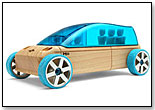 The Automoblox M9 comfortably seats eight of our cool, blue people. The extra-long main passenger compartment and additional seating for four in the rear block give this vehicle the longest wheelbase in the line-up. Now your child can build a minivan like mom's that even dad will want to drive. (

Watch Video) 3/31/2006 (MSRP: $37.99; Age: 3 to 9)



Wooden Music Maker by THE LITTLE LITTLE LITTLE TOY COMPANY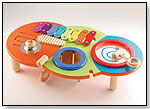 This musical set consists of a variety of instruments perfect for a one-baby band: a drum, an xylophone, a washboard and more. All featured in child-friendly colors, the set also includes two wooden drumsticks. Launch date: July 1, 2007. THIS PRODUCT IS SOLD OUT AND WILL NOT BE AVAILABLE AGAIN UNTIL LATE JANUARY 2008. 6/12/2007 (MSRP: $60.00; Age: 3 and Up)



Baby's First Blocks by HABA USA/HABERMAASS CORP.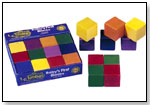 Suitable for ages 6 months and up, this simple set includes 12 colored cubes in six different shades. Each measures 1.75" square. 11/5/2007 (Age: 1 and Up)



Walker Wagon by HABA USA/HABERMAASS CORP.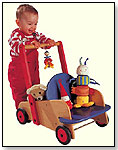 The Walker Wagon is designed to aid children in moving. The added seat allows brother and sister to come along for the ride, and there's sufficient room behind the seat to store utensils or other toys. Even the seat itself can double as storage for items baby likes to wheel around the house. The Walker Wagon is of sturdy construction and features rubber tires on wooden rims.
— "I'm selling like one a week. It's amazing. I'm sold out now," said Jude Larene, owner of Izilla Toys in Seattle.
— "It's a great seller and I just think it'll take off in the holidays," Larene added in fall 2007.
— Four of 54 retailers told TDmonthly that Haba will be big in the baby category for Christmas 2007. 9/20/2007 (MSRP: $119.49; Age: 1 and Up)



Curvino by SELECTA SPIELZEUG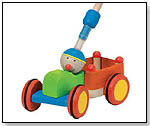 Curvino, a push toy that becomes a steerable truck when the handlebar is removed, is an heirloom toy. With quality craftsmanship made from durable, natural materials, this toy can be passed down through the generations. Because of its maneuverability and versatility, it will provide loads of fun for your older infant or toddler. 12/27/2006



Breyer - Classic Shire by REEVES INTL. INC.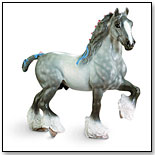 Breyer's expertise in horses comes through as it provides a 1:12-scale model that children and adults, equestrian amateurs and even experts can all appreciate and enjoy.
— "I carry Breyer horses," Marilyn Sipila, owner of Toys Etc. in Poulsbo, Wash., said about best-selling gift ideas in her store.
— "I would say Breyer horses," concurred Mary Walsh, owner of Magical Child in Greenfield, Mass.
— Three retailers specifically told TDmonthly that Breyer horses are popular last-minute gift ideas for girls. 8/24/2006 (MSRP: $15.00; Age: All Ages)



Plush White Blood Cell by GIANTMICROBES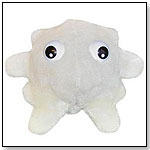 The cute and cuddly GIANTmicrobes® White Blood Cell, which looks like a real white blood cell a million times its actual size, helps kids learn about the science of health. Each GIANTmicrobe comes with an image of the actual cell, plus facts about how these white knights protect the body against attacking germs and cancer cells. "GIANTmicrobes sell best in specialty stores that cater to an educated consumer. As a fun, gentle way to introduce children to health and hygiene, parents love the educational value, and kids love the friendly, cuddly shapes. With 47 different GIANTmicrobes currently available, and more on the way, they make a perfect collector's item," Director of Business Development Dan Oliver of GIANTmicrobes told TDmonthly. Launch date: December 2006. 3/22/2007 (MSRP: $8.95; Age: 5 to 12)



Sticky Mosaics - Princess by THE ORB FACTORY LIMITED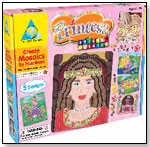 Numbered templates, sticky foam and jewel tiles allow kids to easily create beautiful mosaics. Five different design templates are included, each with a short story on the reverse side geared at inspiring young artists to imagine his or her own mosaic fairy tale. Picture hangers are also included for easy artwork display.
— "The Orb Factory has a great variety of themed mosaic tile arts and craft choices," Jeanette Lauture of Aunt Jean's Toys & Treats in Montclair, N.J., told TDmonthly in early summer 2008 about this best-selling line in her store. "This has hours of play time. I had a dinner party and children from 2 to 12 years of age were entertained."
― "Sticky Mosaics are terrific," said Deran Muckjian, owner of Catch A Falling Star in Lexington, Mass., during an April 2010 survey of top-selling activity kits.
― "They're popular for both boys and girls, and they're fun and easy to play with," Sandy Challinor, owner of Owl's Nest Toy Store in Southlake, Texas, told TDmonthly about Sticky Mosaics in spring 2010.
― Out of 43 retailers interviewed in April 2010, 10 named Sticky Mosaics as their best-selling activity kit. (

Watch Video) 8/16/2007 (MSRP: $16.99; Age: 6 and Up)



The Little Engine That Could™ Set by WHITTLE TOY COMPANY



The Little Engine That Could™ Set: It's the train that's kept rolling since 1930. The train that made the phrase "I Think I Can, I Think I Can," is a permanent part of our American lexicon and continues to teach us the power of positive thinking. This set consists of five cars: The Little Blue Engine, Yellow Gondola, Red Toy Car, White Milk Car, and Red Caboose.
Awards: A TDmonthly Classics Award for being an all-time favorite toy.
— As of 7/21/2011 this product had 4.5 out of 5 stars from 2 reviews on Amazon.com. 9/27/2007 (MSRP: $39.95; Age: 3 and Up)



Hide & Seek Safari by R&R GAMES INC.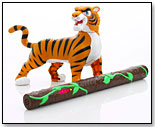 A modern adaptation of the classic game of hide-and-seek, Hide & Seek Safari features an exclusively designed Seeker — a "magically" sensitive wand that resembles a tree branch — that players must use to track down the elusive tiger. As players close in on the hiding tiger, the wand lights up to show them the way. The Seeker sounds an alarm when the tiger is near. The game can be played both indoors and outside, with multiple Seeker wands and multiple hiding animals (additional animals to be released). 2/16/2005 (MSRP: $34.95; Age: 4 and Up)



BANANAGRAMS® by BANANAGRAMS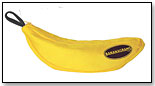 The fast-moving word game consists of 144 ivory-like letter tiles in a zippered banana pouch. Players place the tiles face down on the table and randomly select 21 tiles. They turn their letters right-side up simultaneously and proceed to form as many intersecting and interconnecting words as possible, rearranging their own letters as many times as desired throughout the game. Awards: TDmonthly Top Seller 2007; 2009 TOTY Game of the YEAR, 2006 Oppenheim Toy Portfolio Gold Seal; 2007 iParenting; 2007 Parents' Choice Recommended; 2007 Dr. Toy Best Products. (Read Review)
— This product has been making the TDmonthly Best-sellers lists since 2007.
— As of 05/13/2011 this product had 4.8 out of 5 stars from 456 reviews on Amazon.com.
— Eight of 66 retailers vouched for its best-selling status in May 2008; seven of 63 did in Sept. 2008. Shani Watmough of Planet Toys in Rockland, Maine, said her store sells 60 per month. Fifteen of 38 named it a top-selling game in Feb. 2010.
— As of April 5, 2010, Bananagrams had spent 570 days in the top-100 best-selling toys and games on Amazon.com.
— According to owner Brett Sommer of Figpickels Toy Emporium in Coeur d'Alene, Idaho, "It was the 2009 game of the year. The brilliant packaging definitely helps this product." (

Watch Video) 6/19/2006 (MSRP: $14.99; Age: 7 and Up)



Kookeys - T Rex by 10VOX ENTERTAINMENT INC.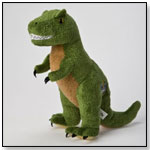 This fierce cuddler has an online counterpart that lets kids access a virtual world full of games, contests and rewards.
— During TDmonthly's Homeschool Roundtable review of Kookeys, 8-year-old Joe Ledford expressed excitement for the online entertainment the plush animals afford. "Can I play the arcade games?" he asked his mom. "They are really fun!" (

Watch Video) 10/3/2007 (MSRP: $14.99)



Zoobie™ Pets - Orangutan by ZOOBIES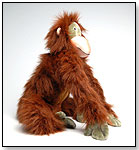 This cuddly, hairy friend is a pillow, blanket and stuffed animal all in one, designed to serve as the perfect travel companion. "We at Zoobies continue to be on the curve of innovation for plush and for children's products, and we have some great new products debuting at the Toy Fair [2008]," Owner J.C. Smoot of Zoobies told TDmonthly. Launch: March 1, 2008. (

Watch Video) 9/17/2007 (MSRP: $35.00; Age: 3 and Up)



---
---


Copyright © 2021 TDmonthly®, a division of TOYDIRECTORY.com®, Inc.