February 26, 2021

December 2007 | Vol. VI - No. 12


Our First Toy Fair: Toys and Gifts
See What These Newbies Have in Store for Your Store
Going to Toy Fair, but don't have much time? Decided to stay home this year? Either way,

TD

monthly Magazine will be bringing you sneak peeks of new toys and games from now until the show opens in mid-February.

The following companies told

TD

monthly that 2008 will mark their debut at the American International Toy Fair. Here's an advance look at what they plan to show:
Adorable Kinders Rag Dolls Mari by GRANZA INC.


Adorable rag doll Mari in a red dress with red shoes, white lace trimmed socks and a matching hair ribbon. Fabric prints may vary. (

Watch Video) 8/31/2007 (MSRP: $59.99; Age: 2 and Up)



Nola, The Monster of Loneliness by THE MONSTERS IN MY HEAD LLC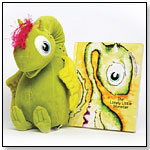 Nola, the cuddly green Monster of Loneliness lives in a world of sunny skies and beautiful landscapes. But she's missing one thing…a friend. Her wide-eyed stare and squooshy tummy make her an ideal candidate for hugs and kisses. She also sports a standard WorryWoo belly button made for tickles! She would love to be your best friend! Nola and "The Lonely Little Monster" won a 2009 Hot Product Award from iParenting Media and a 2009 Preferred Choice Award from Creative Child Magazine. (

Watch Video) 11/9/2007 (MSRP: $21.50; Age: 3 and Up)



Jellybeanies - Strawberry Bear Sammy by TOMORROW INC.


Strawberry Bear is one of eight candy-colored plush animals with a patent-pending scent release feature. The fragrance is designed to last up to 24 months. Each character includes a unique story and a special alphanumeric code to access a customized online environment where children can interact with their toy and make new friends. "It's a consumer promoted, advertised line that's sold exclusively outside of Top 3 Mass Customers," Chief Marketing Officer Jim Huntley of Tomorrow Incorporated told TDmonthly. He also said that scent "rose to the top" of the preferred list in a study of 10 features among 500 6- to 12-year-old girls. Launch date: July 1, 2007. 6/8/2007 (MSRP: $13.00; Age: 3 and Up)



Toys Toys — Mercedes SL 6v Battery Operated Car by BIG TOYS USA



Made in Italy under license from Mercedes and designed in conjunction with their engineers, this replica consists of a tough polyethylene bodywork, making it strong and flexible, while the deep injected paint makes scratches easily buffed away. 8/1/2007 (MSRP: $399.00; Age: 2 to 5)



SLICER™ Sled by ICE MEISTER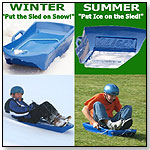 This sled combines the elements of snow sledding with ice blocking, allowing the sled to cruise down snow-covered hills in the wintertime and race down grass-covered hills during warmer months. On snow, the sled works like a typical snow sled; on grass, the sled requires attaching Icers to the bottom of the sled. The included Icers can provide an hour or two of sledding enjoyment, depending on temperature, humidity and use. Additional Icers can be purchased separately. "The Slicer is the only sled designed to work on both snow and grass," Scott Ireland of Ice Meister told TDmonthly. Launch date: November 10, 2007. (

Watch Video) 10/12/2007 (MSRP: $79.99; Age: 4 and Up)



WhisperPhone Solo XL by HAREBRAIN INC.



Designed for grades 5-adult, WhisperPhone is perfect for speech training, impacting literacy, refining your singing voice, learning lines for a theater performance or speech, learning a new language, and more. 8/17/2007 (MSRP: $9.95; Age: 10 and Up)



Piano for Preschoolers by PIANO FOR PRESCHOOLERS



The fun and easy system allows parents without any musical background to teach their children beginning piano at home. The basic course includes a 17-song music book with color-coded notes, a parent/teacher guide, a 17-track "count aloud" CD and two color strips to guide children to the correct key for each note. This product is a winner of a Dr. Toy Best Products Award, an Adding Wisdom Award and an Amazing Toy Award. Launch date: October 2005. 7/16/2007 (MSRP: $39.95; Age: 3 to 8)



mark-my-time™ Digital Metronomes by MARK-MY-TIME LLC



This all-in-one bookmark can fit neatly into a child's stocking and includes a metronome, A440 tuner and practice timer. The metronome allows one to guide a music student with the countdown timer, setting it for 15, 20, 30 minutes or more with the touch of a button. When the practice session is over, an alarm will sound. The cumulative timer can be used to accumulate total practice time over multiple practice sessions. All of these features can be used simultaneously. This product has received awards from the National Association of Music Merchants, iParenting and Children's Technology Review. (

Watch Video) 7/9/2007 (MSRP: $19.95; Age: 5 and Up)



Octobuddy Bath Toy by BOOGALOO TOYS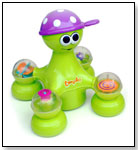 The interactive, educational bath toy encourages gross motor skills through water play while teaching the principles of action and reaction in a fun way. The colorful bandana hat is used as a scoop to pour water into the head of the Octobuddy. This action triggers visually exciting activity housed in clear, bubble-like chambers in Octobuddy's four legs: spinning wheels, a whimsical character popping up and a fish feeding. The floating Octobuddy features "innovative design from two of the brightest toy designers out of Israel, assisted by the most critical focus group — their own children," Jonathan Rimington of Boogaloo PR & Advertising told TDmonthly. Launch date: February 2007. (

Watch Video) 9/17/2007 (MSRP: $18.95; Age: 1 to 5)



Baby Lauren and Theodore by HEALING TREE ARTS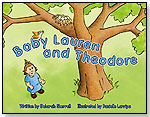 This environmentally friendly book is printed on high-quality recycled paper and processed chlorine free. The story is based in part on real life events, and the four seasons are playfully introduced while children learn the important role that trees play in the environment. "Baby Lauren and Theodore" is a story of friendship, love, loss and renewed hope that is sure to warm the hearts of children of all ages. "With global warming being a major issue … this is a very timely book. It teaches children at an early age to love and respect nature, while instructing on basic earth science," Author Deborah Sherrell of Healing Tree Arts told TDmonthly. Launch date: March 2007. 8/30/2007 (MSRP: $17.95; Age: 3 to 8)



Seed Paper Flowers Activity Set by ARNOLD GRUMMER'S PAPER MAKING



"Seed Paper" is paper that contains seeds in it. Individuals simply plant the paper and watch it grow into flowers. The kit includes pulp, seeds and craft supplies to make seed paper and to do six fun projects. There are simple, clear directions, and no blender is needed. The kit makes four jumbo cards and two giant flowers. This product received the Spring 2007 Best Products Award from Dr. Toy. Launch date: 2007. 7/3/2007 (MSRP: $9.95; Age: 6 and Up)



Brainpaths by ANIMALATIONS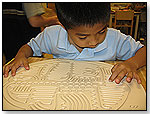 This plastic plastic device features engraved (or raised) grooves that form a path. Since the fingertip is a superhighway to the brain, fingertip movement along the paths provides tactile brain stimulation. Brainpath uses the fingertip's touch receptors (over 3,000) to stimulate the brain in the same way Braille stimulates the brain. Available in a variety of sizes, shapes and configurations, Brainpath tools will teach kids to focus — a skill they will need when learning to read. This product is a 2007 Creative Child Magazine Seal of Excellence award winner. Launch date: October 2007. 8/2/2007 (MSRP: $19.95; Age: 2 and Up)



Battling Water Toys - Octopus by FROLICKING FLOATERS



The inflatable toy floats on water, with an open head cavity for swimmers to place their head. There are two handles under the toy for gripping the two squirt guns. Other available varieties include turtle, killer whale, helmet and more. Launch date: January 2008. (

Watch Video) 11/7/2007 (MSRP: $25.95; Age: 10 and Up)



Creativity Express by MADCAP LOGIC LLC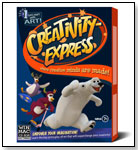 Creativity Express is interactive educational software for children ages 7 to 12. The program is a blend of animated storytelling and interactive activities that teach the principles of art and provide the tools for creative self expression. It contains 16 modules that explore the elements of art and creativity, plus projects that allow children to put these concepts to use in artwork that they can create on the computer with the digital paint software included or with their own traditional art supplies. "Created by former Disney animators, the feature-film-quality 3-D animation and storytelling guides kids to develop advanced creativity and visualization skills," Inside Sales Manager Lera Haines of Madcap Logic told TDmonthly. Launch date: November 1, 2007. 10/4/2007 (MSRP: $29.95; Age: 7 and Up)



Handstand Kids Italian Cookbook and Chef's Hat in a Pizza Box by HANDSTAND KIDS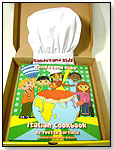 The first book in the Handstand Kids cookbook series journeys to Italy and comes complete with a chef's hat. The Handstand Kids books are illustrated with a diverse group of characters who help kid chefs learn a new language. The series translates the ingredients and utensils from English into Italian, and provides kids opportunities to give back to their communities by using their cooking skills to volunteer with charities. The "illustrated cookbook … introduces kids to other countries and encourages community service," Founder Yvette Garfield of Handstand Kids told TDmonthly. Launch date: April 25, 2007. (

Watch Video) 4/18/2007 (MSRP: $28.00; Age: 3 and Up)



BabyFirstTV 6-DVD Collection, Volume 1 by BabyFirstTV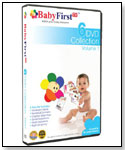 Suitable for ages 6 months to 3 years, BabyFirstTV, the nation's only 24/7 channel dedicated to babies and their parents, now offers its award-winning programming on DVD. The line of developmental DVDs features content specifically tailored to meet the needs of infants and toddlers. It is created by leading child development experts, features on-screen parenting tips and a unique 3-step introduction method to topics, and is available in English and Spanish. The six-DVD collection includes Vocabulary Seeds, Numerical Concepts, Cognitive Beginnings, Night Symphony, Visual Inspirations and Social Explorations. "The BabyFirstTV DVD line is ideal for the specialty toy market since the products are not currently offered in mass retail outlets," Marketing Director Kristin Feltz of BabyFirstTV told TDmonthly. Launch date: November 1, 2007. (

Watch Video) 9/25/2007 (MSRP: $69.95; Age: 1 to 3)



Stylin' Crib Shoes by BABY RHYS ADVENTURE GEAR INC.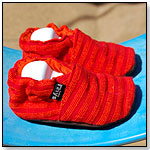 This light, breathable footwear is made with 100-percent premium Swiss-dyed hand-loomed cotton and features man-made suede soles for better grip. The comfortable slippers easily slide on and off and are fully lined. They come in bright colors and patterns and are available in various sizes. "All Baby Rhys products are hand stitched. Each pair of slippers comes with a card that tells the name of the seamstress that stitched that particular pair. We focus on the personal touches that differentiate us from mass market items," CEO Pam Liyanage of Baby Rhys told TDmonthly. "We donate a portion of our proceeds to tsunami aid in Sri Lanka each year, as that is where our products are made." Launch date: February 2007. 8/16/2007 (MSRP: $29.99; Age: 0 to 4)



Teach Me Time! Talking Alarm Clock and Nightlight by AMERICAN INNOVATIVE LLC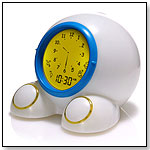 The dual-color alarm clock and nightlight timer lets parents appoint a time for the nightlight to change from yellow to green – teaching young children when it's okay to get out of bed. The built-in interactive talking time-teaching game is a fun activity designed to foster an educational dialog between parent and child before bed. The product's functional alarm, kid-friendly shape and interchangeable colored bezels make clock and nightlight duo a good fit in any room at any age. "Teach Me Time! is a unique educational time-teaching tool that grows with the child, beginning from the day he or she is first out of the crib," Rachel Zinser, of American Innovative LLC's strategic sales and marketing department, told TDmonthly. Launch date: February 17, 2008.
— As of 8.24.10, this product had 4.5 out of 5 stars from 2 reviews on Target.com and was listed in the top 30 best-selling toys and games. PROS: Educational, entertaining and not too loud. 11/21/2007 (MSRP: $49.95; Age: 3 and Up)



Magic Bean Wishes — Dinosaur Planter Kit by MAGIC BEAN WISHES



Children can grow a collection of dinosaurs with this set of ten colored beans that are marked with images of dinosaurs using a patented process. Magically, seedlings grow from the soil with the animal images still on them and then develop to yield edible beans. The dinosaurs include Stegosaurus, Triceratops, T-Rex, Brontosaurus and more. The beans come in a poly bag, along with a recyclable
planter, vermiculite growing medium and detailed instructions. Launch date: January 2008. 7/26/2007 (MSRP: $9.95; Age: 5 and Up)



Thermo Scientific NITON® XL3 Series XRF Analyzers by THERMO FISHER SCIENTIFIC INC.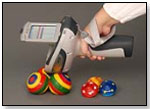 The hand-held analyzers quickly identify and quantify lead and other toxic metals in children's toys and jewelry. Launch date: June 3, 2007. 11/21/2007



---
---


Copyright © 2021 TDmonthly®, a division of TOYDIRECTORY.com®, Inc.