May 8, 2021

February 2008 | Vol. VII - No. 2

---
TDmonthly's Top Toys Before Toy Fair
A Peek at the Best Specialty Picks ... and a Hint of What's to Come
With so many new products at Toy Fair, it's easy to get buried underneath them all. In the days before the Fair,

TD

monthly Magazine sifted through the new products to find two new specialty picks plus a mass-market item that hints at trends to come.

Here's what we found:
Multiplication Sensation by JANDIE JAMS MUSIC LLC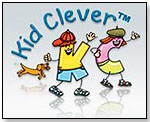 The CD and book set helps kids practice their multiplication skills. The CD features catchy songs recorded by live musicians, and is accompanied by a book full of comic-book style illustrations for each of the numbers — or characters — on the CD. Launch date: July 2008. (

Watch Video) 2/21/2008 (MSRP: $16.99; Age: 7 to 11)



Mandala Coloring Book by SPIRALING HEARTS


Mandala art is a circular design, and can be used as a meditative practice, by drawing the eye inward. The 21-page coloring book allows children to relax and meditate as they create their own beautiful, colorful works of art. Launch date: 2008. 2/21/2008 (MSRP: $9.95)



Hannah Montana Malibu Beach House by JAKKS PACIFIC INC.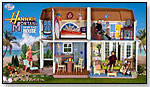 This replica of Hannah Montana's beach house features a highly detailed interior, from the kitchen to the living room to the closet. Even the furniture, décor, colors, designs, patterns and textures are accurate to the show. The house closes up easily for convenient storage and features a handle for easy transport. Launch date: 2008.
— At LittleBits in Wellesley, Mass., the Hannah Montana line is a best seller, a store representative told TDmonthly in April 2008.
— The character of Hannah Montana is played by actress and singer Miley Cyrus.
— In 2007, the Hannah Montana television series was nominated for an Emmy Award. 2/21/2008 (MSRP: $159.99; Age: 6 and Up)



Intellitoys - Smart-E-Bear and Friends by KIDS PREFERRED INC.


The 13" plush encourages children to discover and explore through a library of thousands of award-winning songs, interactive stories, educational games and other content that parents can selectively purchase through the Internet and download to the toy with a super-easy USB connection. The smart-e-software allows the toy to change and grow with each child's interests. The plush utilizes electronics about the size of a deck of cards and contains no moving parts that can easily break and harm a child. Smart-e-bear, smart-e-dog and smart-e-cat are each sold separately. Smart-e-bear received a 2009 Tillywig Brain Child Award. (

Watch Video) 2/20/2008 (MSRP: $85.00; Age: 3 to 6)



Little Spider's First Web by KEENOWL LLC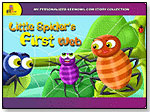 The book can be personalized with a child's name, gender and hometown, and even what he or she calls Mom, Dad and "Good Night." The story follows the child as he or she (as the Little Spider) overcomes subtle challenges in spinning its first web. But with the enthusiastic support of its parents and faithful friends like a bee, a bird and a cricket, Little Spider learns to have courage, persevere and finally succeed. The storybook features 16 pages of bright, engaging colors and easy-to-read text. 2/20/2008 (MSRP: $18.97; Age: 1 to 4)



Beanie Babies 2.0 by TY INC.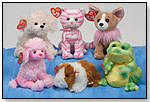 Each Beanie Baby comes with its own interactive website. Kids simply scratch off the secret code on the heart tag and unlock a world of fun: chat in different environments, play games for hours, go on a scavenger hunt, care for their virtual Beanie Babies and much more, all in a safe setting. Each Beanie Baby is adorned with a special blue and gold lightning bolt button. Launch date: 2008. (

Watch Video) 2/20/2008 (MSRP: $6.50; Age: All Ages)



Come with Us! by HABA USA/HABERMAASS CORP.



The delightful board book story teaches children the concept of prepositions such as between, under, behind, next to and more. A wooden monkey shape named Jack is playing with his friend Pirate Joe on an island of treasures; the monkey is a magnet that will only stick on the page when placed is the correct position described in the sentence. The cover features an easy pullout quality, allowing for permanent storage of the magnetic monkey so he won't get lost. Launch date: January 1, 2008. (

Watch Video) 2/19/2008 (MSRP: $12.00; Age: 2 and Up)



Leapster2 Learning Game System by LEAPFROG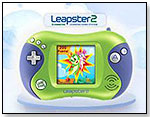 The handheld system provides children with fun activities and rewards that encourage continued play while allowing parents to see what their child is learning and share in their accomplishments. The system features auto-levels that adjust games to fit each child's particular skills and progress, so children are appropriately challenged.
— As of 1.06.2011 this product had 4.5 out of 5 stars from 51 reviews on Amazon.com and was No. 17 on the top 100 bestselling toys and games. Pros:Very soft; appeals to girls of all ages. Good quality and multi-purpose. Cons: Difficult to wash and gets dirty easily. 2/19/2008 (MSRP: $69.99; Age: 4 to 8)



Catalog by WESTLAND GIFTWARE INC.



Based on the Revilo cartoon series, this figure depicts a woman standing on a base that reads, "This outfit looked so cute in the catalog." The figure stands 6-1/2" tall. Launch date: January 2008. 2/18/2008



Hyper Jump™ by WILD PLANET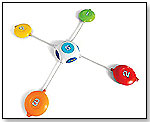 The high-energy game features lively music, encouraging phrases and audio alerts and is both physically and mentally challenging. The saucer-sized base unit consists of multi-colored and multi-numbered pods. The base houses a microchip and speaker that calls out commands, instructing players to jump on various pods in the fastest time possible. The game offers varying levels of difficulty, starting with simple color and number recognition and advancing to sequential, memory and basic math exercises. The game can be played solo, in pairs or in teams. Launch date: Fall 2008. 2/18/2008 (MSRP: $26.99; Age: 6 and Up)



Barney: Animal ABCs by HIT ENTERTAINMENT



Hit Entertainment and Twentieth Century Fox Home Entertainment join to create a fun-filled alphabet adventure. Barney and his friends find building blocks, and search for animals to match each letter of the alphabet. Each animal is introduced with a description of its characteristics, physical attributes, habitats and more. Kids will also learn about the importance of taking care of beloved pets and what a veterinarian does. Classic tunes accompany the nearly hour-long, live-action adventure. Launch date: March 4, 2008. 2/18/2008 (MSRP: $14.98)



Baby Loves Hip Hop by THE VERVE MUSIC GROUP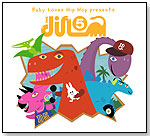 The record is both a book and Broadway show in one, featuring the collaborative efforts of Prince Paul, Ursula Rucker, Chris Rock, Dave and Pos of De La Soul and much more. The CD follows five best dinosaur friends on a musical adventure as they teach key life lessons and have fun at the same time. Launch date: April 1, 2008. 2/15/2008



Harold and the Purple Crayon…and More Great Stories to Spark the Imagination by SCHOLASTIC



This animated adventure is part of the Scholastic Storybook Treasures collection, which offers an hour-long, kid-friendly narration and a read-along function. The story is adapted from Crockett Johnson's original book by the same name, and is joined by six other animated stories. Launch date: March 11, 2008. 2/15/2008



Family Tree by INFANTINO LLC



The rattle and photo album in one features five photo slots, a chaser bead rattle and lots of unique textures for baby to explore. Launch date: February 2008. 2/14/2008 (MSRP: $11.99; Age: 0 and Up)



Dr. Seuss Waterproof SuperBib - Horton Hears a Who! by BUMKINS FINER BABY PRODUCTS



The U.S.-made bib is constructed of a waterproof PVC material that is both phthalate and lead free. A yellow version is also available. Launch date: March 2008. 2/14/2008



FeltTales™ All Dressed Up by BABALU INC.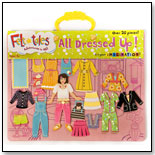 The game invites children to play dress up with fun items such as a yellow jacket, a purple leopard print sweater or an orange dress. The set includes over 20 pieces of brightly colored felt with silk-screened details, a vinyl storage back and a felt board. Numerous titles are available. Launch date: Spring 2008.
— Babalu Felt Tales is most recognized by parents and toy expert for being travel friendly. It has received an average rating of 4 out of 5 stars, based on combined reviews from Amazon.com and etoys.com, also due to its ability to bring out the creative side of children as they build and tell their own stories. One concern is the small parts, which can easily be lost, torn, or swallowed by children under 3. (09.08.08) 2/13/2008 (MSRP: $19.99; Age: 3 to 7)



Flowerburst by DOUGLAS CUDDLE TOYS



The 7-1/2" tote is decorated in fuchsia, black and white mod floral print. The backside of the bag features a different style print to give the bag two completely different looks depending on which way the bag is carried or worn. A delicate white pony sits inside the purse. 2/13/2008



Who Wants to be a Superhero Wave 1: Shockini Action Figures by SHOCKER TOYS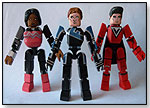 Shockinis are tough little 3" block figures mirroring the characters of the "Who Wants to Be a Superhero?" reality show, hosted by Stan Lee. The Wave 1 series includes Feedback, Fat Momma and Major Victory. 2/13/2008



Sproutz® 4 Station Art Center by JONTI-CRAFT INC.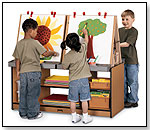 The art center features material made from recycled wood waste and formaldehyde-free resin. The unit also features KYDZSafe® edges, KYDZStrong® construction and KYDZTuff® finish, allowing it to stand up to everyday classroom use. Ample elbow and storage room makes the unit perfect for children. This item is an Instructor Magazine Teacher's Pick Award winner. 2/12/2008



Polar Bear Pail by PERENNIAL TOYS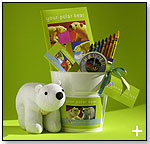 The set includes a polar bear bath sponge, a badger night balm, a collectible polar bear magnet, an educational polar bear arctic habitat coloring book, non-toxic crayons, a storage pail and a surprise gift. The plastic bath toys are designed and modeled in the US and then cast with phthalate-free resin that includes recycled content. A percent of all sales supports wildlife conservation. Launch date: December 2007. 2/12/2008 (MSRP: $14.95)



Power Rangers Jungle Fury by BANDAI AMERICA INC.



This improved version of the Mega Mission Helmet allows users to download more over 50 role-playing missions from the Internet. Launch date: February 2008. 2/12/2008



Glow-in-the-Dark PlayFoam Six-Pack by EDUCATIONAL INSIGHTS INC.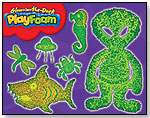 The neon-colored foam glows when the lights are turned off. The foam sculpting beads are reusable, lightweight, non-toxic and won't dry, harden or stick to surfaces, providing hours of mess-free fun. The pack includes six neon bricks in white, green, pink, yellow, blue and orange.
— "PlayFoam has been selling extremely well for about the last two years," said Owner Melodie Ingwersen of Creative Kids Toy Shop in Columbia, S.C., in early spring 2008.
— "Our No. 1 activity set is PlayFoam," Ingwersen reiterated in April 2008.
— In April 2008, four of 50 retailers named play foam as a best-selling item, while two of the four named Educational Insight's product as the best-selling kit their stores. 2/12/2008 (MSRP: $10.99)



The Year of the Rat: Tales from the Chinese Zodiac by IMMEDIUM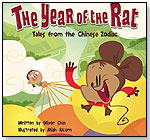 The book revolves around baby rat Ralph and his friend boy Bing, as they investigate their village during the 2008 Year of the Rat celebration. The book celebrates Asian culture and tales and is full of bright and dynamic illustrations, delighting both children and parents alike. 2/12/2008 (MSRP: $15.95)



Puzzleball® - The Earth by RAVENSBURGER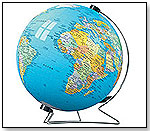 The 8-1/2" 3D puzzle will help children learn geography in an innovative way. The puzzle features 540 perfectly crafted, curved plastic puzzle pieces the fit snugly together to form a solid, smooth ball. No glue is required. The underside of each piece is conveniently numbered to provide arrangement help. A variety of styles are available, including penguins, dinosaurs, dolphins and unicorns. Launch date: Summer 2007.
— "Ravensburger adult puzzles – we sell four or five a day," Scott Sloan, manager of Toys Inc. in Myrtle Beach, S.C. told TDmonthly.
— "We sell a lot of Ravensburger [puzzles] for adults. At least a dozen every day," Pam Horwitz, manager of Mr. Toad's Toy Company in Naples, Fl., told TDmonthly. Four of 45 retailers surveyed by TDmonthly named Ravensburger adult puzzles as their best-selling puzzles.
— "Ravensburger puzzles are my very fav," said Michelle Smith, owner of Piccolo Mondo Toys in Portland, Ore., in December 2008 of this strong seller in her store. 2/12/2008



Flag Ribbon – Democratic Donkey by FIESTA



The 8" flag ribbon plush is available is extremely soft and whimsical. A Republican elephant version is also available. Both styles are also available with election campaign buttons. Launch date: April 2008. 2/8/2008



Thomas & Friends™: Engines and Escapades by HIT ENTERTAINMENT



Thomas and his friends are featured in six new adventures, including "Cool Truckings," "Skarloey Storms Through" and "Wash Behind Your Buffers." In addition, children can sing-along with the puffing steam cloud to two music videos. The DVD has an approximate running time of 50 minutes. This product received a 2008 Parents' Choice Approved award. Launch date: March 4, 2008.
— According to Bennie Campbell, owner of ABC Toys in Conway, Ark., "Thomas the Train always has been" the stores' hottest selling line. 2/8/2008 (MSRP: $14.98)



---
---


Copyright © 2021 TDmonthly®, a division of TOYDIRECTORY.com®, Inc.