June 6, 2023

March 2008 | Vol. VII - No. 3

---
Sand-Goh! Offers Better Way to Build
Invention Enlivens Sand Art with Fun Sculptures
"I was able to create a great team for my patents and product." — Jerry Taufield, Inventor of SandGoh!

Watching his children build sand castles with buckets and shovels during a 2006 vacation in Anguilla, real estate attorney Jerry Taufield figured there had to be a better way to create sculptures that captured his children's imagination and give them a sense of accomplishment.

MODERNIZING SAND ART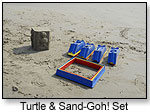 "Throughout the ages, people have been playing in the sand," Jerry told

TD

monthly Magazine, noting that he wanted his kids to be able to construct elements of their ideas into creations of their choosing.

Since childhood, Jerry has been fascinated with taking things apart and putting them back together. His involvement with engineers and architects later in life increased his interest in design.

Jerry's idea for a system that grants individuals the ability to create distinctive sand sculptures evolved into Sand-Goh! — a 12-piece set of mold blocks that compose four characters: a sea horse, a turtle, an octopus and the Sand-Goh! boy.

As the pieces are stacked in different combinations, the blocks give way to 64 artistic designs, such as a sea horse's head with a turtle's body, or a boy's head with octopus arms. These three-dimensional images appear on the sides of solid-sand blocks.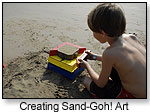 Jerry envisions an endless array of shapes and even licensed characters for later additions to his product, he told

TD

monthly.

HIRING FOR PROGRESS

For Sand-Goh!, building a strong business has had as much to do with the team behind the product as with the idea itself.

"I felt fortunate that I was able to create a great team for my patents and product," Jerry said. "I hired engineers to help turn my drawings into an outstanding and attractive product. I hired an artist who helped me design a logo that everyone loves. Every element from the design of the toy [to the] packaging and branding is important, and I've spent time and money to make it top notch."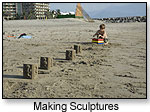 BUILDING ON THE BEACH

The quality has been evident to spectators. A grandparent once asked Jerry's children as they were building Sand-Goh! structures on a beach in Puerto Vallarta, "Are you artists in a contest? Where can I buy that product?"

From the onset of watching his children at play that day in Anguilla, Jerry felt an excitement about Sand-Goh! Knowing what came out of his experience as an inventor, he encourages others not to give up on their ideas.

"All my life I had creative ideas," he said. "I'm happy I pursued it to completion."
Sand-Goh!™ by SANDGOH LLC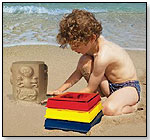 The revolutionary, patent-pending sand toy has children put their imagination, creativity and problem-solving skills to use in constructing up to 64 different sandcastles. The 12-block building system of interchangeable "mold blocks" creates 8"-high columns of sand by adding wet sand to the interior compartments of the blocks and then removing them to reveal sand sculptures. The toy combines elements of art, a three-dimensional puzzle and construction. Launch date: July 2008. (

Watch Video) 10/19/2007 (MSRP: $29.99; Age: 3 and Up)



---
---


Copyright © 2023 TDmonthly®, a division of TOYDIRECTORY.com®, Inc.