May 12, 2021

---
TDmonthly's Top 10: Game Zone
Diverse Elements and Colors Make for Playable Debuts
All played out? Maybe it's time to refresh your game stock with these offerings making their big debut at Toy Fair 2008. From designing your own game board to practicing math while conquering villains, there's plenty of creativity, playability and strong presentation in these games:
Flibbix™ by MERILLIAN, LLC.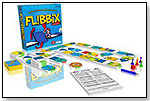 With Flibbix™, players build their own board game, make their own rules and then play. It's super easy and lets players rebuild and replay the game as much as they want. Players race to the finish, but things can get wacky along the way — even the game board and rules can change during play. "It's the first-ever build-a-board-game set: Players can easily build and play their own, custom board game with Flibbix. Because each game is different, it has great replay value and players can make a game that's fun and perfect for them," Jason Ivan of Merillian told TDmonthly. Launch date: April 2008. (

Watch Video) 1/17/2008 (MSRP: $39.99; Age: 7 and Up)



Scoop by DISCOVERY BAY GAMES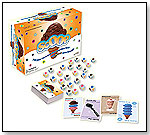 This game for two to four players challenges participants to match the ice cream cone determined by the roll of the dice. It features nice, artful cards and a slew of colorful dice for flavorful dice. 2/17/2008 (MSRP: $14.95; Age: 7 and Up)



Numbers League: Adventures in Addiplication by BENT CASTLE WORKSHOPS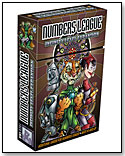 Numbers League is a 30-minute game that offers "adventures in addiplication," leaving it up to two to four players to capture the villains on the streets on Infinity City. They do so by building superheroes out of cards and practicing math skills while they're at it. The superhero card numbers added together, for example, determine which villain can be captured. The cards are bright and have comic-book appeal. (

Watch Video) 2/17/2008 (MSRP: $19.95; Age: 8 and Up)



Blunders™ - Make Learning Manners Fun by SUCCESSFUL KIDS INC.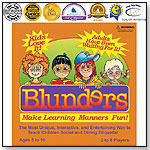 The adorable characters of Becky, Bobby, Brenda and Billy Blunder revolutionize the way manners are taught. The game includes a game board, a story book and 300 fun and interactive charade, multiple-choice, scenario and true/false questions covering social and dining etiquette. "Blunders™ is the only board game on the market today that makes learning manners interactive and fun!" Successful Kids Inc. President Aimee Symington told TDmonthly. This game has received the following awards: Dr. Toy, National Parenting Center Seal of Approval, iParenting Media, Creative Child Preferred Choice, Mr. Dad Seal of Approval, eChoice, and The Toy Man Award of Excellence and Seal of Approval. Launch date: February 17, 2008.
— "I've loved the Blunders Game from the moment I was introduced to it. Now you can reinforce manners at one of the places where manners are key. Manner Mats takes the blunders concept and turns it into a set of 38 table mats. The mats include tones of games including word searches, challenges, multiple choice, what is wrong with the picture, complete the sentence and many more. Another innovative way to teach manners without having to point your finger," Jennifer Shuman, owner of 1SmartNoodle, told TDmonthly at Toy Fair 2010.

Past videos: Toy Fair 2009 (

Watch Video) 11/27/2007 (MSRP: $24.95; Age: 5 to 10)



EcoRanch by ENLIGHTENED PLAY



The game is one of strategy, based on inner and social awareness. It celebrates Earth Day every day and invites everyone to think about their choices and actions and the larger community around them. By answering questions and engaging in discussion, players learn how their choices affect the earth and its inhabitants. "[This is] the only game on the market where a player wins by using a 'pay-it-forward' strategy," Elightened Play! Owner Eileen Thournir told TDmonthly. Launch date: February 17, 2008. (

Watch Video) 10/25/2007 (MSRP: $34.95; Age: 12 and Up)



Backseat Drawing by OUT OF THE BOX PUBLISHING



In this "hysterical game of sketchy directions, two teams (anywhere from four to 10 players) race each other to identify sketches drawn by their teammates. The catch is, the artists themselves aren't aware of what they're drawing — the sketching instructions are being given to them by another team member. Playing time is 20 to 30 minutes.

Past Videos: Toy Fair 2008 (

Watch Video) 2/17/2008 (MSRP: $24.99; Age: 12 and Up)



My Little Pink Book by BKM ENTERTAINMENT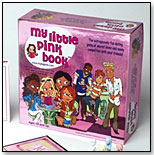 This game for girls challenges participants to guess who their fellow players have secretly chosen to date from the My Little Pink Book of guys. Each "date" has his own distinctive characteristics — such as what kind of car he drives and what kind of music he likes. The colorful and very "pink" gameboard features hotspots that young girls might visit while trying to attract the opposite sex. (

Watch Video) 2/17/2008 (MSRP: $29.95; Age: 10 to 16)



Squiggle Safari On-the-Go by RANDOMLINE INC.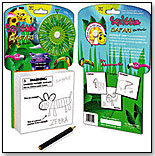 Ideal for travel, this on-the-go activity challenges children to draw safari animals from a mere squiggle on the drawing pad. They simply spin the attached spinner to determine the animal and then go to work drawing a gorilla, hippo, buffalo or other animals. 2/17/2008 (MSRP: $4.99; Age: 4 and Up)



---
---


Copyright © 2021 TDmonthly®, a division of TOYDIRECTORY.com®, Inc.