September 22, 2020

TDmonthly's Top 10: Artsy Toys
These Kits Put Hands and Minds to Work
Whether they require donning a smock and utilizing the right side of the brain or just setting on a shelf to admire, these products are sure to bring out the artsy side in people. These 10 picks rank as favorites among the arts and crafts and designer toys

TD

monthly Magazine spotted on the trade show floor.
DEBO Superheroes – Maru-bo by KAMIBASHI



This tiny vinyl character is the "hero of gettin' around" and has travel-related powers, such as ensuring that you always get a good parking spot. It was designed in Thailand by the DEBO (Do-Everything-By-Ourselves-) group of four artists – Byb, Beer, Noi and Ning – and then sewn together. The Maru-bo shape can be repeated in other dolls, but this particular design is only available in a limited edition of 50. 2/18/2008



Make Shrink Art Jewelry and Tags for Your Pet and You Too by BOWWOWMEOW



Create shrink-art jewelry that any pooch would be proud to wear, and while you're at it why not make a coordinating piece for yourself. Includes enough material to make more than 20 charms and tags. Also includes alphabet beads to further personalize, cord, ribbon and "s" hooks to hang ID or charms from a collar, and even a hole punch. 9/27/2007 (MSRP: $17.99; Age: 8 and Up)



Shrinky Dinks® Tiki Island Party Pack by JOOBLI STUDIO



Suitable for up to eight people, this party pack includes a themed color poster that doubles as a photo frame, eight sheets of Frosted Ruff-N'-Ready shrinkable plastic, at least 32 line-art images for tracing, eight invitations and envelopes, and eight key chains for bag tag favors. It also comes with "Make-&-Bake" instructions. (

Watch Video) 2/18/2008 (MSRP: $17.99; Age: 6 and Up)



Forster Woodsies Motorized Engraving Tool & Wood Set by LOEW-CORNELL INC.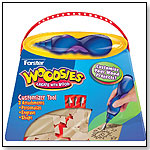 This set comes with assorted wood shapes and a special tool that allows children to customize their projects with three different engraving heads. Launch date: 2008. 2/18/2008



Paper Fashion Fancy by KLUTZ


This glamorous set includes a 58-page book, 17 sheets of patterned and shaded paper, beads, sequins, sticky jewels, glue, organza and satin ribbon and a bunch of tiny hangers for girls to hang their miniature fashion creations when completed. Launch date: March 2008.
— "Klutz books have been steady sellers for us," Melodie Ingwersen, owner of Creative Kids Toy Shop in Columbia, S.C., told TDmonthly in March 2008. 2/18/2008 (Age: 8 and Up)



Paper Factory by ALEX BRANDS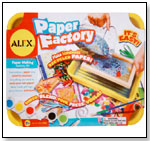 Giving kids the chance to make recycled paper by hand, this kit includes construction paper, a papermaking tray, two screens, two boards, six poster paints, ribbons, wooden beads and additional accessories.
— Owner of The Toy Shop in Lexington, Ky., and Erica Welton, manager of Bedford Falls Toy Shop in Charlotte, N.C., both told TDmonthly in early 2008 that Alex's craft kits for older kids are the best-sellers in their store. (

Watch Video) 2/18/2008 (Age: 7 and Up)



Graphic T-Shirt Designer by FASHION ANGELS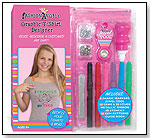 Encourage recycling and reusing by offering these design kits to your little and tween girl customers. The kits are great for craft or slumber parties, too. This toy is still in development and artwork may not reflect the final product. (

Watch Video) 12/5/2007 (MSRP: $24.00; Age: 8 and Up)



Rody Vinyl Coin Bank by MINDSTYLE LLC



This small, collectible version of the ride-on Rody is just right for collecting coins and also comes in red, orange, yellow, blue and pink. (

Watch Video) 2/18/2008



---
---


Copyright © 2020 TDmonthly®, a division of TOYDIRECTORY.com®, Inc.