September 22, 2020

TDmonthly's Top 10: Specialty Source
Eco-Friendly Themes Pervade New Offerings
Toy Fair's Specialty Source and new Fundamentals section went all out this year, playing up the show's green theme with battery-free toys and natural materials, displaying themed sets for building and play and showing fair attendees what's in the cards. See

TD

monthly Magazine's top picks below:
Schoolhouse Naturals Push Pulls by MAPLE LANDMARK WOODCRAFT CO.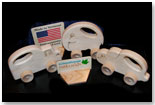 Made of 100-percent maple, products in the Schoolhouse Naturals' line have either no finish or an earth-based finish, such as beeswax or whey. The smooth, wooden Push Pulls come in bunny, bus and elephant varieties and have holes in the front for a string so that a child can still utilize the toy when he or she starts walking. (

Watch Video) 2/18/2008 (MSRP: $19.00)



Friend Trading Cards by CHATTERCHIX INC.



Every ChatterChik™ represents a different U.S. state and comes to life through her distinctive bio, appearance, personality and lifestyle. Girls can collect all 50 cards in the series and even trade-out with their friends. (

Watch Video) 2/1/2008



Polar Glacier by TOP SHELF HOLDINGS LLC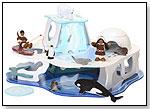 Kids can "break-the-ice" with this beautiful arctic play set, the first of Top Shelf Holdings' Natural Habitat Series. The set includes two flexible wooden Inuit figures, a papoose, an igloo, ice slides, an ice-fishing hole and six realistic polar animals. "Long have we lamented, in the educational toy business, playsets and other products constantly pairing the dapper penguin family with the friendly neighborhood polar bear. This collection features fauna from both the arctic and antarctic regions of the globe, as well as informational materials about the animals themselves," said TDmonthly reporter and toy-store buyer Marie Raven at Toy Fair 2008. Launch date: June 15, 2008. (

Watch Video) 2/13/2008 (MSRP: $89.95; Age: 3 and Up)



The Elf on the Shelf: A Christmas Tradition™ by CCA and B LLC



This set includes an 8" vintage-style pixie elf, a keepsake storage box and a children's picture book with a rhyming story that tells how the elf helps Santa out by watching children's behavior by day and reporting it to Santa at night. The elf is designed to be placed throughout the house during the Christmas season, creating a hide-and-seek activity for the whole family. Launch date: September 2005.
— "Elf on the Shelf is doing really well since we put those out five or six weeks ago," remarked Janet Gregory, owner of Over the Rainbow Toys in Anchorage, Alaska, in November 2008. "We just brought them in in November. [We] sold 24 last month, and 24 already this month," Terry Myers, owner of Kaleidoscope Toys in Round Rock, Texas, told TDmonthly.
— In a December 2011 survey about books, 2 out of 12 retailers named Elf on the Shelf their best-seller. "We sold 18 already, in just a couple weeks," Andrea Scartozzi from Hardware Toy Center in Paoli, Pa., told TDmonthly. William Meredith, owner of Learning Express in Cary, N.C., agreed. "Elf on a Shelf is our number one item. It has been for years!" he told TDmonthly.

Where to Buy: Smart Kids Toys; Kazoo Toys; Escapade Direct (

Watch Video) 2/18/2008 (MSRP: $29.95; Age: 3 and Up)



Ecotronic™ Eco Rocket by Russimco Limited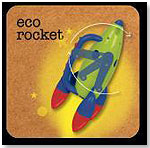 This toy rocket lights up for flight and makes realistic rocket sounds, but doesn't require batteries. It simply needs to be wound. The product comes in biodegradable Gekopak™ packaging made completely from recycled paper.
— Caitlin from Toys on the Brain was immediately stricken by the refreshing package the Eco Rocket came in. Both environmentally friendly and attractive, the package allowed for quick removal of the rocket to move on to play. Her kids heartily approved of the rocket, with one even exclaiming, "I love the toy you got me!"
— Amanda Robinson of Natural Mommie was thrilled by the fact that the rocket's noises were not too loud or annoying. The rocket's large handle was perfect for her son to hold. (

Watch Video) 2/18/2008 (MSRP: $20.00)



Goosie Cards® – What to Wear by GOOSIE CARDS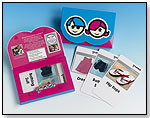 This 20-card set is designed to help children learn through sight and sound with full-color, professional photos and corresponding words. It introduces children to their own sense of style as they learn about clothes. These high-quality, laminated cards are made in the U.S., easy to wipe and big enough for little hands to hold. Launch date: May 12, 2007. 1/30/2008 (MSRP: $28.00; Age: 1 and Up)



Sprig Adventure Series by SPRIG TOYS, INC.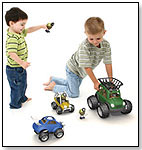 Sprig Toys is a new, environmentally responsible toy company created by award-winning industry veterans (former Mattel and Radica designers). Its line of kid-powered, totally green adventure vehicles for preschoolers is made from Sprigwood™, a child-safe bio-composite material derived from 100-percent recycled wood and reclaimed plastic. The Sprig Adventure Series harnesses the natural energy of push- and pump-action play to power lights and other electronics — all without batteries. Adventure Guide characters wearing LED-lit hats plug into durable, attractively designed vehicles and engage preschoolers with audio that guides them through exciting adventures as they play. Launch date: Fall 2008.
— "The sets were attractive, nicely packaged in recycled/biodegradable material, and had a rugged, tactile quality," said TDmonthly reporter Marie Raven, also a buyer for Over the Rainbow in Anchorage, Alaska, at Toy Fair 2008. "It's a small line but felt to me like an appropriate number of items for a nice in-store presentation while appealing not only to the eco-sense of our customers, but also providing active and stimulating educational play."
— "I was really impressed by all the angles that it covered," said Jennifer Klein, who in early 2008 ordered all three Sprig Toys vehicles for her store, Earth Child, in Sebastopol, Calif. Five of 24 retailers told TDmonthly this was one of their favorite lines at Toy Fair. (

Watch Video) 1/17/2008



Twiggles - Jungle Set by JEANJEANNE LLC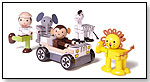 Made of wood (hence the "twig" part of their name), these characters' joints feature elastic so that they can be posed in many different ways — twisting and wiggling. They measure from 3.5" to 4.25 " tall. (

Watch Video) 2/18/2008 (MSRP: $24.95; Age: 4 and Up)



---
---


Copyright © 2020 TDmonthly®, a division of TOYDIRECTORY.com®, Inc.