September 22, 2020

TDmonthly's Top 10: Plush
Show Goes Wild With New Animals
From web-friendly pets to ailments in a Petri dish, Toy Fair '08 isn't short on plush friends that are fun for both play and display. Cute and cuddly converged with crazy and ultra-artistic in the aisles of New York's Javits Center, attracting

TD

monthly Magazine to the following finds:
Zoobie Pets – Tama the Tortoise by ZOOBIES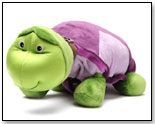 This three-in-one plush animal is also a pillow and a blanket, transformed simply by undoing Velcro latches and then unzipping to unfold a blanket. It is one of eight animals in the Zoobies Zoo Collection. Launch date: February 2008. (

Watch Video) 2/20/2008 (Age: 3 and Up)



Plaja Petites – Yongi the Tiger by SMALL WORLD TOYS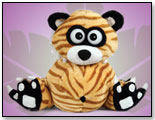 This miniature version of a Plaja Pet is one in a collection of 12. It measures 4" x 4" x 3" and has a magnetic head and tail that can be removed and is interchangeable with other Plaja Pets. Plaja Petites are sold in pair-packs. Launch date: November 2007. 2/20/2008 (MSRP: $16.99)



Counting in the Garden Rudy Cat Backpack by YOTTOY PRODUCTIONS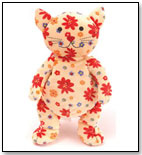 This 16" kitty is one of the bright, floral characters in Kim Parker's book "Counting in the Garden," published by Scholastic. It is made of soft velour and is part of a collection including other plush and puppets. Launch date: February 2008. (

Watch Video) 2/20/2008 (MSRP: $25.00)



Baby Deglingos - Milkos the Cow by GEARED FOR IMAGINATION


This soft friend for babies has just as much crazy character as the large plush Deglingos. It measures 8.5" high and features a flattened design so it's easy for little ones to hug and tote around. Launch date: February 2008. (

Watch Video) 2/20/2008



Aminals by DREAMING LION LLC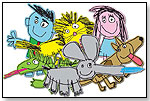 Based on children's drawings, these scribbly characters are made with organic cotton farmed through eco-friendly processes. The line consists of Momey, Eflong, Dady, Dinasor, Liun and Duggy. Launch date: February 2008. 2/20/2008



GIANTmicrobes Petri Dish – Stomach Ache by GIANTMICROBES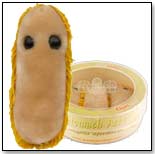 This smaller version of GIANTmicrobes comes three to a pack in see-through, Petri-dish packaging. "It has struck a chord with this community. I'm shocked -- I thought it was only going to be pharmacy driven," Dave Callahan, director of sales for Giant Microbes, told TDmonthly at Toy Fair 2008. Launch date: February 2008. (

Watch Video) 2/20/2008 (MSRP: $12.95)



Gus Fink Studios Stitch Kittens™ - Blurb™ by ROCKET USA


This active character who is gifted with shooting lightning bolts out of his head is part of 12-piece collection inspired by artist Gus Fink. He is 7" tall and his arms, ears and tail are poseable. He is weighted at the bottom and designed to stand upright on his own. Blurb comes with a trading card and a Mystery Mini Comix and poster. Launch date: February 2008. (

Watch Video) 2/20/2008 (MSRP: $14.95)



Lola, the Flower Idbid Kit by IDBIDS LLC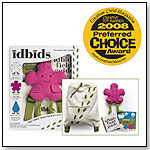 She's pretty, a fact it is best not to forget. Happily, she also believes that "pretty is as pretty does." She has a lot of patience with the boys (which is particularly helpful when Waverly loses his focus). She is wise, sees both sides of an issue, is a natural mediator, and offers well-reasoned advice.

AREA OF EXPERTISE: Trees, plants and flowers
INTERESTING FACT: An art lover who draws, collects pictures of shells, and loves bright colors

Lola is a huggable, soft, plush toy handcrafted in Egypt with 100% organic Egyptian cotton. No two are alike - just like children!

— The kit, packaged in a window box that breaks down for use as a game, comes with one Idbid, a book, a field guide to fill out and a cinch-sack backpack. Launch date: February 2008. 11/19/2007 (MSRP: $39.99; Age: 3 and Up)



---
---


Copyright © 2020 TDmonthly®, a division of TOYDIRECTORY.com®, Inc.