August 6, 2020

April 2008 | Vol. VII - No. 4


12 Reasons Not to Miss ABC Kids Expo 2008
Great Products We Found Last Year Make It a Must
Not sure the ABC Kids Expo is right for you? Take a look at the great new companies

TD

monthly Magazine's video crew found last year. If you currently have an infant's department, or are thinking of adding juvenile clothing and other products, the toy demos we shot in 2007 will give you an idea of why you'll want to be at this year's show. Check back each month between now and September to find out what's coming up at the ABC Kids Expo in 2008.

Below are our 12 picks from September 2007:

Deglingos - Pikos the Hedgehog by GEARED FOR IMAGINATION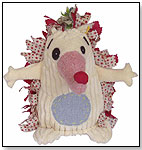 "Deglingos (deh-GLING-goes): common noun. Animalos molto funnios and muy crazios. A distinctive species of contagiously quirky animals, the Deglingos speak their own language, which consists of finishing many words with "os.'" Found living at the best shops in town." Designed in France, these machine-washable characters stand from 8.5" to 11" tall and meet European (CE) safety standards. "The Deglingos are created from 48 different fabrics, which give them a stunning visual and tactile appeal. Specialty retailers will see repeat purchases on these items because of their collectibility, and they will be sold in no mass-market retailers," Ryan Hamilton of distributor All New Materials told TDmonthly. Launch date: July 2007. (

Watch Video) 9/19/2007 (MSRP: $40.00; Age: 0 and Up)



Mop Top Hats - Puppy Love by ZOONI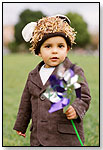 Zooni caps are designed to protect little ones while simultaneously demanding quality, comfort and style. Other available styles are Panda Monium, Leo the Lion, Kate's Moss, Firecracker, Hipster, Blue Grass, Under the Sea and Flower Power. Zooni's unique designs will make people laugh and smile. "Each hat is handmade with love, quality and care. We are committed to fair trade and donate a portion of our profits to charity. By combining style, fun and functionality, Zooni hats are guaranteed to turn heads," Co-founder Melissa Jeong of Zooni told TDmonthly. Suggested retail price ranges from $30 to $36. Launch date: March 2007. (

Watch Video) 9/17/2007 (MSRP: $36.50; Age: 0 to 4)



Roll 'n' Go Chalkmat by FLOURISH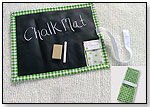 These nifty mats fit right in a diaper bag or purse, then roll out to keep kids amused in restaurants or doctors' offices. Inside is a flexible chalkboard surface so kids can draw and erase to their hearts' delight. (

Watch Video) 9/19/2007



Baby Banz Sunglasses and Hat by BABY BANZ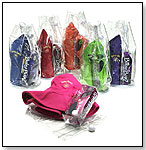 This bright pink pair of wrap-around shades offers 100 percent protection from UVA and UVB rays and features durable polycarbonate lenses, as well as an adjustable strap. The sunglasses are packaged with a matching hat with a flower design. (

Watch Video) 7/5/2007 (MSRP: $25.00; Age: 0 to 2)



Youth BearHands Mittens by BEARHANDS LTD



Fun, comfy and warm, these Thinsulate-lined, polar-fleece mittens have secret flaps that allow kids to take their hands out without removing their mittens. (

Watch Video) 7/12/2007 (MSRP: $16.00; Age: 3 to 13)



Octobuddy Bath Toy by BOOGALOO TOYS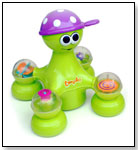 The interactive, educational bath toy encourages gross motor skills through water play while teaching the principles of action and reaction in a fun way. The colorful bandana hat is used as a scoop to pour water into the head of the Octobuddy. This action triggers visually exciting activity housed in clear, bubble-like chambers in Octobuddy's four legs: spinning wheels, a whimsical character popping up and a fish feeding. The floating Octobuddy features "innovative design from two of the brightest toy designers out of Israel, assisted by the most critical focus group — their own children," Jonathan Rimington of Boogaloo PR & Advertising told TDmonthly. Launch date: February 2007. (

Watch Video) 9/17/2007 (MSRP: $18.95; Age: 1 to 5)



Oval Animal Bag by BOON INC.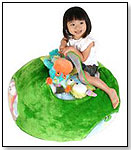 A fun and practical solution for storing stuffed animals and putting them to work, the Boon Animal Bag is an oversized, plush bag covered with large, zippered windows made of transparent, durable mesh. Children can fill the bag with stuffed animals of all sizes, and then use it as a soft seat. The bag is machine washable and earth-friendly because, unlike most beanbag chairs, it does not require foam fillers. It comes in pink and green. Launch date: December 2006. (

Watch Video) 4/13/2007 (MSRP: $60.00; Age: 2 and Up)



Potty Monkey by POTTYMD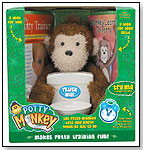 The Potty Monkey is designed to make potty training fun for ages 18 months to 7. It comes complete with a plush monkey, a toilet that makes real flushing sounds, a timer that can be set to 30 or 90 minutes, a diaper, underwear, a certificate of completion, a book for children by Dana C. Smith and Denise McClure titled "Monkey Learns to Potty," and a guidebook for parents called "The Potty Trainer" by D. Preston Smith. Potty Monkey asks to use the toilet, based on the timer setting, helping kids develop a healthy routine. "What sets us apart is the fact that this is a potty-training system focusing on education," Jennifer E. Marma, director of PottyMD, told TDmonthly. Launch date: January 29, 2007. Read Review (

Watch Video) 2/21/2007 (MSRP: $35.99; Age: 2 and Up)



Trunki Ride On Luggage by MAGMATIC LTD.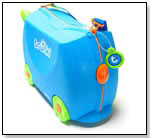 Globetrotting children can pack, carry, rest on and ride on this innovative luggage. Generously sized, it is made from durable, brightly colored polypropylene, and has a wide, stable wheelbase and a shoulder strap. Trunkis let toddlers participate in the traveling experience in a practical, safe and fun manner. Soft rubber rims prevent little fingers from being caught, and the wheelbase ensures safe riding around airport terminals. TrendyKid is a distributor of the Trunki. (

Watch Video) 9/21/2006 (MSRP: $40.00; Age: 3 to 6)



Personalized Blanket – Rock 'n' Roll Girl by LIFE SQUARED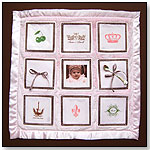 The Personalized Blanket is a canvas that provides everyone the ability to create a custom blanket without the custom price tag. One can express artistic creativity with paints or use a more refined approach with iron-on photographs, monogramming or Life Squared custom art. Art (MSRP: $10) is available by theme, focusing on the most current trends such as rock 'n' roll (shown), cowboy/girl, safari and Parisian Bebe. The luxurious blankets come in pink, blue, yellow and white with a rod pocket for display. "[Individuals] can create their own masterpiece that is beautiful enough to be displayed and treasured for years to come, and is special enough to be handed down through the generations," Co-founder Lori K. Balfour of Life Squared told TDmonthly. Launch date: September 2007. (

Watch Video) 9/17/2007 (MSRP: $80.00; Age: All Ages)



---
---


Copyright © 2020 TDmonthly®, a division of TOYDIRECTORY.com®, Inc.