September 25, 2020

April 2008 | Vol. VII - No. 4


Retailers' Top 10: Toy Fair and Pomona
Green Hits the Scene
With additional reporting by regional correspondent Marie Raven

What did specialty retailers think about product selection at the American International Toy Fair in New York City and the Western States Toy & Hobby Show in Pomona, Calif.? Twenty-four toy-store owners told

TD

monthly Magazine in a recent survey that eco-friendly items, creative playsets and loveable dolls grabbed their attention. Here's a sampling of their top picks:

For more Toy Fair highlights, click here. And check out the rest of

TD

monthly's April issue for reports from Pomona.
Sprig Adventure Series by SPRIG TOYS, INC.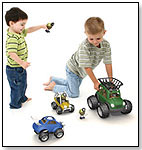 Sprig Toys is a new, environmentally responsible toy company created by award-winning industry veterans (former Mattel and Radica designers). Its line of kid-powered, totally green adventure vehicles for preschoolers is made from Sprigwood™, a child-safe bio-composite material derived from 100-percent recycled wood and reclaimed plastic. The Sprig Adventure Series harnesses the natural energy of push- and pump-action play to power lights and other electronics — all without batteries. Adventure Guide characters wearing LED-lit hats plug into durable, attractively designed vehicles and engage preschoolers with audio that guides them through exciting adventures as they play. Launch date: Fall 2008.
— "The sets were attractive, nicely packaged in recycled/biodegradable material, and had a rugged, tactile quality," said TDmonthly reporter Marie Raven, also a buyer for Over the Rainbow in Anchorage, Alaska, at Toy Fair 2008. "It's a small line but felt to me like an appropriate number of items for a nice in-store presentation while appealing not only to the eco-sense of our customers, but also providing active and stimulating educational play."
— "I was really impressed by all the angles that it covered," said Jennifer Klein, who in early 2008 ordered all three Sprig Toys vehicles for her store, Earth Child, in Sebastopol, Calif. Five of 24 retailers told TDmonthly this was one of their favorite lines at Toy Fair. (

Watch Video) 1/17/2008



Circus Ring by PLAYMOBIL INC.



Kids can watch trapeze artists soar through the air at this circus show. The opening of the big top is adjustable, and the diameter of the Circus Ring is 22.5". The set also includes seven figures, ticket booths and a seating area that fits approximately 30 visitors. It requires two AA batteries. The set also features "a durable fabric tent," Playmobil Inc. Advertising and Marketing Manager Michelle Winfrey told TDmonthly. Launch date: September 2008.
— Gail Grabish, owner of a Pocketful of Toys in O'Fallon, Mo., liked the fact that the Playmobil Circus theme offers "a complete set, but then additional elements can be added." She and two other retailers, out of 24 surveyed, named this product as a Toy Fair 2008 favorite. (

Watch Video) 12/18/2007 (MSRP: $104.99; Age: 5 and Up)



Calin Naima by COROLLE DOLLS


Suitable for ages 18 months and up, this soft doll with a beanbag body is 12" tall and can be posed like a real baby. She has sleeping eyes and can wear all clothing from the Mon Premier collection.
— Corolle has "constantly improved the line," said Gail Grabish, owner of a Pocketful of Toys in O'Fallon, Mo., about the company's lineup, including Naima, at Toy Fair 2008. "They have really pretty sculpts this year, and then really cute clothes.… The ethnic faces are great." 3/20/2008 (Age: 1 and Up)



Yackle Ball Jr. by TTALF "TOYS" CORPORATION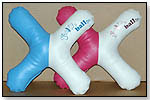 This x-shaped ball is getting younger children prepared for all sports. It is easy to catch, so it builds confidence. The ball's softness helps eliminate the fear factor. The games kids play with the ball are educational and improve hand-eye-coordination. "Yackle Ball Jr. has the perfect shape to teach our children at a young age to have fun with sports and outdoor toys," inventor Patricia Littwin told TDmonthly. Launch date: January 1, 2007.
— Ray Goodhart, owner of Ages & Stages Toy Box in Arvada, Colo., told TDmonthly after Toy Fair 2008 that his store would be bringing in the Yackle Ball. (

Watch Video) 1/11/2007 (Age: 2 to 12)



Sand Play Set by GREEN TOYS INC.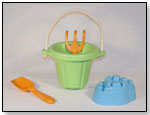 Kids will dig building castles and hunting for buried treasure with this environmentally friendly Sand Play Set made of natural bio-plastic. This classic four-piece collection of tools includes a bucket, a sand castle mold, a shovel and a rake. It is made from recycled plastic milk jugs. Launch date: September 2007.
— Kristin Pollard of Mud Puddle Toys in Marblehead, Mass., has had a "good response so far to the sandcastle set that has come in," and has more sets on order, she said in early 2008. Products by Green Toys were a Toy Fair favorite for five of 24 retailers surveyed by TDmonthly. (

Watch Video) 8/21/2007 (MSRP: $19.99; Age: 3 and Up)



Twilight Ladybug by CLOUD B


This plush planetarium projects a starry night sky onto bedroom walls and the ceiling, illuminating with red, blue and green lights.
— Kate Tanner, owner of Kidstop Toy & Book Store in Scottsdale, Ariz., was impressed with this product at Toy Fair 2008, noting, "the Twilight Turtle was extremely popular over the holidays."
— "I love this collection," Owner Michelle Smith of Piccolo Mondo Toys in Portland, Ore., told TDmonthly of this good seller at the end of 2008.
THIS PRODUCT IS NO LONGER AVAILABLE. SEE THE RE-LAUNCHED TWILIGHT LADYBUG HERE. (

Watch Video) 11/28/2007



Soft-Play Dragon by BULLYLAND TOYS INC.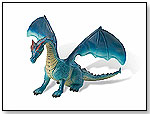 This bright, poseable dragon measures 20" and is made of a soft, rubbery material.
— Although she carries a lot of animals by Safari Ltd., Owner Gillian Fetz of The Learning Tree in Missoula, Mont., plans to supplement her display with larger figurines — dragons, dinosaurs and elephants — in this line of "lightweight, kind of squishy animals." (

Watch Video) 3/24/2008



PuzzleballŽ - Junior World Map by RAVENSBURGER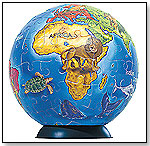 The kid-friendly, 3D-puzzle globe is composed of curved pieces that fit together perfectly to form a solid, smooth ball without any need for glue. The 96-piece puzzle measures 5" in diameter when assembled.
— Ravensburger's puzzle balls are selling well for David Hesel, owner of The Toy Shop in Concord., Mass. "We just got a 5' one, which we just put into our window," he said in March 2008, adding that the store has sold 100 puzzle balls since January.
— Nancy Bloomberg, owner of La Toys Etcetera in Cedarhurst, N.Y., was impressed with Ravensburger puzzles at Toy Fair 2008 and recently bought "individual pieces in a new buying program," she told TDmonthly. "Our area is heavily populated with orthodox Jews so it's important to have non-electronic toys; a focus on games, building and puzzles is generally very strong."
— Three of 32 retailers said in October 2008 they anticipate the Puzzleball to be one of the best-selling toys for the holidays. "Puzzles are a great niche for us," said Michele and Ken Gietz of Where'd You Get That!? in Williamstown, Mass., when discussing their best sellers in fall 2008. Ravensburger is among the various brands of puzzles their store stocks for both children and adults. (

Watch Video) 3/27/2008 (MSRP: $14.99; Age: 6 and Up)



Earthopoly by LATE FOR THE SKY PRODUCTION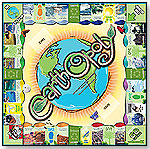 This eco-minded version of Monopoly features recycled paper, soy-based inks and natural game pieces. As players travel the board, they become responsible for various locations on earth, trading carbon credits in for clean air in order to increase the value of their property. Launch date: April 2008.
— "They went through extensive research to find crystals and wood chips as pieces. The way they changed the game really stood out," Jennifer Klein, owner of Earth Child in Sebastopol, Calif., told TDmonthly in her excitement over finding this game at Toy Fair 2008.

3/28/2008 (MSRP: $24.95)



---
---


Copyright © 2020 TDmonthly®, a division of TOYDIRECTORY.com®, Inc.