August 2, 2021

May 2008 | Vol. VII - No. 5

---
Strategic Space Runs the Race
Inventor Gets Past Missteps to Launch New Games
" ... there are few activities beyond board games that adults and children can share and enjoy equally." — Mark Salzwedel, Strategic Space

Mark Salzwedel, president and CEO of Strategic Space, Inc., reflects on the history of his game design and his first year publishing tabletop games.

I originally started designing board games for dinner parties when I lived in California working in book publishing. My guests seemed to like that my games were challenging and fun, but didn't take long to set up or learn. And it gave structure to our interactions after the meal was over.

PUBLISHED BUT NOT PICKED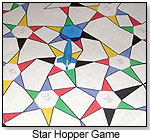 Friends provoked me to find publishers, and I did. But other than some really nice guys at TSR (yes, this was a while ago) who suggested further play testing, the game industry responded with a rather thunderous silence.

So then there was this big boom in a new industry: video games. All my favorite game stores started shutting down from the sudden vacuum. I concluded that my board games were a dying art forever to be replaced by the flashing lights of a video screen.

SNOW RENEWS AMBITION

When I moved to New York City more than a year ago, I noticed something different about the East Coast. They have winter. And when the weather outside is frightful, folks still gather around the game table with friends and family — facing each other, joking, laughing, cajoling, and sometimes cooperating!

Within a few months, I had an ambitious and naïve business plan, and quotes for manufacturing the three games I'd developed. Strategic Space began business in May 2007, and the first games were published in September. I had to go to Ohio for boxes, Missouri for game boards, and England for plastic bits, but almost everything else I ordered locally and assembled in a warehouse in Brooklyn.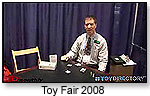 GETTING INTO STORES

I thought game retailers would be eager for simple, fun games that adults and children could play together, because I believe there are few activities beyond board games that adults and children can share and enjoy equally. Except for a few very sweet and daring local toy-store owners, they were too distracted to notice 4th Corner, Zombie Attack, and Deer Hunter 2050.

Now, after several trade shows and a great deal of online promotion, the number of stores carrying Strategic Space games is growing monthly, and we're on the verge of our first chain-store order.

LESSONS LEARNED

The path to this rather mild level of success had several missteps: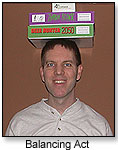 "What do you mean we don't qualify for the loan?" I should have applied for loans before running-up personal credit cards to pay production expenses.

"You want how much of a discount?" The retailer gets 50 percent, the manufacturer gets 60 percent, and we get 10 percent, on the first print run. Somebody didn't do the math.

"$3,700 for one prototype?" I thought I'd learned the lesson about waiting for pre-orders before committing to a production run, but the prototypes sometimes took such a big bite out of the budget, I rethought the idea a bit.

Now I'm contemplating selling designs to other publishers because ideas are coming faster than I can afford to publish them! Despite the frustrations, it's the best feeling ever to wake up and feel like every work day approaches the excitement of opening gifts on Christmas.

See games from Strategic Space below:
4th Corner by STRATEGIC SPACE INC.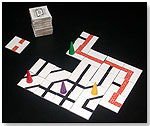 This is a fun and portable tile game in which players simultaneously build an inner maze and an outer wall. Players try to position themselves to be the first to exit the maze once the exit tile has been played. A round can be played in 15 minutes, or players can decrease the influence of lucky maze-tile drawing by playing multiple rounds. The rules can be learned in two minutes, but there are lots of strategies. The "compact box size is great for portability and can easily challenge a variety of ages for any time, up to two hours," CEO Mark Salzwedel of Strategic Space told TDmonthly. Launch date: September 2007. (

Watch Video) 12/7/2007 (MSRP: $14.95; Age: 8 and Up)



Samsara by STRATEGIC SPACE INC.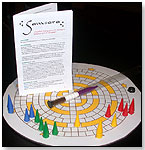 In this multiplayer strategy game, each player sends five followers out onto the wheel-shaped board of Samsara, dividing four moves per turn between them. One player's followers absorb other followers, making them harder to be absorbed themselves. When a player's followers have absorbed enough other followers, they can send others out of play (to nirvana). The winner is whoever controls the most followers when someone loses his or her last. Variant rules provide various levels of difficulty. "For game players that abhor dice and card decks, this game is very easy to learn, very difficult to master," CEO Mark Salzwedel of Strategic Space told TDmonthly. Launch date: May 2009. 12/7/2007 (MSRP: $19.95; Age: 8 and Up)



Master Spy by STRATEGIC SPACE INC.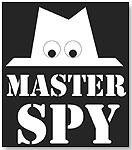 In this adaptation of the classic game "Battleship," up to four players place five pegs in their upper pegboard to represent their spies' secret locations. At each turn, all the spies move and announce either where they were or are, attempting to capture enemy spies. At the end of each turn, a spy could be subtracted or added, or all players may have to manage a new group of spies. Master Spy is "a fast-paced, simple strategic game that tests your memory and cunning at a high price point that is still a great value," CEO Mark Salzwedel of Strategic Space told TDmonthly. Launch date: September 2009. 12/7/2007 (MSRP: $29.95; Age: 8 and Up)



Deer Hunter 2050 by STRATEGIC SPACE INC.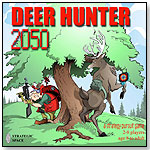 It is the year 2050. Radical animal rights activists have released a mutant strain of strong, fast, intelligent and aggressive deer headed for suburbia. A player (elite hunter) must bring back his or her quota of the mutant deer before any other player does. But, the deer can attack the hunters, too. The game is for up to eight players, who use dice to move and resolve attacks between the hunters and deer. "This game has a fun theme and is easier to play than most strategic combat games," CEO Mark Salzwedel of Strategic Space told TDmonthly. Launch date: September 2007. 12/7/2007 (MSRP: $19.95; Age: 8 and Up)



Zombie Attack by STRATEGIC SPACE INC.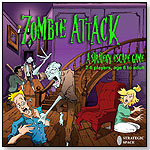 In this adaptation of the classic game "Clue," zombies have followed players into a deserted mansion, and they must avoid them, find a key and escape. If the zombies get a player first, he or she turns into a zombie and must try to stop the other players from escaping. This light and entertaining strategy game is for up to six players. "With the growing popularity of zombie games, this is the easiest multiplayer strategy game to learn and has the unusual twist of having players turn on the others if they have been caught," CEO Mark Salzwedel of Strategic Space told TDmonthly. Launch date: September 2007. 12/7/2007 (MSRP: $19.95; Age: 8 and Up)



---
---


Copyright © 2021 TDmonthly®, a division of TOYDIRECTORY.com®, Inc.