February 26, 2021

July 2008 | Vol. VII - No. 7


July Staff Picks
Beat the Heat With Fun
Coasting through the summer? Ringing up lots of sales? Well, here's a chance to see some toys you might've missed, and perhaps ready a few more order forms before fall comes!
Peanut the Chipmunk by STUFFED ANIMAL HOUSE

This little 6" plush chipmunk, also known as Peanut, is a best seller among Stuffed Animal House's plush animals. Peanut represents the colorful rodent found in many areas of North America. 5/21/2008



Doko Disk by NSI INTERNATIONAL INC.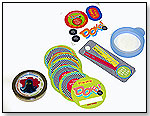 These collectible discs connect to a virtual world on the Dokodrop website, which tracks the location of the discs as trades are made and entered. Players can also safely chat, message and play hundreds of free games. The discs are 40 mm wide and 6 mm thick, and include an eight-digit, laser-etched Doko ID. A Doko can be traded up to five times after it is initially registered, and online points, which can be used on the website or for real-life discounts, are awarded as the Doko is registered by additional people. The company calls Doko the "world's first global trading game." Doko "combines the fun of trading and collecting with a safe, social network that lets tweens safely communicate with other Doko players around the world," Brian Waldman of Mammoth Toys, a division of NSI International, told TDmonthly. Launch date: May 2008. 6/5/2008 (MSRP: $6.99; Age: 6 to 13)



Magnetic Play Scenes – Pirate Ship and Fairy Tree House by MAGNETIC POETRY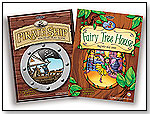 The kit features play scenes equipped with magnetic pieces that kids can use to create and recreate different play scenes. Over 20 colorful, magnetic pieces are included. The magnetic play scenes are available in two varieties: pirate ship and fairy tree house. "The Magnetic Play Scenes encourage kids' imagination because they can use it to act out a different story every time they play with it," Joyce Johannson, a representative for Magnetic Poetry, told TDmonthly. "Use the colorful magnetic characters and accessories to have tea in the fairy house, or have someone walk the plank on the pirate ship." Launch date: Spring 2008. 5/22/2008 (MSRP: $9.95; Age: 5 to 10)



GO Art Coloring Kit by MAGNETIC POETRY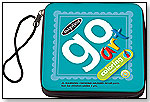 The kit comes in its own handy travel case, along with eight washable markers and a book full of geometric patterns and designs for coloring. "Each kit also has ideas for things to try – making it fun for kids to come back to create their own works of art time and time again," Joyce Johannson, a representative for Magnetic Poetry, told TDmonthly. Launch date: Spring 2008. 5/22/2008 (MSRP: $9.95; Age: 6 and Up)



Professor Noggin's Rainforests of the World by OUTSET MEDIA



The game has two levels of difficulty for kids of all ages. Kids will hone their communication skills while learning about monkeys, rubber plants, jaguars and more, as Professor Noggin takes them from the forest floors of Africa to the canopies of the Amazon Basin. The material covers both tropical and temperate rainforests. Launch date: June 2008. (

Watch Video) 5/22/2008 (MSRP: $9.99; Age: 7 and Up)



Write Me a Story - Fairytale Mix-ups by eeBoo corp.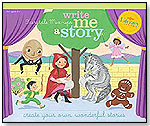 The 12" x 10" book features a cloth spine, 50 perforated pages and 96 stickers. Kids can place stickers in empty squares, creating their own distinctive stories. Launch date: August 2008. 5/22/2008 (MSRP: $8.00; Age: 3 and Up)



Heart 2 Heart by DISCOVERY BAY GAMES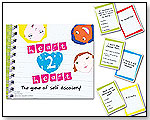 The game teaches kids about how everyone sees the world differently. Heart 2 Heart lets players work as a group to move game pieces along a board while discovering what each player contributes to moving toward a shared goal. Some players are thinkers, some are talkers, some are guided by their feelings, and some are guided by seeing how things work. "Heart 2 Heart is a great tween girl's game that provokes positive conversations about you!" Discovery Bay Games Director of Sales Veronica Sanchez told TDmonthly. Launch date: August 2008. 5/22/2008 (MSRP: $30.00; Age: 10 and Up)



Brain Food Thinking Putty by FAT BRAIN TOY CO.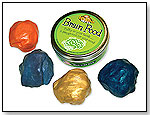 The high-quality, moldable putty allows children to create and recreate endlessly. "Used in conjunction with pre-writing and brainstorming activities, Brain Food channels kids' fidget energy so they can focus mentally," Shannon Wallingford of Fat Brain Toy Co., told TDmonthly. "Made in the USA, Brain Food is 100 percent pliable, never dries out, has no odor, has a brilliant color and is available in impressive, color-changing varieties." Launch date: May 5, 2008. (

Watch Video) 5/22/2008 (MSRP: $15.00; Age: 3 and Up)



Queen Mother Yaa Asantewaa of Ghana by ETHIDOLLS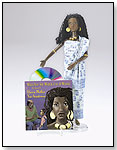 The doll is based on the famous Ghanaian Queen Mother Yaa Asantewaa, a real African woman leader from West African history. She comes with a beautifully illustrated storybook and audio CD that recount her singular act of bravery in 1900, against colonial domination. The doll and the storybook and audio CD set may be purchased separately, with MSRPs of $139 and $25, respectively. "Now, more than ever, girls grow up fast, and EthiDolls offers them a chance to imagine the possibility of leadership, accomplishment and excitement through the inspiring story of Queen Mother Yaa Asantewaa, a wonderful role-model doll for the 21st Century," Patti Gindoff, senior vice president of marketing at EthiDolls, told TDmonthly. Launch date: Summer 2008. 5/30/2008 (MSRP: $164.00; Age: 8 and Up)



"Totally Turtle" Foundling Turtle 8" organic plush by HUGG-A-PLANET

Organic cotton make for great toys. All natural all the time. One hundred percent organic cotton shell filled with unbleached cotton clippings and embroidered eyes for added safety. This 8" Foundling Turtle is one of the most environmentally safe toys made today. This little tortoise is also machine-washable and safe for all ages. 5/30/2008 (MSRP: $14.95)



Air Traffic Control Tower by EDUCATIONAL INSIGHTS INC.


The game is great for travel and brain exercise. The game features 48 different puzzles at differing levels of difficulty. "Kids will also like it because it has planes," Educational Insights Advertising and Public Relations Coordinator Heidi Bultman told TDmonthly. Launch date: January 31, 2008. 5/30/2008 (MSRP: $19.99; Age: 8 and Up)



Gotz Doll: Brunette Muffin by INTERNATIONAL PLAYTHINGS LLC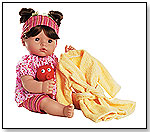 The 13" doll features sleep eyes, a soft body, a bean bag bottom and stylish clothes that can be easily put on and removed. The doll's durable, rooted hair allows children to brush her hair over and over. Launch date: January 2008.
— "With Gotz, kids like [the doll] because it has long hair. Children seem to want hair rather than the bald guys," Helen Ullrich, assistant manager of Hardware Center Inc., told TDmonthly. "We usually sell 10 a month."
— Two of 62 specialty retailers named Gotz as a best-selling doll line in their stores in early summer 2008.
— "Unlike most other dolls, Muffin's has brown-rooted hair, styled in a fashionable 'bob' that can be shampooed and blown dry," International Playthings Inc. Representative Nicole Tiedemann told TDmonthly. Muffin's beautiful brunette locks resemble real-hair structure and maintain a full and healthy appearance after many years of play." 5/30/2008 (MSRP: $30.00; Age: 3 and Up)



Bing Bong Monkey Jellycat Gift Package by ROYAL BEGINNING

This plush Bing Bong Monkey is packaged with a Royal Beginning zebra-print blanket in a round, black container with a white base and white polkadots. It also features a ribbon with an inverted color scheme wrapped around the container to complete the gift-set look. 6/2/2008



Gribbits Charms - Zoo Theme by GRIBBITS.COM

Included in this zoo theme are an assortment of elephants, lions, tigers, cheetahs, dolphins, pandas, orangutans, giraffes and frogs charms. 6/2/2008



Twist 'n Write™ Pencil PenAgain® by PACIFIC WRITING INSTRUMENTS INC.



The ergonomically designed pencil forces the user into the correct tri-pod grip. Kids find it fun and exciting to use, even nicknaming it the "rocket ship" pencil. ($2.50 for pack of 2). Launch date: December 2007. 5/30/2008 (MSRP: $2.50; Age: 5 and Up)



TykeLight Jr. by MOBI Technologies, Inc.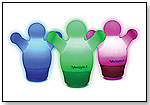 The portable nightlight emits no heat, making it safe for children to touch and hold. Additionally, it can be set in a high or low brightness mode, or a sleep mode that automatically switches the unit off after 15 minutes. The nightlight also features a child-safe battery door, included batteries and a surface that is smooth, durable and easy to clean. The unit is also available in blue or pink. Launch date: 2008. (

Watch Video) 6/4/2008 (MSRP: $9.99; Age: 2 and Up)



Compact Curiosity: Monster Balloon by COPERNICUS TOYS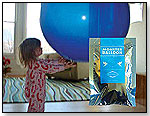 This biodegradable latex balloon grows to at least three feet when inflated. Use for delightful play or to think about atmosphere, air molecules and more. It's "a great instant-gratification stocking stuffer — blow it up and chase it around the tree or out in the snow," Peggy Tobias of Copernicus Toys told TDmonthly. "Fun compact packaging makes this a great stocking stuffer." Launch date: March 2008. 6/4/2008 (MSRP: $7.00; Age: 3 and Up)



Kookys Plush Bean Bags - Dripp by COMMONWEALTH TOY & NOVELTY CO



The collectible bean bag features a top loop for easy hanging. Two other varieties (Buddy and Olivia) are also available. "Based on the huge success of the Kooky Klicker Pens, Kookys Bean Bags are the only true soft-plush compliment," Commonwealth Toy & Novelty Co. Product Manager Phillip-Michael Lee told TDmonthly. Launch date: May 2008. 6/4/2008 (MSRP: $5.99; Age: All Ages)



My Mini Sac Igloo by 7 A.M. ENFANT INC.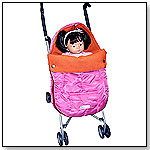 The sleeping bag for dolls is modeled after the original sac igloo. The machine-washable bag will fit any baby doll stroller, crib or car seat and features a detachable zippered top, a convertible hood, ultra-soft and light fiber insulation. Strollers and dolls are not included. 6/4/2008 (MSRP: $38.00)



DYO Real Skateboard Kit by DESIGN YOUR OWN



The kit combines art and athletics, allowing children to express their creativity and individuality while being active. Kids can now decorate their own, real, one-of-a-kind skateboard. Launch date: June 2008. 5/21/2008 (MSRP: $19.99; Age: 6 and Up)



Impressive Cat® 950H Wheel Loader by NORSCOT COLLECTIBLES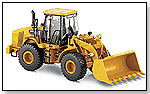 The 1:50 scale, collectible loader measures 6-1/4" x 2-1/8" x 2-3/4". It features articulated steering, a bucket that scoops and dumps, a boom that raises and lowers, opening windows, a detailed interior, "Power Edge-trade" dress graphics and rolling wheels with authentic tire tread design. 6/4/2008 (MSRP: $57.95; Age: 14 and Up)



Zen Benders - Race Track by OUT OF THE BOX PUBLISHING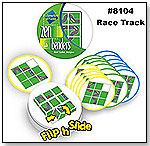 Select a challenge card and flip and slide the special ZenBender dice to recreate the pattern. With three levels of difficulty and 36 different patterns, there's a challenge for everyone. Three other varieties are available: Dachshund, Dragon and Quilt. 6/4/2008 (MSRP: $9.99; Age: 8 and Up)



---
---


Copyright © 2021 TDmonthly®, a division of TOYDIRECTORY.com®, Inc.