December 3, 2023

June 2008 | Vol. VII - No. 6

---
TDmonthly's Psychologist Mom
She'll Put Your Toys on the Couch
Two five-star games and a strong lineup of other items — from space-themed art to decades-old airmen stories — gave Dr. Wright and her fellow kid reviewers plenty to rave about: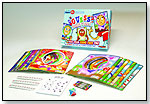 Guess What I Am! by TECHNO SOURCE
Age: 3 and Up
Gender: Boys and Girls
Category: General Games
MSRP: $15.99



TD

monthly rating:




The Dr.'s Impressions: For this board game, players put their face through a hole in a cartoon-illustrated card and become one of 30 silly characters. They don't know which character they have chosen, and they must guess by asking "yes" or "no" questions — "Do I have four legs?" or "Am I a girl?" — to narrow down the possibilities. A player wins by being the first to guess his or her character correctly.

Kids' Perspective: I observed school-age and preschool children playing this game together. First, they had to look at all the cards and test each of the characters on themselves. They laughed like crazy. Before the game even started, they spent at least 15 minutes giggling over their faces on some funny-looking character's body. They especially liked it when boys ended up with girly human characters or when goofy animals were pictured. They were loud and animated while playing, which they did largely on their own. The kids enjoyed the game even more when an adult played with them.

Recommendation: This is a fun game with mixed age groups. The illustrations are well-done and amusing in themselves. The game teaches analysis, as children must ask the right questions to figure out what card they have around their head.

---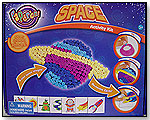 Paper'oni Space Activity Kit by PLASMART INC.
Age: 5 and Up
Gender: Boys and Girls
Category: Arts & Crafts
MSRP: $19.99



TD

monthly rating:




The Dr.'s Impressions: The space theme of this product comes out in the design cards that crafters use to make three-dimensional art. The kit includes more than 2,000 rolls of paper (Paper'oni pieces) that kids can use to make pictures of the sun, planets, a rocket ship and an astronaut, or self-designed art. There are plastic tweezers, special glue and two pots for the glue. Kids hold each paper roll with the tweezers, dip it in glue and then glue it to the cards. Once the glue dries, the glued-together paper rolls can come off and the card can be reused.

Kids' Perspective: One crafty 9-year-old immediately said, "Cool!" when she saw the box, and set to work making the creations. "Wow! Look at all the colors!" she exclaimed. The work required a fair amount of patience and diligence; her 6-year-old sister got a little bit frustrated. The tweezers that came with the kit were optional, the older girl felt, as they didn't necessarily help that much.

Recommendation: The kit is a great after-school activity for the school-age child. Making the items was fun for craft-oriented kids, and it even intrigued a 12-year-old boy who doesn't like crafts. The results were satisfying for them as well, as they made magnets and coasters with the Paper'oni pieces.

---
Bright and Beyond – Preschool by PAL TOYS
Age: 3 to 5
Gender: Boys and Girls
Category: Educational
MSRP: $9.95



TD

monthly rating:




The Dr.'s Impressions: Each card in this pack includes an activity — crafts or physical or mental games, for example — for parents to do with preschoolers. The activities are designed to improve coordination and motor skills, language and listening skills, and color and shape recognition. The cards are colorful, and the families illustrated are multicultural.

Kids' Perspective: I did some of these activities with a 4-year-old and not only were they educational, they were a lot of fun for him. He asked to do more cards. Many of the activities fit in naturally with daily life, including one game that involved the child rolling dice and getting a small snack cracker for each dot on the dice.

Recommendation: This is a great product for inspiring parents to do simple and educational activities with preschoolers. Some of the cards have activities that take virtually no preparation or supplies; others require a fair amount of advance planning or some set-up time beforehand. The illustrations are simple and appealing.

---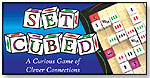 Set Cubed by SET ENTERPRISES INC.
Age: 8 and Up
Gender: Boys and Girls
Category: Board Games
MSRP: $20.00



TD

monthly rating:




The Dr.'s Impressions: This spin-off game the popular SET game is similar to Scrabble in that it is played on a board with dice that are used like letter tiles. Instead of making words, however, players make SETs of three dice by matching patterns and colors and shapes in a prescribed way that's difficult to explain but easy to figure out once players see a couple of examples. SET Cubed is for 2 to 4 players.

Kids' Perspective: I showed this game to two children, ages 9 and 12, who already love the regular SET game. They were enthralled and played for hours. They wanted to make sure they could show it to friends and carried it around for a few days. The manufacturer recommends the game for ages 8 and up, but one 6-year-old I showed it to had no trouble playing.

Recommendation: SET Cubed takes an already highly addictive and satisfying — yet simple — game and brings it up a notch. SET can be played by one player or cooperatively. SET Cubed takes the basic form of the game and makes it competitive and challenging. It's thoughtful, like chess or Scrabble, and combines social fun with an elegant, brain-puzzling game.

---

The Gremlins by DARK HORSE COMICS
Age: 12 and Up
Gender: Boys and Girls
Category: Books
MSRP: $12.95



TD

monthly rating:




The Dr.'s Impressions: Roald Dahl, author of "Charlie and the Chocolate Factory" and "James and the Giant Peach," collaborated with Walt Disney on this title — his first book. It was originally published in 1943 and has long been unavailable. The digitally restored illustrations by the artists of the Walt Disney Studios are both in color and black and white. Written while Dahl was working in Washington D.C. as a member of the British military, it tells the story of what it takes to be an airman and how important it is to have help in the mission. The Gremlins in the story represent the problems airmen must overcome.

Kids' Perspective: The tween children who saw this book read it cover to cover, with a little encouragement. The style of the illustrations was familiar to them from their exposure to classic Disney, and they found the military story interesting.

Recommendation: For older school-age children, this book offers a window into history in a package that is at once inspirational and accessible to them. It's easy to appreciate Dahl's storytelling gifts, and the illustrations are appealing.

---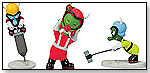 Walt Disney's "The Gremlins" PVC Set – Gremlin Gus by DARK HORSE COMICS
Age: 8 and Up
Gender: Boys and Girls
Category: Action Figures
MSRP: $14.99



TD

monthly rating:




The Dr.'s Impressions: This set brings "The Gremlins" in Roald Dahl's book, originally published in 1943, into three dimensions. The Gremlins are little creatures that can interfere with wartime missions; but at the same time, they're cute little creatures who also can help. The PVC creatures are well-constructed and are a great likeness of the illustrations in the book.

Kids' Perspective: Even after kids had read the book, they weren't particularly intrigued with the PVC characters. They suggested that their uncle, who has a collection of older Disney items, would like to display them. Younger children liked the toys but were a little confused by them as well. They were animated figures they didn't fully recognize, and the book's more difficult subject matter didn't resonate as well with them.

Recommendation: Even though these are PVC toys, they appear more like collectibles, partially because the children who like to play with plastic figurines are a bit young for the story. Children who appreciate the story are more likely to want to decorate with the items, which are a wonderful addition to the collection of Disneyphile.
---
---


Copyright © 2023 TDmonthly®, a division of TOYDIRECTORY.com®, Inc.