September 24, 2020

August 2008 | Vol. VII - No. 8


TDmonthly's Top-10 Most-Wanted Dolls
Customers Cuddle With Corolle
With additional reporting by Sharri Hefner, Terri Hughes-Lazzell, Chris Lundy, Claudia Newcorn, Marie Raven and Brenda Ruggiero

"When I first began, I was told in my research for the store [which opened in October 2004] that dolls were going out," Ray Goodhart, owner of Ages & Stages Toy Box in Golden, Colo., told TDmonthly Magazine. "But now we're starting to see a resurgence, and Corolle seems to be leading the way."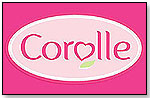 Goodhart is right about one thing, for sure. Corolle is definitely the specialty market leader when it comes to doll sales. Thirty-three of 62 specialty retailers, in fact, recently named dolls by Corolle — or the line overall — as their best-seller in the dolls category.

Manhattan Toy's Groovy Girls are still hanging on in specialty, although eight retailers said they're fading, or, more specifically, "have slowed to a trickle," according to Debbie Scholl, owner of FUNdamentally Toys! in Houston. Three retailers in California, Florida and North Carolina indicated they're having a hard time selling dolls of any kind right now.

Read on to see which dolls are keeping sales alive:
Tidoo Lutin Striped by COROLLE DOLLS



Suitable for ages 18 months and up and designed for use in the bath, this 12" soft doll floats and is filled with polystyrene beads that dry after exposure to water. Tidoo is posable, has sleeping eyes, can suck its thumb, and wears clothing from the Mon Premier collection.
— Of more than half of the 62 retailers that named Corolle dolls as best-selling dolls in their store in summer 2008, seven specifically mentioned Tidoo.
— "The Calin and Tidoo styles are best for us, because an 18-month-old can play with them and be really happy," Patricia Fiedler, owner of Child's Play and Green Frog Toys in Portland, Ore., told TDmonthly.
— Four of the storeowners that named Tidoo said their sales of Corolle range from 4 to 15 dolls per month. 7/9/2008 (Age: 2 and Up)



Calin Cheerful Pink by COROLLE DOLLS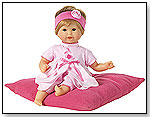 This 12" doll has a soft beanbag body and eyes that close when she's "sleeping." She can wear clothing from Corolle's Mon Premier collection.
— "Our premier line is Corolle ... [it] always does best," noted Lynn Sanchez of Wiz Bang Toys in Lake Oswego, Ore., in summer 2008.
— The 32 of 64 specialty retailers that named Corolle as a best-selling doll line in their stores said they sell between 4 and 72 Corolle dolls each month.
— "The little Calins move the best," Jennifer Vanderish, co-owner of Picayune Toys in Dunwoody, Ga., told TDmonthly in summer 2008. (

Watch Video) 6/19/2008 (MSRP: $31.00; Age: 2 and Up)



"Real Boy!" – 14" Lots to Love Babies® by DOLLS BY BERENGUER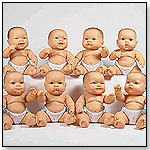 These 14", anatomically correct vinyl baby dolls are scented and washable. They are suitable for the bath and beach, and come in several varieties featuring different faces to portray emotions of sleepy, happy, surprised and more.
— Mary Walsh, owner of Magical Child in Greenfield, Mass., told TDmonthly in summer 2008 that her store sells about 20 a month of the Real Boy and Girl dolls by Berenguer.
— The company's Lots of Love Babies are also popular at JaZams in Pennington, N.J., according to Manager Kathy Goeddy.
— Two of 62 retailers indicated in summer 2008 that Dolls by Berenguer are strong sellers in their stores. 7/9/2008 (MSRP: $13.00)



Gotz Doll: Brunette Muffin by INTERNATIONAL PLAYTHINGS LLC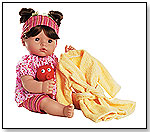 The 13" doll features sleep eyes, a soft body, a bean bag bottom and stylish clothes that can be easily put on and removed. The doll's durable, rooted hair allows children to brush her hair over and over. Launch date: January 2008.
— "With Gotz, kids like [the doll] because it has long hair. Children seem to want hair rather than the bald guys," Helen Ullrich, assistant manager of Hardware Center Inc., told TDmonthly. "We usually sell 10 a month."
— Two of 62 specialty retailers named Gotz as a best-selling doll line in their stores in early summer 2008.
— "Unlike most other dolls, Muffin's has brown-rooted hair, styled in a fashionable 'bob' that can be shampooed and blown dry," International Playthings Inc. Representative Nicole Tiedemann told TDmonthly. Muffin's beautiful brunette locks resemble real-hair structure and maintain a full and healthy appearance after many years of play." 5/30/2008 (MSRP: $30.00; Age: 3 and Up)



Kayla Rae by ONLY HEARTS CLUB GROUP LLC


Kayla Rae is one of the newest members of the Only Hearts Club. She comes with a kitten and is determined to be a good friend and listen to her heart in order to do the right thing.
— "I sell more Only Hearts than anything else," Donna Anderson of Murphys Village Toy Store in Murphys, Calif., told TDmonthly about this top-selling doll line in summer 2008.
— "Only Hearts are our only dolls," said Susan Castor, owner of Pentwater Toy Box in Pentwater, Mich.
— The Only Hearts Club brand includes six girl dolls as well as L'il Kids, So Small Pets, posable ponies and various accessories. 3/20/2008



Kathe Kruse Waldorf Flippippi Blossom Rain by EUROPLAY CORP.



Made to brighten any room, this doll features a hand-embroidered face, long, boucle hair, light pink wings and an airy dress.
— When asked about best-selling dolls in summer 2008, 2 of 62 specialty retailers mentioned that they carry Waldorf dolls by Kathe Kruse.
— There are 13 different dolls styles in the Flippippi line, which features handmade dolls with wings and long hair that can be styled.
— The Waldorf line by Kathe Kruse encompasses several different styles of dolls, including Feng Shui, Sweetheart and Gugguli. 7/9/2008



Campus Sweetheart Barbie Doll by MATTEL INC.



From the Gold Label collection, this vintage reproduction of a 1965 Barbie doll is outfitted in a satin gown with pink netting and opera-length gloves. She comes with a rose bouquet and a silver-colored trophy. Launch date: 2008.
— When asked about best-selling dolls in summer 2008, 2 of 62 specialty retailers mentioned that they carry Barbie dolls by Mattel.
— "Our biggest seller is the nostalgic Barbie dolls," Dave Brisbois, owner of The Toy Dept. in Pasadena, Calif., told TDmonthly.
— "It seems to me that people are producing more vintage-style dolls ... which is great for me," he added. 5/29/2008 (MSRP: $49.95)



---
---


Copyright © 2020 TDmonthly®, a division of TOYDIRECTORY.com®, Inc.