April 13, 2021

August 2008 | Vol. VII - No. 8

---
Uberstix Kits Construct Eco-Friendly Play
New Lines Back Recycling, Offer Blueprints for Success
" ... it has the potential to help kids worldwide." — Dane Scarborough, Uberstix

Überstix building system is unique. You can build buildings as tall as your ceiling, and airplanes that fly and boats that float. And once you've done that, you can continue to build using recycled materials and other construction systems such as LEGO and K'NEX. Überstix CEO and President Dane Scarborough told TDmonthly Magazine about new products and the secret behind the company's success.

SCAVENGING TO CONSTRUCT

The Überstix Scavenger Recycling Series has really taken off. These are the first toys on the market that directly reward kids for recycling. The components are recyclable materials that you can build with — plastic bottles, cups, straws and more.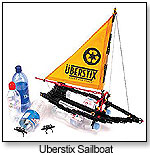 The kits contain a Scavenger List, and before you can complete the model, you have to collect the items on the list. We've had a tremendous response on numerous fronts. People think of it as recycling. I think of it as "up-cycling."

Typically when you recycle, there's a cost to pick up the materials and for the energy to melt the material down to create new things. With up-cycling, you're using existing products for a higher purpose. A spoon becomes a catapult; a shopping bag is re-used as a sail.

The other reward is that kids get to build bigger models for less money. That opens up doors for kids from more economic backgrounds to participate.

A PERMIT TO BUILD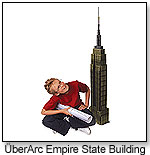 Other big news here at Überstix is that we are introducing a model of the Empire State Building as part of the Überarc Architectural Series. It will stand more than 4' tall and will come with 11 pages of full-scale blueprints. The product is available now, sold exclusively by JCPenney until January 2009. The model is fun and educational.

When you open the box, the first thing you'll see is that you have to go online to apply for a building permit. There's a map of the world and you can click anywhere you want to put the structure. The seismic and wind loads will load into the building permit automatically.

ON SCREEN AND AROUND THE GLOBE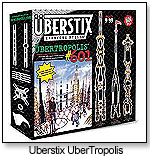 Überstix are also available internationally — in Canada, France, United Kingdom, Australia, New Zealand and Ireland — and we're working on translations into other languages. Here in the U.S., were shifting to trilingual packaging — English, Spanish and French.

YouTube has been a big part of our success. We put up 18 to 20 videos that show a wide variety of things you can do with Überstix products — how they can be used with the K'NEX and LEGO systems, for example. We've had more than a quarter million views of our videos.

Once we started putting up videos, other people started putting them up as well. It's really significant when you can let people know about a great product for free. Because of YouTube, we get direct feedback on people's experience — it's very interactive, very immediate.

GREEN ISN'T ALL ABOUT MONEY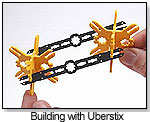 The economy is not doing well, but we're a tremendous value for a great price. I'd like to say that we were so smart that we figured it out in advance, but we simply were looking for green solutions and for ways to make the systems accessible to kids from all economic backgrounds. We just found ourselves in the right place in the right time.

I have two sons of my own. When I hang out with them I experience it as a Dad but I also experience it through their eyes because I didn't have a Dad. I knew what I would have enjoyed, so I have an edge there.

It's not about the money. We do it because it has the potential to help kids worldwide. Success comes when you do what you're passionate about.

Here are some Überstix kits:
LandSailer™ / ÜberDragster™ Scavenger Kit by UBERSTIX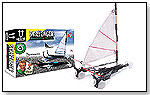 These new construction/craft kits from ÜberStix take the company's commitment to recycling one step further. When kids open the construction kit, they will discover that it requires more than just building it. The ÜBERSTIX LANDSAILER™ and ÜBERDRAGSTER™ are both working models that require Push Ups® ice cream pops for wheels, coffee stir sticks, straws and more. The LandSailer requires very little wind to move it across the ground. Kids can set up their own unique race courses for their working models — even build a speed ramp. "This is the first build system that rewards kids for recycling," ÜberStix founder Dane Scarborough told TDmonthly. "In doing the Scavenger Kits, we're starting a new category of toys." (

Watch Video) 12/17/2007 (MSRP: $16.99; Age: 7 and Up)



UBERARC™ 1200—Empire State Building by UBERSTIX



The ÜBERARC™ 1200 Empire State Building is part of the architectural series, designed for students, architects, engineers and anyone else who just loves to build. Using full-scale authentic blueprints, builders create a foundation and representation of the Empire State Building. Builders apply for a building permit online that will show the seismic and wind loads for their proposed ÜberArc Empire State Building location. They can even pinpoint the location on a map and create their own unique building name displayed to other ÜberArc builders. This architectural dream set will teach basic building techniques to create load-bearing walls, curves, arches and more. The completed UberArc Empire State Building is more than 4' tall. Launch date: August 2008. This set is a JCPenney exclusive until January 2009. (

Watch Video) 8/19/2008 (MSRP: $129.99; Age: 10 and Up)



UberPult™ - Science Project Series™ by UBERSTIX


Kids can build a functional catapult and learn the physics that make launching objects through the air possible. The catapult itself only requires 90 of the kit's 181 pieces, leaving plenty of extra pieces to upgrade and explore new design options. As part of the company's Science Project Series, this kit includes a Lab Sheet to test and record a series of suggested experiments."Our construction system is much more diverse than other products, offering integration with other construction sets (Lego, K'nex, Zoobs, Zomes) as well as with recycled materials (Popsicle sticks, McDonald's straws, egg cartons, water bottles). This offers limitless possibilities for children (and adults) to build structures taller than themselves. [Our products] are not available in the mass-market stores," COO Julie Bell of Uberstix told TDmonthly. The Uberpult received the 2007 Parent to Parent Adding Wisdom Award in both Toys/Games and Educational Products categories. It also received The Toy Man Online 2007 Seal of Approval, Award of Excellence and eChoice Award. Launch date: September 2006.

(

Watch Video) 5/22/2006 (MSRP: $21.99; Age: 8 and Up)



UberTropolis™ 601 by UBERSTIX



Kids can create buildings and structures that are taller than they are with the ÜberTropolis 601 set. It includes complete instructions for four different towers, including one to build a 5' tower with a flag to put at the top. 7/11/2006 (MSRP: $54.99; Age: 9 and Up)



UberStix Starter Set (450 piece kit) by UBERSTIX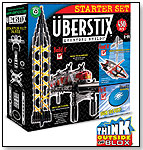 Future architects, engineers, and even rocket scientists will love using this versatile construction system that utilizes principles of physics and mathematics to build, float, and fly their wildest projects. The highly flexible, yet sturdy links, crossbeams and connecting panels interlock to form rigid structures that soar. This 450-piece set has plans for a tower, boat, bridge, ray-gun and UFO. Complete instructions are included. 3/30/2006 (MSRP: $44.99; Age: 7 and Up)



---
---


Copyright © 2021 TDmonthly®, a division of TOYDIRECTORY.com®, Inc.