September 22, 2020

October 2008 | Vol. VII - No. 10


October Staff Picks
Gifts for Kids of All Ages
As you welcome all that exciting holiday fare into your store, be sure to keep your radar out for new and interesting products so your customers are always seeing something fresh! Have you tried racing beans, tossing balls from Plasmart, or offering the snuggly new Baby Zoobies for your tiniest shoppers? See those and other products below:
Toddler Bistro Box by BABY BISTRO BRANDS



This healthy feeding guide for toddler 1 to 3 years old focuses on personality tendencies, tricks for picky eaters, recipes, food and environmental safety, and shopping suggestions. "This product provides innovative comprehensive easy to use information," said Christina E. Schmidt, president of Baby Bistro Brands. Launch date: 09/01/2005. 8/25/2008 (MSRP: $27.95; Age: 1 to 3)



MagNext Drawer Case by MEGA BRANDS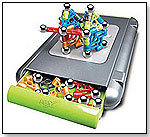 MagNext is the revolutionary new magnetic construction system that sets a new standard for innovative and safe magnetic play. Designed in partnership with Intertek, one of the world's leading independent safety labs, MagNext features no small magnetic parts that can be swallowed, and will make it possible to create bigger, stronger and faster builds. Convenient and sleekly designed, the MagNext Drawer Case is cool and easy to carry around. Kids can take advantage of the ingenious build-off plate and drawer compartments to build to their heart's delight. Launch date: August 16, 2008. 8/27/2008 (MSRP: $19.99; Age: 6 to Adult)



Bumblebee Scissors by RICH FROG INDUSTRIES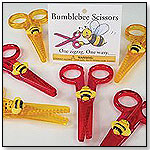 These scissors come in two adorable varieties. One cuts zig-zags and the other cuts waves. They are distinctive in the market because they're "durable and in very bright colors," Manager John Gallagher of Rich Frog Industries told TDmonthly. Launch date: 2004. 8/25/2008 (MSRP: $5.95; Age: 3 to 10)



JUMBULAYA: The Rearranging, Ever-Changing Word Jumble Game by LEGENDARY GAMES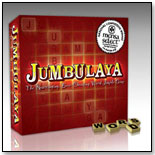 JUMBULAYA is an award-winning, multi-faceted word strategy game in which players rearrange, add, and trade tiles on the board to build and claim longer and longer words each turn. As players build words horizontally, they also look for a Jumbulaya - a word of seven or more tiles that can be seen vertically on the game board. "Jumbulaya is a word strategy game where players need to THINK ON MULTIPLE LEVELS simultaneously," said Karl Archer, CEO and cofounder of Platypus Games. "It incorporates strategy into the game play, as players are able to add, as well as remove, tiles from the board and think many moves ahead in order to try to win." It has won a 2008 Mensa Select Gold Seal and iParenting Media Award. Launch date: 12/15/2007. 8/25/2008 (MSRP: $29.95; Age: 10 to Adult)



Spot Me ID Temporary Tattoos by SPOT ME ID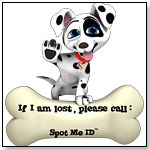 There's nothing more terrifying to a parent than the thought of being separated from his or her child. These temporary tattoos were invented by a mom who lost her 7-year-old daughter for a terrifying 15 minutes while on vacation in 2007. Everything is included in this convenient "on-the-go" travel pack for parents. The travel pack includes 4 safety tattoos, 4 application wipes, and a waterproof permanent marker. Spot Me ID™ temporary tattoos are safe, non-toxic, FDA approved, and will last up to 7 days even when wet. "Finally a tattoo that all parents love! With over 2,000 children lost every day, there is nothing more important to parents than keeping their kids safe, " CEO Jamie Rayko of Spot Me ID, Inc. told TDmonthly. Patents pending. Launch date: August 2008. 8/25/2008 (MSRP: $9.99; Age: 1 to 10)



Rubbabu Balls by RUBBABU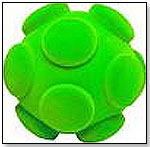 An alternative to plush, Rubbabu toys are made from natural rubber foam and are covered in bright, colorful flocking. The Rubbabu balls have wonderful visual and tactile appeal and come in an assortment of shapes. They are great for rolling, catching, and bouncing. Display Ideas: Have the Rubbabu balls in a large plastic bin that allows children and parents to easily touch and feel how unique the line is. (Product was formerly dist. by PlaSmart)
Awards: Parent's Choice Award 2010
8/27/2008 (MSRP: $5.99; Age: 2 to Adult)



Springtime Arietta Beading Kit by BEAD BAZAAR/KID JOURNEYS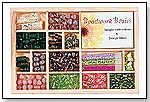 This set includes glass and ceramic beads of various shapes and colors, and an instruction and design booklet, all in a wooden, hand-crafted case with a sliding top. The kit makes 8+ accessories.
— Jewelry-making kits are popular at The Toy Store in Atlanta, Denis Hofstetter said, because "they are a good price point [and] something that lasts."
— "Jewelry items from Bead Bazaar" are popular buys for girl gifts at Sisters Kids in Springfield, Mass., Co-Owner Diana Gisolfi said. "Girls wear more jewelry in the summer."
— Four of 66 specialty toy retailers told TDmonthly in summer 2008 that beading kits are top-selling gifts for girls. 8/28/2008 (MSRP: $22.00; Age: 8 and Up)



Baby Zoobies - Hippo by ZOOBIES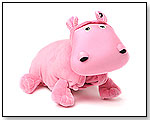 Zoobies are three-in-one plush/pillow/blankets that come in a variety of animals. Now Baby can have her own Zoobie sized just for her with Baby Zoobies. Baby Zoobies have a detachable blanket that measures just 23" x 29.5". They fit nicely in diaper bags. They also feature a furry "comfort corner" to please Baby's love of textures. Diaper bag not included. Launch date: September 1, 2008. 8/29/2008 (MSRP: $25.00; Age: 0 to 2)



Non-Toxic Snap-Pocket Bib by JUST BUZZIN' BY LLC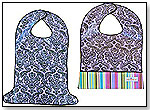 This non-toxic snap-pocket bib is made from PVC-free, phthalate-free, lead-free coated material. It is wipable, machine-washable and eco-friendly. The bib is available in over 20 prints to satisfy any discerning little one. The patented snap-pocket sets is apart from the competition. Launch date: May 1, 2008. 8/28/2008 (MSRP: $22.00; Age: 1 to 3)



MAJOR Robot Necklace by HIGH INTENCITY CORP.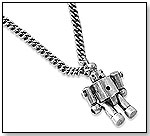 This necklace is part of a rugged line for tween boys called MAJOR. Suggested retail price for pieces in the range, including other chains and bracelets, is $3 to $5. Launch date: Summer 2008. 8/28/2008 (MSRP: $10.00; Age: 8 to 12)



Musical Adventure Cape by ACTING OUT



This two sided musical cape will liven up any adventure. One side is pirate theme, the reverse side is knight theme. Fun for both boys and girls. Ages three and up. Batteries included. 9/11/2008 (MSRP: $30.00; Age: 3 and Up)



KeyKatz by JADEN'S WORLD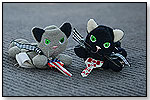 Cat-shaped KeyKatz gives children a safe way to carry around a house key. The product features an elastic band in the kitty's tail that secures the key, which can be removed when necessary. KeyKatz can be attached to a backpack, belt loop, binder or zipper pull, and the cat's Velcro-closure head can serve as a coin purse. 8/28/2008



Calico Critters Costume Critters by INTERNATIONAL PLAYTHINGS LLC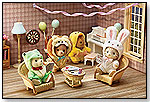 These tiny critters — Brown Bear Brother, Polar Bear Sister and two others from Cloverleaf Corners — are decked out in costumes for Halloween. The critters are poseable and wear removable clothing. The two bears retail together for $19.99. Launch date: October 2008. 9/9/2008 (MSRP: $19.99; Age: 3 and Up)



Native American Playing Card Sets With Biography Booklets by U.S. GAMES SYSTEMS, INC.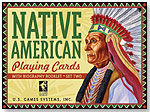 Each colorful set features a 52-card playing card deck and an illustrated booklet of biographical essays. The historic portraits and engaging stories feature lesser-known, 19th-century Native Americans as well as some of the most important American Indian leaders. These sets are entertaining as well as educational. Set One includes Red Cloud, Sitting Bull and Cochise. Set Two includes Geronimo, Tecumseh and Ten Bears. Launch date: October 1, 2008. 9/17/2008 (MSRP: $6.00; Age: 8 and Up)



Dragon Tire Swing by WILDLIFE CREATIONS INTERNATIONAL INC.



Fire not included! How much fun would it be to take yourself to an enchanted land and tame one of these fire breathing beasts? Handcrafted from shock absorbing recycled tire. Fully assembled. Hanging instructions included. Supports up to 200lbs. (

Watch Video) 9/15/2008 (MSRP: $109.95; Age: 3 and Up)



Play and Learn Baby Spoon by BABYHUMAN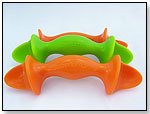 This dual-headed gripping spoon is intended to be used prior to an infant/toddler actually needing it to eat. This allows a child to target the path from table to mouth ,so when they are fully fledged table eaters, there are less mishaps and increased success. The arc-shaped handle with angled lateral guard forms a wedge-like shape to reduce hand shifting along the handle. This allows for a more consistent path from table to mouth. The dual lateral guards pevents gagging and the dual heads prevent choking. Additionally, the arc-shaped handle makes the spoon–end angle toward the mouth so by just pivoting at the elbow toward the mouth enables success (no wrist movement required). This reduces the need to coordinate the movement of multiple body parts, which reduces neurological stress and increases time on task and focus. Launch date: January 25, 2007 (

Watch Video) 9/15/2008 (MSRP: $8.99; Age: 0 and Up)



Lime Hair Clip by NO SLIPPY HAIR CLIPPY INC.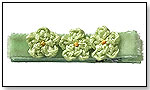 The No Slippy Hair Clippy features magnets for a tighter clasp, plus a velvet cover to keep them soft and comfortable. They stay in little girls' hair even during play. They're also handmade in America. (

Watch Video) 9/12/2008 (MSRP: $8.00; Age: 0 and Up)



---
---


Copyright © 2020 TDmonthly®, a division of TOYDIRECTORY.com®, Inc.