September 16, 2021

September 2008 | Vol. VII - No. 9

---
Music Gives Video Games "Rock" Solid Standing
Battle of the Bands Will Keep Market Strong Through Year-End
"My friends at GameStop tend to smile at naysayers and believe the industry will do very nicely."

After an incredibly strong seven months, and with August looking equally good, video game producers and retailers are looking forward to the next four months with trepidation. The industry has some tough comparatives to overcome — last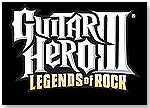 year's phenomenally successful "Halo 3" from Microsoft and "Guitar Hero III" from Activision Publishing — and many doubt whether continued growth between now and the end of the year is feasible. Just for the record, "Halo 3" sold 8 million units in the last four months of 2007; "Guitar Hero III" sold 5 million.



My friends at GameStop tend to smile at naysayers and believe the industry will do very nicely, despite these high bars. They are not only counting on the unprecedented depth of very strong games coming down the pike between now and the end of the year; they are also, in particular, looking to Harmonix Music Systems' "Rock Band 2" and Activision's "Guitar Hero IV" to drive the wagon.

"Guitar Hero III" was way ahead of Rock Band last year in terms of sales, but GameStop thinks things will be different this year. Encouraged by the level of pre-orders substantially ahead of last year's, not only do they expect "Guitar Hero IV" to do better than its namesake; they also expect "Rock Band 2" to be on par with it or, at worst, only marginally behind.

I looked at my metrics to determine whether they support these two assumptions. The first metric is Web traffic: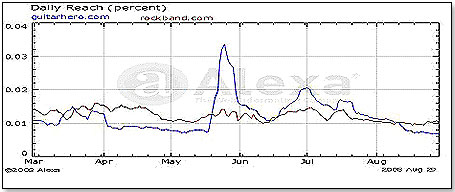 "Rock Band" now not only matches "Guitar Hero," but is beginning to overtake its rival. I also looked at how intensively visitors looked at the two titles, as measured by page numbers visited: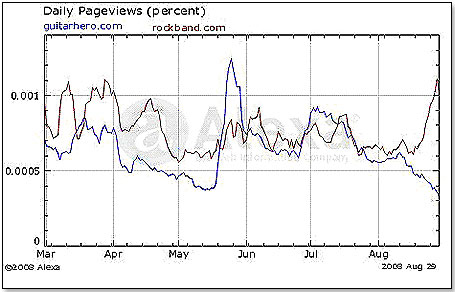 It's very much the same picture. First, traffic is substantial. Second, there is a high level of interest.

I also looked at the Blog Sphere, which tells me about the level of discussion going on regarding the two titles. Here, "Guitar Hero" clearly wins: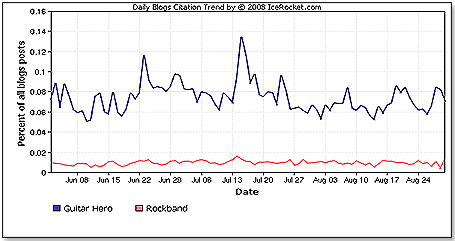 Lastly, I looked at the Google searches in three countries — United States, United Kingdom and Canada — again an indicator of consumer interest levels. In all three instances, searches are way up in comparison to a year ago. Also, in two of the three instances, "Rock Band" is overtaking "Guitar Hero." The exception is the UK, where "Rock Band" clearly still has a job to do.

First, the U.S.: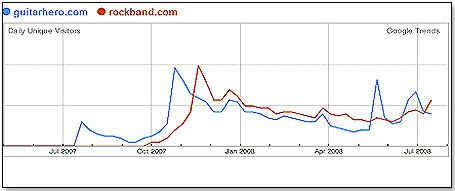 Second, the United Kingdom: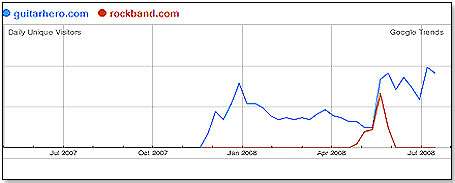 And, lastly, Canada:




These metrics support the view put forth by GameStop and hence give substance to the contention that we will continue to see robust growth in the video game space, at least until the end of this year.
---
---


Copyright © 2021 TDmonthly®, a division of TOYDIRECTORY.com®, Inc.