September 21, 2023

October 2008 | Vol. VII - No. 10

---
Retailer Spotlight: The Gifted Child
Pushcart Biz Leads to Three Decades of Store's Success
"I avoid selling 'junky toys.' I try to buy things with some redeeming value." — Randy Austin, The Gifted Child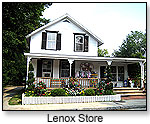 For the first 17 years of her business, Owner Randy Austin of The Gifted Child in Lenox, Mass., lived in New York City and was only at her store — three hours away — on the weekends. This allowed her to be at home with her young children, yet continue with her business, she told TDmonthly Magazine.

"I did all the buying and paperwork in New York during the week, was in constant contact with the store during the day, and worked in the store on weekends," she explained. "Having a fabulous manager and staff was the key. They were my eyes and ears when I was not present, and they ran the store as if it were their own."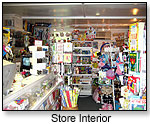 FROM PUSHCART TO STORE

A former social worker, Randy first opened her store in May of 1981. On a whim, Randy and a friend took a course in opening a small business. Soon after, she saw an ad for a summer weekend pushcart in a farmer's market setting.

"It was in Berkshires, where I had a weekend home and spent the summer," Randy said. "We decided to go for it with an investment of about $2,000 for merchandise and the summer's rent."

For the two mothers, the choice to sell children's merchandise — hand-decorated clothing, sunglasses, beach items, small toys and novelties — was a natural one. Although her partner left after a month, Randy continued, and she and another pushcart vendor opened a store in Lenox that October.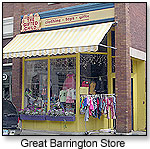 A HOME FOR THE BUSINESS

The two shared the store for about a year, but separated when they outgrew the space. Seeking additional square footage, Randy moved her store twice before she bought an old house in town and converted it for retail. She rented out an apartment upstairs for several years, but then expanded the store into that space as well.

In 1996, Randy opened a second store about 20 minutes away in Great Barrington. She found that her first significant obstacle was a total lack of business experience. However, she noted that her original investment was small, so the mistakes were small as well.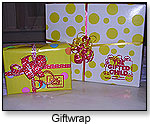 "I grew the business very slowly, and listened to my staff and customers," she said. "I went with instinct, common sense and my own experience as a parent for merchandise selection."

PRICE OR SERVICE?

Although competition was not an issue at first, in the last 12 years, Randy's rural area has seen development that included two big-box stores and an outlet center. This has made a difference with customers who want to shop based on price.

"The people who want help, excellent customer service and services such as gift wrapping and UPS shipping still come to us," she said. "A grandmother faced with a LEGO aisle in a big-box store may not have a clue what to choose. We can narrow that selection down in two minutes."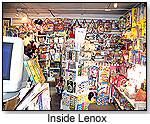 Today, Randy still works from her home office, even though she lives less than 15 minutes from both stores.

"I visit my stores almost daily to look things over, solve problems, and talk to my staff," she said. "I work on the floor at least one day a week."

BUYING THE BEST

She's realized that she cannot have everything that everybody wants. Her business philosophy involves buying the best in a category, buying quality, and avoiding trends and mass merchandise. She would rather have a smaller selection of really good items than an entire line.


"I don't care if it's the best-selling item in somebody's line," she said. "I know what I can sell, and it may not be what the rest of the country is selling. I avoid selling 'junky toys.' I try to buy things with some redeeming value."

KNOW THE MARKET

Randy's advice to others in the industry is to go slowly and see what the market wants before committing to any one concept.

"Work in a retail store so you are prepared," she said. "Know your market and your merchandise, and learn about child development and how toys are crucial to growth so you can help your customers with their selections and provide the right toys for a child. And have fun … it's a toy store!"
---
---


Copyright © 2023 TDmonthly®, a division of TOYDIRECTORY.com®, Inc.