April 15, 2021

October 2008 | Vol. VII - No. 10

---
My Best Sellers: The Gifted Child
Playsets and Plush Fly Out the Door
Playsets, figurines, outdoor toys and select plush are customer favorites at The Gifted Child in Lenox, Mass., where toys, clothing and baby gear are all organized by category. Owner Randy Austin recently shared with TDmonthly Magazine which items have been most popular with shoppers lately:
Webkinz Bengal Tiger by GANZ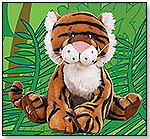 This striped character comes with an Internet access code that gives kids the freedom to explore Webkinz World online with the virtual equivalent of the plush pet. The tiger's special item in the virtual world is a rock ledge bed.
— "Webkinz are still selling," Owner Randy Austin of The Gifted Child in Lenox, Mass., told TDmonthly in summer 2008.
— "We move probably 100 to 150 per month," William Meredith, owner of Learning Express in Cary, N.C., told TDmonthly in August 2008.
— Twenty percent of 64 retailers named Webkinz as their top-selling collectible toy in summer 2008.
Six of 63 retailers named Webkinz as their overall best seller in September 2008. 9/8/2008 (Age: 6 and Up)



Indiana Jones™ Motorcycle Chase by LEGO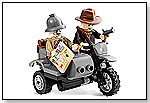 Indiana Jones has the treasure map but will first have to make it through the gate if he wants a chance at finding the Holy Grail. The set includes the following: Indiana Jones with accessories (hat, whip and bag), Professor Henry Jones, a guard, a motorbike with a detachable sidecar, and a gate that moves up and down. Please check with company, as not all LEGO sets are available in the specialty market.
— Nine of 66 specialty retailers named LEGO as a best-selling gift for boys in a July 2008 TDmonthly survey.
— "Any new LEGO that comes in is out the door," said Tina Benoit, operations manager for Kidstown in South Burlington, Vt., which sells about 50 units of LEGO per month.
— LEGOs are a top-10 best seller for Randy Austin of The Gifted Child in Lenox, Mass., she told TDmonthly in summer 2008. 8/29/2008 (MSRP: $9.99; Age: 6 to 12)



Small Excavator by PLAYMOBIL INC.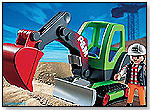 The arm of this colorful excavator is moveable, and the cabin rotates for added play value.
— Six of 66 retailers named Playmobil as an overall best seller in July 2008.
— "[It's] probably a good 40 percent of my sales each month," Linda Hanzelko of Timmy's Toy Chest in Lake Mary, Fla., told TDmonthly.
— According to Randy Austin, owner of The Gifted Child in Lenox, Mass., Playmobil items were best sellers at her store during summer 2008. 8/29/2008 (MSRP: $17.99)



Papo Knight Bull Black & Gold by HOTALING IMPORTS



Outfitted with a shield, a helmet with horns, and weaponry, this knight is ready for battle. It is one of many styles in the varied Papo collection.
— "Papo figures always seem to be the best-selling thing in our store; we sell hundreds. I order from Papo once a year, so I order in my inventory for the entire year … a $17,000 order," Linda Angel, owner of Kidoodles in Norman, Okla., told TDmonthly in summer 2008. "I have birthday wagons … kids fill them with what they want people to buy for them, and they always include Papo figures."
— Jessie Wood of Northshire Bookstore in Manchester Center, Vt., said in July 2008 that her store sells roughly six Papo figurines per month from each of about 30 SKUs in the line. They're best sellers at The Gifted Child in Lenox, Mass., Owner Randy Austin told TDmonthly in summer 2008.
— Four of 66 retailers named Papo as a best-selling gift for boys in summer 2008. 8/28/2008



UglyDoll Puglee by PRETTY UGLY LLC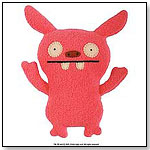 Puglee is super smart. She figured out that a great way to avoid getting a job was to get the worst possible grades ever! Only an F- would do. But here's the problem... Puglee LOVES to read, write and count. So she gets all A's no matter how hard she tries to fail! Puglee is also smart enough to know that life isn't about getting a grade. It's about the special bond she now has with you. Launch date: 2008.
— Uglydolls are a strong seller at The Gifted Child in Lenox, Mass., Owner Randy Austin told TDmonthly in summer 2008. (

Watch Video) 6/12/2008 (MSRP: $20.00; Age: 0 and Up)



Calico Critters – The 3 Little Pigs by INTERNATIONAL PLAYTHINGS LLC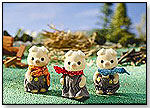 These baby piglets are designed to sit or stand, and are outfitted with denim overalls and brightly colored neckerchiefs. Calico Critters are adorable little families designed with play themes in mind. Accessories build on imaginary play opportunities and include a townhome, village house, play park and more.
— In a summer 2008 poll, Calico Critters products were the clear leader in sales when it comes to gifts for girls, with 10 of 66 retailers mentioning the critters and accessories as their top seller.
— "Calico Critters is our top girl line," Angel Stahl, owner of Angel's Toy Barn in Greensburg, Pa., told TDmonthly.
— "Calico Critters sells lots more than the LEGO," noted Kara Fichtner, manager of Out of the Blue Ltd. in Albuquerque, N.M.
— Owner Randy Austin of The Gifted Child in Lenox, Mass., also noted Calico Critters as a best-selling line in her store. 8/28/2008 (Age: 3 and Up)



BANANAGRAMS® by BANANAGRAMS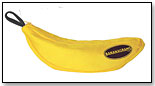 The fast-moving word game consists of 144 ivory-like letter tiles in a zippered banana pouch. Players place the tiles face down on the table and randomly select 21 tiles. They turn their letters right-side up simultaneously and proceed to form as many intersecting and interconnecting words as possible, rearranging their own letters as many times as desired throughout the game. Awards: TDmonthly Top Seller 2007; 2009 TOTY Game of the YEAR, 2006 Oppenheim Toy Portfolio Gold Seal; 2007 iParenting; 2007 Parents' Choice Recommended; 2007 Dr. Toy Best Products. (Read Review)
— This product has been making the TDmonthly Best-sellers lists since 2007.
— As of 05/13/2011 this product had 4.8 out of 5 stars from 456 reviews on Amazon.com.
— Eight of 66 retailers vouched for its best-selling status in May 2008; seven of 63 did in Sept. 2008. Shani Watmough of Planet Toys in Rockland, Maine, said her store sells 60 per month. Fifteen of 38 named it a top-selling game in Feb. 2010.
— As of April 5, 2010, Bananagrams had spent 570 days in the top-100 best-selling toys and games on Amazon.com.
— According to owner Brett Sommer of Figpickels Toy Emporium in Coeur d'Alene, Idaho, "It was the 2009 game of the year. The brilliant packaging definitely helps this product." (

Watch Video) 6/19/2006 (MSRP: $14.99; Age: 7 and Up)



Rocket Balloons With Pump by SCHYLLING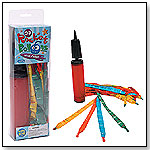 This bright set features 30 multi-colored balloons plus a pump.
— Randy Austin reported that Rocket Balloons were popular sellers during the summer of 2008 at her store, The Gifted Child, in Lenox, Mass.
— "Rocket Balloons were fabulous [last year] and we have people waiting for them now," said Eric Masoncup, owner of Geppettos Toy Box in Oak Park, Ill., of his top-selling outdoor item during a March 2010 survey of best sellers.
— Two of 37 retailers named Rocket Balloons are a best-selling outdoor toy in spring 2010. 9/9/2008 (MSRP: $7.99; Age: 3 and Up)



Power Glider by UNIVERSAL SPECIALTIES CO INC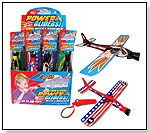 Recommended for outdoor use only, this lightweight glider comes with a launcher and is available in different styles. It is easy to assemble and fly, and can soar up to 50'. The safe, soft flyer has a wingspan of 9" and comes with instructions. 9/8/2008 (MSRP: $2.50; Age: 4 and Up)



---
---


Copyright © 2021 TDmonthly®, a division of TOYDIRECTORY.com®, Inc.