September 19, 2020

November 2008 | Vol. VII - No. 11


TDmonthly's Top-10 Most-Wanted Toys – November 2008
Webkinz Stays on For Fall
Kanoodle by Educational Insights has made its way on to TDmonthly Magazine's most recent top-10 list, joining other games Blokus, also by Educational Insights, and Bakugan Battle Brawlers from Spin Master Toys. Though it seems to be slowing for some stores, Ganz's Webkinz is still holding onto its preeminent sales post for now, according to an October survey of 68 specialty retailers. See the rest of the top-10 best sellers below:
Webkinz Black Bear by GANZ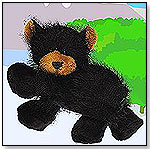 This fuzzy creature comes with a code to access Webkinz World online. The bear's special item in the virtual world is the cave bed, and it's special food is honey bee roast.
— Seven of 68 specialty retailers named Webkinz as a best seller in their stores in October 2008.
— Mary Walsh-Martel, owner of Magical Child in Greenfield, Mass., cited sales of about 80 units per month.
— "Even though it's slowing down, it's still on top, with about 150 a month," Pam Byrd, manager of The Little Cottage Toy Shop in Franklin, Tenn., told TDmonthly about the best-selling Webkinz in her store in early 2009. (

Watch Video) 11/26/2008 (MSRP: $12.99; Age: 3 and Up)



Animal Trainer by PLAYMOBIL INC.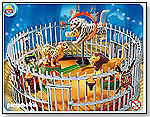 This training ring, an add-on set for Playmobil's Circus Ring, comes with a lion, leopard, tiger and trainer, as well as other fun accessories. It even includes an access tunnel for the animals.
— In October 2008, seven of 68 retailers told TDmonthly Playmobil is a best seller in their stores.
— "Right now, Playmobil is taking a nice upward climb," remarked Patti Tepper-Rasmussen, owner of Learning Tree Toys, Books & Games in Oklahoma City.
— Paul Faustine of Red Dragon Toys in Brunswick, Maine, said he sells hundreds of pieces of Playmobil per month. 11/26/2008 (MSRP: $25.99; Age: 3 and Up)



BANANAGRAMS® by BANANAGRAMS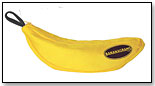 The fast-moving word game consists of 144 ivory-like letter tiles in a zippered banana pouch. Players place the tiles face down on the table and randomly select 21 tiles. They turn their letters right-side up simultaneously and proceed to form as many intersecting and interconnecting words as possible, rearranging their own letters as many times as desired throughout the game. Awards: TDmonthly Top Seller 2007; 2009 TOTY Game of the YEAR, 2006 Oppenheim Toy Portfolio Gold Seal; 2007 iParenting; 2007 Parents' Choice Recommended; 2007 Dr. Toy Best Products. (Read Review)
— This product has been making the TDmonthly Best-sellers lists since 2007.
— As of 05/13/2011 this product had 4.8 out of 5 stars from 456 reviews on Amazon.com.
— Eight of 66 retailers vouched for its best-selling status in May 2008; seven of 63 did in Sept. 2008. Shani Watmough of Planet Toys in Rockland, Maine, said her store sells 60 per month. Fifteen of 38 named it a top-selling game in Feb. 2010.
— As of April 5, 2010, Bananagrams had spent 570 days in the top-100 best-selling toys and games on Amazon.com.
— According to owner Brett Sommer of Figpickels Toy Emporium in Coeur d'Alene, Idaho, "It was the 2009 game of the year. The brilliant packaging definitely helps this product." (

Watch Video) 6/19/2006 (MSRP: $14.99; Age: 7 and Up)



Blokus by MATTEL INC.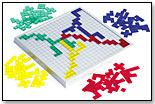 Europe´s 2002 game of the year, Blokus is a strategy game for the family. It's similar to the ancient Go Game — the board is a grid and players use their pieces to try to control as much territory as possible. The game pieces are in four, 21-piece sets of varying shapes. Each player chooses a color and works on expanding his territory on the board while blocking others from doing the same. Each new piece laid down must touch at least one other piece of the same color, but can only touch at corners, not along edges. The game ends when all players have been blocked from laying down more pieces. Points are deducted for pieces not played, and the player with the highest score at the end, wins. Blokus comes with a game board with 400 squares, 84 game pieces (red, green, blue and yellow), and instructions.
— In spring 2007, Sally Lesser, owner of Massachusetts' Henry Bear's Park, called Blokus a "consistent best-seller" at her three stores. It's also tops at Juggles in Wakefield, R.I., and Kazoodles in Vancouver, Wash. Six of 63 retailers named Blokus as their overall best seller in September 2008. Three of 52 retailers named Blokus as one of their overall top sellers in November 2008. Blokus is no longer distributed by Educational Insights as of 12/4/08.
― "No. 1 is Blokus," Linda Hanzelko, owner of Timmy's Toy Chest in Lake Mary, Fla., told TDmonthly when asked about best-selling games in early 2009. "It's an easy sell. It's one that people come back later and say 'You were right.'" In late 2009, Lori Hershman, owner of Evan's Toy Shoppe in Hamden, Ct., estimated sales of about 34 units monthly. Six of 38 retailers called it a best-selling game in Feb. 2010, selling from three to 150 units per month. 5/27/2005 (MSRP: $29.99; Age: 5 to 12)



Kanoodle by EDUCATIONAL INSIGHTS INC.



The Kanoodle case holds two solitaire games that challenge the player to build colorful 2D puzzles and 3D pyramids. Once a child picks a design from the included puzzle book, he or she puts some of the pieces into place as shown, then fills the empty spots with the remaining pieces. Only one of hundreds of possible combinations actually completes the puzzle.
— Three of 68 specialty retailers named Kanoodle when asked about their top-selling toy or game in October 2008.
— Dean Smith, co-owner of JaZams in Pennington, N.J., told TDmonthly in October 2008 his store sells about 24 units of Kanoodle each month. (

Watch Video) 10/17/2008 (MSRP: $10.99; Age: 7 and Up)



PlasmaCar® by PLASMART INC.



The Original PlasmaCar continues to intrigue and fascinate. Powered by kid power; no batteries, gears, or pedals needed. Just sit, put your feet up, and turn the steering wheel to propel yourself forward. The patented safety seat design places riders in a safe, comfortable position and minimizes tipping. Moves up to 6 mph on any smooth, flat surface. Supports up to 220 lbs. Visit www.plasmacar.com to see all the wonderful colors available.
— In a March 2015 survey, two out of 10 retailers told TDmonthly that Plasmacar is a best-selling outdoor toy.
— As of 05/13/2011 this product had 4.5 out of 5 stars from 122 reviews on Amazon.com. Cons: Does not work well on surfaces that aren't completely smooth.
— This top-seller in specialty stores earned a TDmonthly Top Toy 2007 award for its distinctive aerodynamic design and ease-of-use. TDmonthly believes it has the potential to become a classic due to its fresh, contemporary appeal and application in a child's formative years.
Awards: 2012 Parents Choice Awards Recommended, 2009 Green Parents List Check Mark, 2009 DisneyFamily.com Top Action Figures and Toys for Toddlers, 2009+2008+2005 The National Parenting Centre Seal of Approval, 2008 iParenting Media Toy Award, 2008 Fat Brain Toy Award Active Play, 2006 TIA Outdoor Toy of the Year - Specialty Toy of the Year, 2006 Oppenheim Toy Portfolio Platinum Award, 2005 Oppenheim Toy Portfolio Gold Seal Award, 2005 Dr. Toy Best Vacation Products, 2005 Creative Child Seal of Excellence, 2001 International Patent Fair, Hong Kong Gold Medal 6/28/2005 (MSRP: $69.99; Age: 3 and Up)



Bakugan Battle Brawlers - Starter Pack by SPIN MASTER TOYS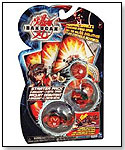 Bakugan is a strategic card game played with magnetic, spring-loaded marbles that transform into robots. The game spawned an animated series on Cartoon Network, Bakugan Battle Brawlers, which debuted on February 24, 2008, according to Wikipedia. Launch date: February 2008.
— Barbara Vininsky, owner of Blossom & Harry in Montreal, Canada, said in early 2008 that this is her hottest item by far: "It's out of control; I've never seen anything like it." Boys 6 to 9 are snatching it up as fast as she can order, even though her store specializes in clothing and she rarely has hot toys for boys.
— Two of 63 retailers named Bakugan when asked about their overall best-selling toy in September 2008. Tim Hayes, owner of Learning Express in Sudbury, Mass., told TDmonthly in November 2008 that his store sells 500 to 600 units of Bakugan monthly. "We've been very fortunate in having shipments," he said.
— David Marks, owner of Learning Express of Westport in Westport, Conn., lauded Bakugan for its wide range of appeal. "I've been in this business for 13 years and I've never seen a product appeal to kids as young as 5 and as old as 13," he told TDmonthly. (

Watch Video) 4/3/2008 (MSRP: $14.95; Age: 6 and Up)



Watchmen by DC COMICS



Written by Alan Moore ("League of Extraordinary Gentlemen," "V for Vendetta") and drawn by Dave Gibbons, this comic redefines super heroes in a postmodern story that has inspired countless books since. A "Watchmen" movie by Warner Brothers is slated for release in March 2009. 8/4/2008 (MSRP: $19.99; )



Iwako Hamster Erasers by BC INDUSTRIES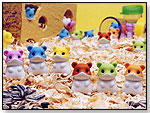 These hamster-themed erasers are available in six assorted colors. They can be taken apart and put back together like a puzzle.
— As of 05/13/2011 this product had 5 out of 5 stars from 10 reviews on Amazon.com. Cons: Not suitable for younger children because the small pieces constitute a choking hazard.
— Belmont Toys in Belmont, Mass., sells from 800 to 1,000 Iwako erasers monthly, Manager Gage Brownell told TDmonthly in October 2008. (

Watch Video) 8/1/2008 (MSRP: $1.00; Age: 5 and Up)



---
---


Copyright © 2020 TDmonthly®, a division of TOYDIRECTORY.com®, Inc.