October 22, 2021

January 2009 | Vol. VIII - No. 1

---
Watching Out for "Watchmen"
Top Names and Talent Spike Comic Book Sales
"The A-listers have the good storylines that keep the readers interested." — Frank Farrant, comic book fan

A black bat silhouetted against a yellow background. A smiley face button splashed with blood: "Watchmen" by DC Comics has taken its place among the ranks of iconic images that fuel readers' imaginations and drive sales of comic books and graphic novels.

A NOVEL TO KEEP AN EYE ON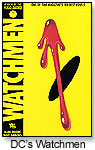 "The big thing we're gearing up for now is 'Watchmen,'" Dale Lutz, manager of Steve's Comic Relief in Lawrenceville, N.J., told TDmonthly Magazine. The graphic novel "Watchmen," first published in 1987, is scheduled for release on the big screen March 6 by Warner Bros.

Sales increase when a movie is made from a comic, such as when Top Cow's "Wanted," was loosely adapted into a Universal Pictures film by the same name earlier this year, Lutz said. "Watchmen," he added, "is just blowing the others away."

He estimates the store has sold more than 20 graphic novels since the "Watchmen" trailer premiered before the Batman movie "The Dark Knight."

"Sales on these have definitely skyrocketed since the Batman movie came out," seconded Pete Pereira, owner of Conquest Comics in Berkeley Township, N.J. "[Readers] think it looks interesting, but want to find out more about who these characters are."

"That buzz is going to keep increasing as March approaches," predicted Brent Frankenhoff, editor of Comic Buyer's Guide.

Robert Kirkpatrick, co-owner of DK's Sierra Mountain Comics in Carson City, Nev., has noticed people who are not regular customers coming in off the street to pick up "Watchmen," which he's been selling at a rate of two per month.

FALLING WITH THE LEAVES

"In the summer, we did really well," Kirkpatrick said. Then in the fall, sales fell — "a 42 percent decline over the last two and a half months," he told TDmonthly in December.

Lutz noticed the same autumn decline at his store. There were, however, a few high points: college kids coming home for Thanksgiving and customers holding off on buying their books for a few weeks at a time, he said. Pereira noted that "things have been on an upswing."

A-LIST WRITERS MAINTAIN GOOD READS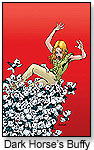 Name recognition in comics stretches past the Big Two (Marvel and DC). "Buffy the Vampire Slayer," for example, enjoyed seven seasons on television before "Season Eight" was crafted into comic book form by Dark Horse Comics.

"There's a built-in fan base already," Lutz told TDmonthly about these adaptations.

But there's something else on the cover that inspires a reader: the names of the authors and artists. Superstar writers, such as Geoff Johns, Judd Winick, Jeph Loeb, Grant Morrison and Brad Meltzer, have fans that follow them from book to book, said avid comic book reader and "Star Wars" fan Frank Farrant of Toms River, N.J.

"The A-listers have the good storylines that keep the readers interested," said Farrant, who's looking forward to DC Comics' "Flash: The Rebirth," in which Johns will bring back the original Flash, Barry Allen, and update Wally West, who currently wears the costume.

Farrant is also reading Johns' "New Krypton" storyline starring Superman, where an entire Kryptonian city finds its home on Earth, filled with thousands of people as powerful as Superman, but without his morals.

Stories drive sales these days, said Kirkpatrick, who contrasted this with a 1990s comics trend in which art was paramount. "Now, the art's really good and the writing's caught up," he told TDmonthly.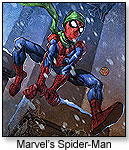 Top talent is often married with the best characters, Lutz noted. "The big companies put a little better writers and artists on those books," he said.

Titles such as DC's "Justice League," and "X-Men" and "Amazing Spider-Man" from Marvel, sell at least 70 issues a month at Lutz's store, he said.

But the recognizable characters don't have to be wearing spandex. There's excitement growing around Phil Sheldon, a photographer who captured images of early super heroes in "Marvels," a landmark title published in 1994 by Marvel, Lutz pointed out. "Marvels: Eye of the Camera" continues Sheldon's story of the effects of extraordinary events on the ordinary person.

"The flashy story isn't the top story," Frankenhoff said. "It's the one that makes you think."

See new and popular comics and graphic novels below. (No manufacturer paid to be included in this article. All products listed were chosen by editorial staff without regard to the company's relationship with ToyDirectory.com/TDmonthly Magazine.)
Watchmen by DC COMICS



Written by Alan Moore ("League of Extraordinary Gentlemen," "V for Vendetta") and drawn by Dave Gibbons, this comic redefines super heroes in a postmodern story that has inspired countless books since. A "Watchmen" movie by Warner Brothers is slated for release in March 2009. 8/4/2008 (MSRP: $19.99; )



Buffy the Vampire Slayer Season 8 Volume 3: Wolves at the Gate TPB by DARK HORSE COMICS, INC.



Buffy confronts shape-shifting vampires, forcing her and her friends seek out the only other being they've known who possesses such power: Dracula. It also includes "A Beautiful Sunset," a stand-alone issue written by "Buffy" creator Joss Whedon. Launch date: November 19, 2008. 12/10/2008 (MSRP: $15.95; Age: 14 and Up)



Action Comics #873 - New Krypton by DC COMICS



This issue is both a "Faces of Evil" story highlighting a villain of the DC Universe and the finale of the "New Krypton" storyline. As tensions rise between the Kryptonians and Earthlings, Superman's people have plans of their own. "Writer Geoff Johns and artist Pete Woods wrap up this cosmically important chapter in Superman's life by introducing a major change to The Man of Steel's status quo!" publisher DC Comics notes. Launch date: January 2009. 12/10/2008 (MSRP: $2.99; Age: All Ages)



Batman: R.I.P. The Deluxe Edition by DC COMICS



"Legendary writer Grant Morrison concocts an unthinkable plot: The death of the Dark Knight," DC Comics writes. As Bruce Wayne slips out of the public eye, Batman's villains rise and Batman's allies have to try to keep order. This oversized deluxe hardcover comprises "Batman" issues #676 through #683. Launch date: February 4, 2009. 12/10/2008 (MSRP: $24.99; Age: All Ages)



Justice League of America 30 by DC COMICS



The combined might of the Justice League of America and Dr. Light (the heroic female one, not the evil male one) must take on the cosmic entity Starbreaker to prevent him from consuming the sun. This comic is written by Dwayne McDuffie, featuring art by Ed Benes. Launch date: February 18, 2009. 12/10/2008 (MSRP: $2.99; Age: All Ages)



Marvels #4 by MARVEL ENTERTAINMENT GROUP INC.



Photographer Phil Sheldon might not be a superhero, but he's had a ringside seat to the best and worst the Marvel universe has to offer. Continuing his story from the acclaimed Marvels miniseries, he is now witnessing the dark side of heroes and villains, such as Elektra's epic fight with Bullseye. The comic comes from fan favorites Kurt Busiek and Jay Anacleto. Launch date: February 25, 2009. 12/10/2008 (MSRP: $3.99; Age: All Ages)



Amazing Spider-Man #587 by MARVEL ENTERTAINMENT GROUP INC.



For Spider-Man to save his loved ones, he must face thirty of his deadliest foes, all while dealing with Harry Osborn's return from the grave. Part 3 of the Character Assassination storyline is written by Marc Guggenheim and drawn by John Romita Jr. and Klaus Janson. Launch date: February 18, 2009. 12/10/2008 (MSRP: $2.99; Age: All Ages)



X-Men: Kingbreaker #3 by MARVEL ENTERTAINMENT GROUP INC.



Whenever the Shi'Ar aliens are involved, readers know they are in for a galactic storm of a story. The universe is learning to fear Vulcan, the long-lost brother of X-Men Cyclops and Havok. Havok, Polaris and Marvel Girl stand in his way, as events converge to the upcoming War of Kings. The comic is by Christopher Yost, Dustin Weaver and Jaime Mendoza with a cover by Brandon Peterson. Launch date: February 18, 2009. 12/10/2008 (MSRP: $3.99; Age: 13 and Up)



The Flash: Rebirth by DC COMICS



Written by Geoff Johns, this series will bring back the original Flash, Barry Allen, as well as other key characters. Launch date: 2009. 12/10/2008



---
---


Copyright © 2021 TDmonthly®, a division of TOYDIRECTORY.com®, Inc.