May 10, 2021

March 2009 | Vol. VIII - No. 3

---
TDmonthly's Top-10 Most-Wanted Wooden Toys
Safe, Green and Fun Make the Cut
With additional reporting by Terri Hughes-Lazzell, Chris Lundy, Claudia Newcorn and Brenda Ruggiero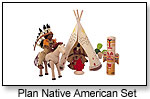 Classic and durable wooden toys have been a mainstay for generations, and in today's market the focus is shifting to sustainable, environmentally friendly, and safe more than ever before, TDmonthly Magazine learned during a survey of 56 specialty retailers.

Play Toys and Melissa & Doug crowned the selection, which spanned basics including first building blocks, such as the U.S.-made line from Uncle Goose, all the way up to Hape's complex modular marble-run building system, Quadrilla. Here are the top-10 best-selling wooden toys:
Walk N Roll by PLANTOYS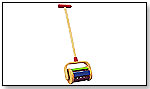 A simple rolling push toy, the Walk N Roll features an elegant, sturdy structure and brightly colored bars that form the rolling barrel. Inside, a loose ball rattles against the interior panels as a toddler pushes, or pulls, the toy along with her first steps. The Walk N Roll is made of rubber wood, a sustainable resource, and non-toxic, vegetable-based inks.
― "Plan toys, probably specifically their Walk N Roll," Jeff Oslick, owner of The Enchanted Toy Store in Fullerton, Calif., told TDmonthly of his store's best-selling wooden items.
― "We carry a lot of their line," added Teneen Dobbs, owner of Kits and Kaboodle in Carmel, Ind.
― Twenty percent of 56 retailers named Plan Toys as their best-selling line of wooden toys in early 2009. 2/9/2009 (MSRP: $29.95; Age: 1 to 2)



Take Along Tool Kit by MELISSA & DOUG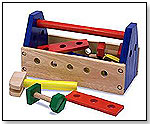 This 24-piece all-wood kit features a plethora of nails, screws, nuts, bolts and panels for preschoolers to pretend-play all kinds of building and repair projects. The primary-colored tote serves as tidy storage and a pounding bench, making it easy to transport the toolbox to wherever work might need to be done.
― "Melissa & Doug sells well," Amy Akin, manager of Giggles for Kids in Suwanee, Ga., told TDmonthly when asked about wooden toys.
― "The quality of the product is so good, and the pricing," said Sue Banducci, co-owner of Games Unlimited in Danville, Calif., in early 2009. 2/9/2009 (MSRP: $12.99; Age: 1 to 2)



Talking Railway "The Great Discovery" Set by LEARNING CURVE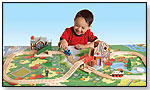 Modeled after the DVD of the same title, the Great Discovery set offers a wide variety of experiences. After building the wide figure-8 of track, kids can act out the familiar story, or stories out of their own imaginations, with two talking engines and two talking destinations that actually recognize which engine has just approached them. Unique phrases at each destination greet the engines with salutations or instructions from the merry conductor, Sir Topham Hatt.
― "Thomas and Friends wooden train pieces by RC2," are best-selling wooden toys for Michelle Deutschmann, owner of Kaleidoscope Toys in Falmouth, Mass.
― Buddy Wood, owner of Le Jouet in Metairie, La., said he sells between 75 and 100 Thomas the Tank Engine pieces per month.
― Thirteen percent of 56 retailers named wooden railway as a top seller in early 2009. 2/9/2009 (MSRP: $149.99; Age: 3 and Up)



Nursery Rhyme Blocks (Set A) by UNCLE GOOSE TOYS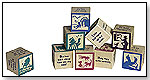 Made in the United States from sustainable basswood grown in Michigan, Uncle Goose's Nursery Rhyme Blocks give a whimsical twist to standard block play. The set of nine 1 1/3" cube-shaped blocks are embossed and painted with classic children's nursery rhymes. Two sides feature scenes in silhouette, while the other four feature the words to the rhyme itself, encouraging early reading and memory skills. Rhymes included with Set A are "Little Jack Horner," "Three Little Kittens," "Mary, Mary, Quite Contrary," "Old Mother Hubbard," "Humpty Dumpty," "Diddle Diddle Dumpling," "Little Boy Blue," "Baa, Baa, Black Sheep" and "Old King Cole."
― "I'd say blocks, and the manufacturer is Uncle Goose," Rebecca Pfeil, owner of Timeless Toys in Homer, Alaska, told TDmonthly about best-selling wooden items.
― Sandra Bartholomew, owner of Wingdoodle in Warner, N.H., told TDmonthly her best-selling wooden toy is "wood blocks, the basic kind."
― Ten percent of 56 retailers said blocks were a top-selling wood item in early 2009. 2/9/2009 (MSRP: $9.99)



Cutting Fruit by MELISSA & DOUG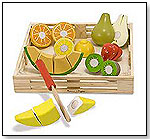 Healthy breakfast, refreshing snack-time treat? Whatever the occasion, kids can cut into this 17 piece set of bright colored wood fruits, such as kiwis, oranges and a big slice of melon. Velcro rounds between the segments serve the dual purpose of holding the uncut fruit together and creating a satisfying crunch sound as the included wooden knife slices right through. It comes with a wooden crate in which to store the food.
― "Anything Melissa & Doug. Play food is probably the best," Linda Hanzelko, owner of Timmy's Toy Chest in Lake Mary, Fla., told TDmonthly regarding best-selling wooden toys.
― "All wooden cutting food from Melissa & Doug" sells well, added William Bingham, owner of Firefly Toy Shop in Milford, Pa.
― Seven of 56 retailers surveyed said cutting food was a top-selling wooden toy. (

Watch Video) 2/9/2009 (MSRP: $19.99; Age: 3 and Up)



Under the Sea Jigsaw Puzzle by MELISSA & DOUG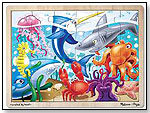 Painted in a whimsical style, this 24-piece jigsaw puzzle features a host of sea creatures, from whales and sharks to anemones and starfish. The wooden pieces lie in their frame once assembled to keep the image and pieces together.
― "Wooden puzzles by Melissa & Doug. Weekly we sell a wide variety of them," said Chuck Harper, owner of Explorations Toys in Granger, Ind.
― "We literally sell thousands through the year," remarked Fred Meyer, owner of Meyer's Toy World in Battle Creek, Mich.
― Also in early 2009, another retailer reported sales of 200 to 300 Melissa & Doug puzzles per month. 2/9/2009 (MSRP: $9.99; Age: 3 and Up)



Duckduck by HABA USA/HABERMAASS CORP.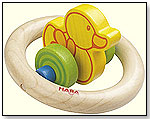 A super-smooth ring secures a small wheeled duck that rocks as the clutching toy is moved. Just the right size to be easy for a little hand to hold, the ring is intended for tactile stimulation or teething, while the cute duck character and pleasant colors engage the eyes. It is made in Germany and finished with non-toxic paints.
― "Anything from HABA overall in the wooden toy market" does well, said Nancy Nigl, owner of Playthings in Madison, Wis.
― "Haba's clutching toy and rattles. It's our No. 1 best-selling toy," Jenny Bramhall, owner of Dandelion Toys in Fort Collins, Colo., told TDmonthly in early 2009. 2/9/2009 (Age: 0 and Up)



Chalet Dollhouse With Furniture by PLANTOYS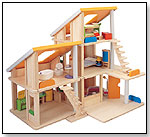 The Chalet Dollhouse With Furniture offers kids the full package in dollhouse play. It comes in two units that can be manipulated to form numerous dollhouse layouts. It also comes with furniture, so that nothing's missing when dolls come to visit. The Chalet Dollhouse includes three stories, slanting chalet roof and creative stairs, as well as an innovative floor plan. It is 32" x 24" x 14", is made from recycled rubber wood, is coated with a non-toxic finish, and all colors are made from vegetable dye.
— When asked about best-selling play houses and furniture, Teri Soelter, owner of Teri's Toybox in Edmonds, Wash., said "Plan Toys. People will buy the furniture by itself and the dollhouses later."
— Four of 62 retailers TDmonthly spoke with in spring 2007 said Plan Toys makes some of the most popular furniture and play houses in their stores. They sell about three Plan Toys dollhouses per month. Seven percent of 56 retailers surveyed in January 2009 said doll houses and accessories are among their top sellers.
— "These products are so beautiful," Teneen Dobbs, owner of Kits & Kaboodle in Carmel, Ind. told TDmonthly. "They display well. People just love wooden items." (

Watch Video) 2/19/2007 (MSRP: $250.00; Age: 3 and Up)



Architectural Unit Blocks by MELISSA & DOUG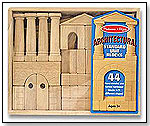 Based on the sizes and shapes of standard unit blocks, these blocks feature hand-scrolled and turned detailing that turns block towers into buildings with archways, buttresses and columns. These blocks are smooth-sanded hardwood with a natural finish, and come packed in a wooden crate for storage. The set contains 44 pieces in 11 shapes.
― "Wooden blocks by Melissa & Doug" are best-selling wooden toys, Marianne Kearns, owner of Second Star to the Right in Bridgehampton, N.Y., told TDmonthly in January 2009. She said she sells an average of eight sets per month. 2/9/2009 (MSRP: $59.99; Age: 3 and Up)



---
---


Copyright © 2021 TDmonthly®, a division of TOYDIRECTORY.com®, Inc.