June 1, 2023

March 2009 | Vol. VIII - No. 3

---
Family Pastimes Promotes Cooperative Play
Themed Games Allow Players to Work Together to Win
"I expected to talk about the concepts I had developed … but was disappointed by repeated rejection from the giants of the game industry." — Jim Deacove, Family Pastimes
No manufacturer paid to be included in this article. The company and products were chosen by editorial staff without regard to the company's relationship with ToyDirectory.com/TDmonthly Magazine.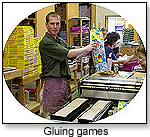 In 1970, as Jim Deacove was sitting in his backyard watching neighborhood kids playing games, some "heady insights" occurred to him about the nature of traditional, confrontational game play. Those thoughts led to the creation of a new company, Family Pastimes, as he realized he wanted to create games whose purpose was for the players to work together towards a common goal — and have fun while doing it. Jim recently shared with TDmonthly Magazine the philosophy and success of Family Pastimes, an undertaking that allowed him to quit his teaching job the same year the company began.

The games we bought for our two daughters put them in conflict with each other. Because the older one had the advantage of experience and coordination, she usually won. The younger one either had to be coaxed to play or, worse, cheated in order to even the odds.

I went to toy and game stores and said, "We want a good family game," one that stressed sharing and helping. They couldn't find anything.

CHANGING RULES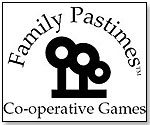 We were forced to change the rules on many of the games we had at home. We changed Scrabble and kept a family score instead of individual scores, used the dictionary, helped each other to spell words, didn't hide behind our tokens — even traded them. I felt a thousand times better using my mind to assist and share, rather than as a weapon.

I began to cook up my own games and found myself creating games for birthday parties, play days at school, and Christmas. Before long friends suggested that I start selling them.

I never have people being against people in any of my games. In a cooperative game, people play together — not against each other.

Game reviews in magazines refer to certain organized crime games and adventure fantasy games as cooperative. What the reviewer is describing is the opportunity the game offers for some players to combine efforts for a brief time in order to destroy another player.

PLAYING COOPERATIVELY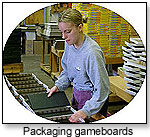 Most of our games are fun for adults and children to play together. The trouble with many games of strategy is that parents must deliberately play poorly in order to make the game fair and interesting for children. When competition is removed, skilled players can sincerely try to win because their efforts help everyone who's playing.

I've invented several hundred games over the years. They fall into roughly three categories: (1) Cooperative sports and activities; (2) "parlor"-type games in board, card and block format; and (3) large, wooden, table action games, which are cooperative answers to table hockey, table soccer, etc.

Cooperative games are rooted in reality. For example, Harvest Time is a board game based on neighbors who help each other bring in the harvest before winter comes, and Home Builders was inspired by my working with friends to build our home.

GROWING SLOWLY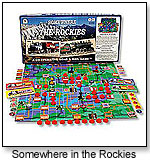 Initially, I took my ideas to big game companies because I was happy teaching and had no intentions of becoming a full-time game inventor and manufacturer. I expected to talk about the concepts I had developed and tested but was disappointed by repeated rejection from the giants of the game industry. I quickly learned how brutally competitive the industry is.

Ruth and I ran a few advertisements and were encouraged by the response. Slow but steady growth in sales made us move the little business from our living room into a prefab cottage.

Our business has quadrupled since we started. We now have six full-time and four part-time employees.

We still make a full range of cooperative games by hand in small quantities. Initially we went to trade shows, but we found better ways to let people know we exist.

We sell mostly by mail through a colorful catalog and a variety of stores. Also, a growing number of people sell our games from their homes, and churches and schools sell them for fundraisers.

CREATING FOR ALL PLAYERS

Our games allow for the gifted to do their best and for those less able to make their best contribution.

Those with leadership qualities naturally emerge and contribute. Leaders have to use their abilities in a responsible way that shows they care for others rather than manipulate and defend themselves.

See Family Pastimes games below:
Harvest Time by FAMILY PASTIMES


This game draws the most fan mail! First, gardens are planted. Then everyone rolls the special die. to do the harvesting. The job is to harvest the gardens before Winter comes. Will we get them all? Maybe, if we remember to help each other out. A simple but challenging game for beginners. Includes: 12 x 12" board, die, 48 vegetables, winter and spring puzzle pieces, rules for harder "spring planting" game. 6/27/2008 (Age: 3 to 7)



Home Builders by FAMILY PASTIMES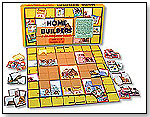 Threatened by natural disasters and sometimes the need for safety measures, up to eight players must work together to construct as many homes as possible. The houses are from various cultures in various stages of history, offering an educational slant on the many different kinds of shelter in the world. It comes with a 12" x 12" board, diecut homes, and natural disaster, safety measure and rebuild cards. 2/27/2009 (Age: 5 to 9)



Somewhere in China by FAMILY PASTIMES



Players in the game comprise a fishing co-operative that supplies village and town markets with fish. Obstacles include elusive fishing grounds, incorrect gear, insufficient bait and fuel, boat leaks, nasty sharks and stormy weather. The game comes with a 17 x 20" board, rules for basic and advanced games, five fishing boats, five pawns, five gas, a warehouse, 12 fish markets, 12 store closed signs, 24 assorted fish, six sharks, five gas markers, two boat leaks, four good weathers, four storm gear, 24 storms and 22 assorted baits. "Much interest in China these days makes this game special," Jim Deacove of Family Pastimes told TDmonthly. Launch date: 2007. 7/23/2008 (MSRP: $33.00; Age: 12 to Adult)



Personal Portraits by FAMILY PASTIMES



For Adults who like to talk over, reflect about and generally explore who they are and what is important to them in this ever challenging world. In a non-competitive, relaxed friendly format, we paint verbal portraits of each other using the image cards provided. The cards are both serious and playfully humorous. We rank the Images on each other's charts as well. How important, for example, are Family Reunions to Jim? More important than having a Car? And where do Politics fit in? To add to the enjoyment, there are Quips to consult, Koans to answer and Furtunes to consider, as revealed by the Gypsy at the end of the game. Rules provide for Solitaire play, a Couples version, and a Group version for up to 30; thus, this is a game suitable for a few or for socials, parties, or gatherings. 7/23/2008 (MSRP: $30.50; Age: 12 to Adult)



Yard Sale by FAMILY PASTIMES



We all go to a Yard Sale, looking for bargains. We help each other fill the family Minivan with as much stuff as we can find, and not let the Truck take away any unclaimed items to the Dump. Each player turns up two cards from around the Yard, looking for two that match to make up a complete item. Includes: 12 x 12" board, assortment of 26 yard sale items, 10 trash cans, minivan, dump truck, rules for basic and hard games. 6/27/2008 (Age: 4 to 7)



Let's Go Sailing by FAMILY PASTIMES



You are a sailing crew taking your Sailboat from Home Dock to the Island Port. When you get safely there, celebrate a great day of sailing by breaking out rations of milk and cookies. Then it's hoist anchor and set sail for home again. Sailing is a challenge, demanding the best effort from everyone on the crew. Everyone's contribution is valued. Each of us has a supply of Action Cards that we share with each other. We use them to advance the boat, negotiate Strong Currents and High Winds, while trying to avoid Rocks and Reefs. In each game, the location of the Reefs is different. We must keep a Seadog's eye out for potential Breakdowns that could ground us. Save the Coast Guard cards in case we need to be rescued. Or else we could end up being adrift at sea! Includes: 12 x 12" board, rocks and reefs, die, ship stand, rules for regular and hard games, set of cards (sailboat, movers, strong currents, high winds, coast guards, distress signals, repair kits). 6/27/2008 (Age: 6 and Up)



Sand Castles by FAMILY PASTIMES



A gentle game about helping each other to build Sand Castles by the Beach. It's a quiet, beautiful day with water lapping at the shore. But a wind begins to stir and some large Waves move slowly toward our Castles. Can we finish all three of them before those big Waves wash in? Let's gather some sand, share our pails and shovels, and work hard together. This way, we have a much better chance of finishing. Includes: 6 x 24" board, pails, shovels, sand castles, waves, snad walls, die, chart. 6/27/2008 (Age: 5 to 7)



Earth Game by FAMILY PASTIMES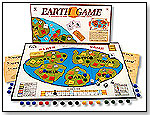 Players must develop strategies to solve the many problems facing the fictional nations inhabiting Planet Earth. Solutions come when the world leaders are quick thinking and compassionate. The game is won when problems are solved, lost when war breaks out. 2/27/2009 (Age: 12 to Adult)



Community by FAMILY PASTIMES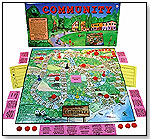 Players work to build a caring and happy village and in the process learn to handle bad feelings. In this game, everyone wins. 2/27/2009 (Age: 9 to Adult)



Our Town by FAMILY PASTIMES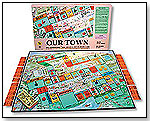 This is an urban version of the game Community that employs a higher level of strategy. Players aim to develop a stable economy and decide what works among many options as they develop the city's economy. 2/27/2009 (Age: 10 to Adult)



Space Future by FAMILY PASTIMES


Players engage in the adventure of completing a mission in space. Safety is paramount as lives are at stake so every player has an important role. Players gain wisdom and knowledge as the game progresses. This game is quick moving and requires strategic decisions. 2/27/2009 (Age: 10 to Adult)



---
---


Copyright © 2023 TDmonthly®, a division of TOYDIRECTORY.com®, Inc.