March 6, 2021

April 2009 | Vol. VIII - No. 4


Unscooter Yields Great Workout, Incites Envy
Reviewer Chronicles 7-Day Journey With the Slider
Day 1
I was very excited to try out the new and bigger Slider since I'd had the pleasure of trying out the smaller version earlier. My coworkers and I were meeting for Happy Hour after work and since my car was out of the way to drop off the unit, I decided to Unscoot myself to the bar. Apparently, this is not an item one would bring into the bar — confirmed by the look of utter horror and embarrassment on my colleagues' faces. Despite not having the foldable version, I was able to easily detach the body from the footing to make it less conspicuous.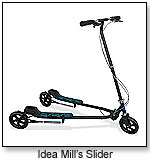 Day 2
I took the Slider out for a real test drive to the bank. George [of Idea Mill, the maker of the Unscooter] was right! It is a lot better than the child's version. Insert Captain Obvious: "Yes, that's why they make adult versions." It was quite a workout on the thigh. Lookout Suzanne Sommers, forget the Thighmaster ... the Slider slims your thighs and gets you somewhere! You definitely get a lot of attention on this thing. I wonder if anyone is thinking, "What is that 30(almost)-year-old woman doing on a scooter?" I'd prefer, though, to think their looks are looks of wonder and envy.

Day 3
So I find out that there are actually THREE ways you can ride the Slider. Yes, there are directions explaining that in the package, but apparently I am not a big fan of reading directions. Also, I was probably too distracted by the coolness of the Slider to notice. So I tried out the "roller skate" method — a much easier way to ride! See, children, reading pays off.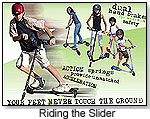 Day 4
I Unscooted to get the Sunday paper. A nice old lady said, "Nice scooter!" On the way back, I crossed paths with a young boy on a small, normal, uncool scooter. He totally looked back with envy. I had a brief moment of Slider ego complex. "My (Un)scooter is bigger and better than yours!" I thought. Just for that, I almost ate it when I had to make a sharp turn at the bottom of the hill. (And by "hill" I mean the handicap ramp on the corner of the curbs)

Day 5
Took the Slider to the market. (Note to self: Need to get a lock for this thing so I don't have to balance the shopping basket on the Slider). The guy behind me in the checkout line started to ask about the Slider. He said he works for a cycling magazine and is curious. I ended up holding a demo and tryout session in the parking lot. He seemed to have a good time with it. At one point his girlfriend said, "I don't think we will see my boyfriend or your scooter back." A few other people asked about it. I promptly dropped "Idea Mill" and pointed them to the website.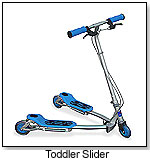 Day 6
I've been pretty comfortable with the "scissor" and "skate" method. Today I am trying out the "slalom" method. It is hard at first to keep the two "blades" close together. This method seems like the most advanced of the three — also like it would get the most acceleration of the three, once mastered.

Day 7
Today's goal: Testing out how this baby does on an incline! First of all, apparently I live in the flat part of L.A. I could not find any sizeable hills in the neighborhood. It is kind of silly to be driving around looking for some place you can ride a scooter, completely feeding into the stereotype that people in L.A drive everywhere. I finally found what I thought was a suitable hill for the experiment. As it turns out, the hill was suitable; the body was not. I think I might need to practice a bit on some carpeting (to simulate the resistance of a hill), and discover a few more muscles first.


See the Slider and other products from Idea Mill below:
SLIDER™ the Unscooter™ by IDEA MILL LLC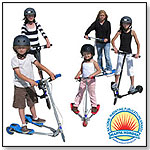 The freestyle vehicle features 3-wheel steering, action-decks and dual hand brakes, designed to propel riders without requiring feet to touch the ground. The highly maneuverable vehicle is extremely easy to learn and ride, and comes in a variety of colors, including red, pink, black and blue. This product received a 2008 NAPPA Honors award. Launch date: February 2008.
— "Sliders are doing great," remarked Terri Bracken, owner of Earth Explorer Toys in Zionsville, Ind., discussing her best-selling ride-on toys in spring 2009.
— Four of 60 retailers listed scooters as their best selling ride-ons in March 2009. (

Watch Video) 4/18/2008 (Age: 3 to Adult)



KickTail by IDEA MILL LLC



This scooter features steel construction, no-foot-down propulsion, a bicycle-style handbrake, 7"-diameter urethane wheels, a paddle-actuated gear drive mechanism, and a folding handle pole. It is height adjustable and is protected by a worldwide patent. Maximum height: 6'5". Maximum weight: 300 lbs. Launch date: July 2008. 9/10/2008 (Age: 8 and Up)



Fun Scooter by IDEA MILL LLC



Protected by a worldwide patent, this aluminum-construction scooter features 7"-diameter urethane wheels, a bicycle-style hand brake, and a height-adjustable, folding-handle pole. Maximum rider height and weight are 6'5" and 300 lbs. Launch date: July 2008. 9/10/2008 (Age: 6 and Up)



---
---


Copyright © 2021 TDmonthly®, a division of TOYDIRECTORY.com®, Inc.