September 27, 2020

May 2009 | Vol. VIII - No. 5


Top-10 Most-Wanted Travel Toys
Word Games and Activity Sets Entertain Kids on the Road
With additional reporting by Terri Hughes-Lazzell, Chris Lundy, J. D. Meisner, Claudia Newcorn, Marie Raven and Brenda Ruggiero

Melissa & Doug rules in specialty sales of travel games, a recent TDmonthly Magazine poll of 64 retailers showed, taking the cake with Flip to Win games, such as Hangman. Activity books by Klutz and Lee Publications are also popular, as are various types of magnetic sets and play boards. Following are the top-10 most-wanted travel toys and games.
Flip to Win Hangman by MELISSA & DOUG



This classic game features an erasable whiteboard with a marker/eraser that can easily be stored on the side, and has no loose components, making it ideal for travel. It measures 0.9" x 10.2" x 8.75".
— "We sell a lot of … Melissa & Doug flip games, especially Hangman," Susan Blanton, owner of Pufferbellies in Staunton, Va., told TDmonthly in March 2009. "All the pieces are attached," pointed out Holly Anver, manager of Ages & Stages Toy Box in Golden, Colo.
— Four of 64 specialty retailers named this one-piece version of hangman when talking about best-selling travel toys in spring 2009. Four of 39 retailers echoed that sentiment in March 2010. Overall, 11 percent of those surveyed in '09 cited games by Melissa & Doug. David Ekwall of The Wooden Toy in Wethersfield, Conn., said his store sells eight to 10 per month. 4/9/2009 (MSRP: $12.99; Age: 6 and Up)



BANANAGRAMS® by BANANAGRAMS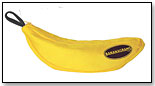 The fast-moving word game consists of 144 ivory-like letter tiles in a zippered banana pouch. Players place the tiles face down on the table and randomly select 21 tiles. They turn their letters right-side up simultaneously and proceed to form as many intersecting and interconnecting words as possible, rearranging their own letters as many times as desired throughout the game. Awards: TDmonthly Top Seller 2007; 2009 TOTY Game of the YEAR, 2006 Oppenheim Toy Portfolio Gold Seal; 2007 iParenting; 2007 Parents' Choice Recommended; 2007 Dr. Toy Best Products. (Read Review)
— This product has been making the TDmonthly Best-sellers lists since 2007.
— As of 05/13/2011 this product had 4.8 out of 5 stars from 456 reviews on Amazon.com.
— Eight of 66 retailers vouched for its best-selling status in May 2008; seven of 63 did in Sept. 2008. Shani Watmough of Planet Toys in Rockland, Maine, said her store sells 60 per month. Fifteen of 38 named it a top-selling game in Feb. 2010.
— As of April 5, 2010, Bananagrams had spent 570 days in the top-100 best-selling toys and games on Amazon.com.
— According to owner Brett Sommer of Figpickels Toy Emporium in Coeur d'Alene, Idaho, "It was the 2009 game of the year. The brilliant packaging definitely helps this product." (

Watch Video) 6/19/2006 (MSRP: $14.99; Age: 7 and Up)



TRIPtivities by KLUTZ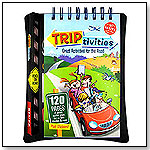 This 120-page activity book includes mazes, word games, puzzles, stickers and more for on-the-go fun.
— "[TRIPtivity] is going to be a big hit because it's less expensive than the other ones," Valla Wagner, co-owner of Teaching Toys & Books in Tacoma, Wash., told TDmonthly when discussing the Klutz line in March 2009.
— Six of 64 retailers named products by Klutz as best-selling travel toys in spring 2009. 4/9/2009 (MSRP: $9.95; Age: 8 and Up)



Curious George Invisible Ink & Sticker Books by LEE PUBLICATIONS



Curious about what is hidden in invisible ink? So is Curious George. Help him discover the hidden world. The Special Pen reveals the invisibly printed pictures. Then match your stickers to the appropriate spot. Each book includes 24 pages of fun, a special pen and stickers.
— Kim Haynes, co-owner of Lollipop Toy Store in Dawsonville, Ga., told TDmonthly in spring 2009 that her store sells about $300 a month of the Magic Pen books, "if I can keep it in stock."
— Four of 64 retailers named products from Lee Publications when discussing best-selling travel toys in March 2009. 4/9/2009 (MSRP: $3.99; Age: 3 and Up)



Mermaids Magnetic Figures by MUDPUPPY PRESS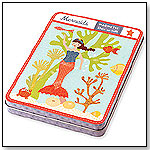 This colorful tin box comes with three sheets of mermaid-themed magnets, including three dolls plus clothing and accessories, and two cards with background images on both sides. The product is printed with nontoxic ink, and the tin measures 7-7/8" x 6 3/10" x 1".
— "Magnetic paper dolls from Mudpuppy," are the best-selling travel toy at Twirl in Taos, N.M. "I sold 32 last month," Owner Molly McMullin told TDmonthly in March 2009.
— Three of 64 retailers named Mudpuppy magnetic sets as top sellers for travel in spring 2009. (

Watch Video) 4/9/2009 (MSRP: $15.00; Age: 5 and Up)



Wikki Stix Activity Set by WIKKI STIX


With no complicated instructions or directions, this product is ideal for the younger child. It includes just Wikki Stix and a sturdy write-on/wipe-off board for hours of play, plus a cartoon-style booklet for Mom to read, providing ideas and encouraging creativity. It also comes with zip-lock carry bag for convenient take -along in the car, on a trip or to Grandma's house. The set includes 84 Wikki Stix in two lengths. It is a winner of the Parents' Choice Classic Toy Award.
— "We're doing well with Wikki Stix," Jason Curtis of Funtopia in Middletown, Calif., told TDmonthly in March 2009. "I've been really motivated to actively sell them because they're U.S. made and everyone is asking for the Bendaroos that are being show on TV."
— Three of 64 retailers named Wikki Stix as a best-selling travel toy in spring 2009.
— "Wikki Stix are on fire," said Gail Dunton, manager at Toy Chest in West Hartford, Conn., during an April 2009 survey on best-selling playsets and activity kits. 11/18/2004 (MSRP: $16.95; Age: 3 and Up)



Find It Sports Edition by FIND IT GAMES



Filled with tiny pellets that represent an outdoor sports field, this version of Find It contains more than 40 items that cover more than 35 sports. Things to find include a basketball hoop, football, boxing glove and jet ski. Launch date: Fall 2008.
— Mary Porter, owner of The Curiosity Zone in Ashburn, Va., sells "a dozen or so a month" of the Find It games, she told TDmonthly in spring 2009.
— Two of 64 retailers cited Find It Games when asked about best-selling travel toys in March 2009. 12/5/2008 (MSRP: $20; Age: 8 and Up)



Imaginetics Dinosaurs by INTERNATIONAL PLAYTHINGS LLC



This small playset includes a backdrop and 11 dinosaur magnets.
— Two of 64 retailers cited Imaginetics as a best-selling travel toy in March 2009, reporting sales of 12 to 20 units monthly. 4/9/2009 (MSRP: $4.99; Age: 3 and Up)



Family Tree Mad Libs by PENGUIN GROUP USA



In this word game activity book, kids fill in the blanks about their own family members on topics such as "Family Ghost Stories" and "Famous Ancestors."
— Barbara Paeth Haas, owner of The Durango Kid in Durango, Colo., said in spring 2009 that Mad Libs sell so well she can't keep them in stock.
— "A lot of people choose things like Mad Libs for travel specifically because they're very compact and they're entertaining for a while, and they just seem to be one of those perennially popular items," Gini Wingard-Phillips, owner of Math 'n' Stuff in Seattle, told TDmonthly in March 2009. 4/9/2009 (MSRP: $3.99)



Think-ets by THINK-A-LOT TOYS



The educational and fun-filled game uses adorable miniature objects from around the world that inspire imagination and test memory. All packaged in a little drawstring bag, it's an at-home game, a travel game, a party game, a storytelling game and a camping game that's perfect for children and families. Think-ets has received the following awards: 2008 iParenting Media Award (Classic and Hot), 2008 The Toy Man Product Guide (Award of Excellence & Editor's Choice), AblePlay, and 2007 Creative Child Seal of Excellence. Launch date: September 2007.
— Teresa Derry, owner of Annie's Toy Chest in Cocoa, Fla., told TDmonthly in March 2009 that her stores sells about 12 Think-ets per week, keeping them located near the register. "I can't keep it in the store," she said.
— "Think-ets are good ones for traveling," seconded Lisa McMartin, co-owner of Wonderment Inc. in Minneapolis, Minn.

Past videos: Product Demonstration (

Watch Video) 9/27/2007 (MSRP: $9.99; Age: 8 and Up)



---
---


Copyright © 2020 TDmonthly®, a division of TOYDIRECTORY.com®, Inc.