November 30, 2021

---
13-Year-Old Kimberly Is the TDmonthly Charitable Kid
She Will Give Away 100 Pianos to Needy Children!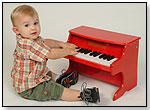 Congratulations to 13-year-old Kimberly of South Carolina, who has been named the TDmonthly Charitable Kid! As winner of the inaugural TDmonthly Charitable Kid Contest, she will give away 100 Schoenhut My First Piano IIs to needy children in her community.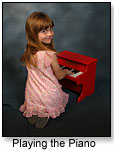 Kimberly will receive:
- A Schoenhut My First Piano II (value: $60.00!), plus four other Schoenhut musical toys!
- The chance to give dozens of children beautiful, valuable pianos they'll treasure for a lifetime!


Kimberly was entered into the TDmonthly Charitable Kid contest by her mom, Michelle. She was very surprised to find out she was a finalist and thrilled to learn that she won! She already has some charities in mind to receive the valuable gifts.

Here is the winning entry, as submitted by her mom:

Hello. I have a daughter that just started taking piano in October of 2008. Since then she has played in church on several occasions and many have told her they can't believe she has only been playing for a little over 6 months. She asked her piano teacher to help her learn songs that aren't in her beginning training books so she can build up the list of spiritual songs she can play. She wants to use music to help people feel better -- enjoy life.

She is a very generous young lady with a heart for service. She did the 30 Hour Famine (where teenagers fasted for 30 hours to raise money for hungry children all over the world) -- except she couldn't do it on the weekend the youth of our church were planning to do it. She did the fasting on her own without the support of a group of people to help boost her resolve. She collected enough donations to feed a child for 3 months.

I would like to nominate her for your Charitable Kid Contest if she is eligible.

She is a terrific kid and deserves some recognition for all that she does for other people and her family. Thank you for the opportunity. — Michelle
PLEASE READ THE OFFICIAL RULES BY CLICKING HERE.
Read more about the prize toy and watch a video of it, too:
My First Piano II by SCHOENHUT PIANO COMPANY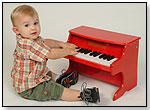 Schoenhut's bright red, wooden, 25-key tabletop is the perfect choice for a toddler's first piano. Both fun and educational, it is an ideal instrument for developing eye-hand coordination and encouraging musical creativity. Chromatically tuned, the lovely chimelike notes are produced by little hammers striking precision-ground, German steel music rods. The tone never changes nor will the piano ever need tuning. Schoenhut's patented Learning System, with its play-by-color teaching method, makes playing simple and fun. A removable color strip fits behind the keys to guide small fingers from chord to chord. The chart also works on adult keyboards, since keys on Schoenhut toy pianos are of corresponding width. This teaches children proper finger placement from the very beginning. The accompanying Songbook contains a collection of familiar tunes. This Learning System has been specially designed to build a child's confidence and develop basic playing skills. It comes in red and white. Launch date: 2005.
- This model was Schoenhut's best seller for 2010. It was also the model given away by TDmonthly's Charitable Kid, Kimberly (then 14) of South Carolina -- 100 times over! As a reward for her charity and careful selection of institutions to receive the toy pianos, Kimberly was given a number of other high-quality Schoenhut instruments, many of which she shared with her younger sisters. (

Watch Video) 6/29/2007 (MSRP: $59.95; Age: 3 and Up)



Video shot and directed by Alison Marek. Edited by Trevin Matcek. Performed by Julie L. Jones.
---
---


Copyright © 2021 TDmonthly®, a division of TOYDIRECTORY.com®, Inc.